You know those conversations that divide people over what combination of courses is best: whether you're a starter and main sort of person, or a main and dessert person? Well, the correct combination is of course all of them. Specifically: five.
Oh big surprise, greedy guts here likes a feast! The Black Horse were showing off their new Summer menu and with the amount they fed us it seems they really, really wanted to shout about it.
I've said good things about this pub before a few birthdays ago (*sniff*) and since then it's had a bit of a makeover to make it less Game-of-Thrones-tavern (wonderful in Winter, less cheerful in Summer) and instead a little lighter whilst still maintaining that cosy vibe.
We arrived having survived a mad dash from the car park to the pub in a lightning storm and welcomed a glass of champagne. "Cheers, we made it!"
A few sips (glugs) later some fellow blogging pals started arriving, including Robs Ribs and the lovely Lou Bou. Time to eat!
The Summer menu has had a complete overhaul so we were offered a tasting menu from every course: deli boards, starters, mains, desserts and cheese. Oh wow were me and my rumbling stomach excited! The boards came out first in speedy fashion.
I can't believe how cute that mini loaf is. It arrives warm and partially sliced for you to tear off chunks and dip into chunky spiced tomato hummus. There's an exciting display of sliced meats, whitebait, cheese croquettes and olives. Delicious nibbly bits with a glass of wine.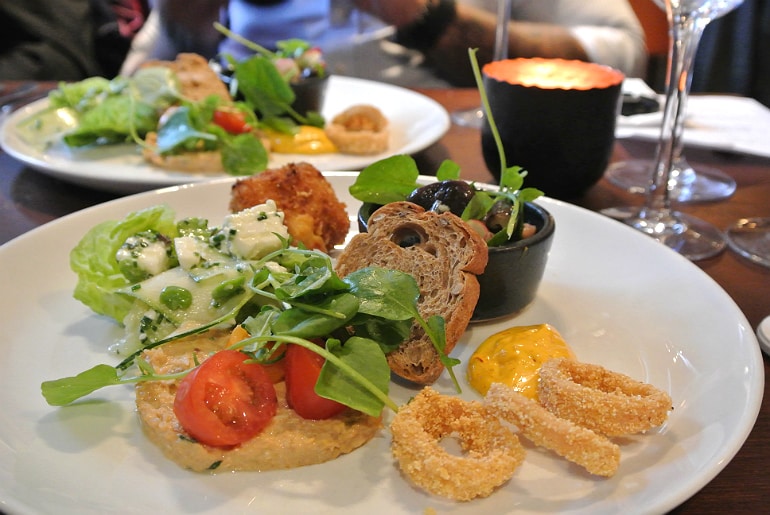 Next was a tasting plate of different starters. Probably the weakest course for me; I found the crab mayonnaise too wet and the safron Aioli that accompanied the squid was really bizarre tasting. The chorizo and cheddar croquette was my favourite of the selection; very comforting and rich.
Next was a beautiful taster of thai green curry that was rich and creamy with juicy chunks of hake and king prawn. The fine flecks of cauliflower in the sauce create a nice thick texture.
The final mains were a sweet tomato tarte with a sticky glaze, topped with a lighter than light goats cheese cream. Along side was a slow & low chunk of lamb shoulder with a tomato and sugar snap salad. Hey, this one's for the customers going to the beach soon.
All savouried out, my dessert stomach was ready for action (at least we can all agree that there are two stomachs). This selection had some absolute gems in it: chocolate and raspberry mousse on a pecan cookie, warm treacle tart with stem ginger Chantilly and the crowning glory: a cube of iced cherry parfait that was cool but not cold, sweet but not sickly and insanely moreish. That strawberry puree dotted about was to die for.
Even I was looking intimidated when the final course came…
I'm afraid these lovely cheese only got a little nibble. They're carefully selected with just five cheeses to choose from over Summer. Fun fact: the 'Blue Monday' is made by Alex James from Blur who until this evening I had no idea had become an artisan cheese maker!
Right at the end of the night the chefs came out to tell us more about the dishes they'd cooked; their passion for food was evident and it was nice to see Neal Grimble again who competed in the MK Food Awards. We were sent on our way with a bag of those lovely pecan cookies. It's a good thing the storm had passed when it was time to go home; with all that good food in my belly there was not a chance of me being able to dodge lightning!
Disclosure: the press evening was complimentary. As always all thoughts are my own.