I've got a holiday and a big fitness challenge coming up this year, so if you follow me on Twitter you'll have noticed my recent tweets about Keto, and in particular, keto bread.
Keto is short for Ketosis, which is basically a process that forces your body to switch to burning fat as a primary energy source. It's how we all used to operate before humans started processing grains and eating a carbohydrate heavy diet. In a nutshell; by cutting out carbs you can turn yourself back into a super-efficient fat-burning caveman!
Anyway, let's talk food. Unfortunately in order to reach a state of ketosis you're restricted by what you can eat a fair bit; bread is definitely off the menu. So if you want to satisfy a craving for stodge you've got to get creative. This recipe for a low-carb bread alternative is perfect for keto heads!
Keto Bread Recipe
1 slice (just one slice!) of bread from the leading brand has 18g of carbohydrates. Half a loaf of keto bread has just 6g!
Ingredients
3 large eggs
75g ground almonds
1.5tsp baking powder
Large knob of butter (American readers: about 2tbsp)
EDIT: I have lots of American readers who love this recipe and it makes me so happy that my recipe is being baked across the pond! But I do get loads of questions about what the measurements are in cups; I'm afraid us Brits like to measure everything out in grams, but I did find this website which seems to have everything you'll need. Happy baking!
This is an incredibly simple recipe for keto bread. Quite simply, add all of the ingredients in to a bowl and whisk until smooth and aerated. Pour into a greased loaf tin and cook in the oven for 20 minutes at 200c.
Easiest. Bread. Ever.
You can also pour your keto bread mix in to individual muffin moulds to make small bread rolls.
A lack of carbs and a lot of egg means that this bread will not have that dry, crusty consistency like a regular loaf. I describe the consistency like a savoury cake. Not an exact bread replica, but certainly delicious when you add your keto-friendly toppins of choice. If you want to crisp it up, you can put slices under the grill (US: broiler), although this isn't my preference.
As pictued above, you keto bread is delicious with a range of toppings. Here I've gone for olive oil, pesto, mozzarella, basil and a little red onion, along with a simple pork pate (below).
I found this an excellent substitute for the real bread: it's light, tasty and really filling. The time it takes to create makes this keto bread so much more convenient as well.
Want to go Keto?
You must consume less than 20g carbohydrate each day.
You cannot eat grains, legumes, starches, milk, fruit, sweetened yoghurt… anything starchy or sugary is a no go.
You mustn't be afraid to eat fat! If you deprive your body of a major energy source like carbs you must replace it with another (nuts, fish, oils, butter, peanut butter, avocado etc) otherwise you're just starving your body… which is lame.
More Delicious Keto & Low Carb Recipes
Further Reading: You can also learn more about the science behind Ketogenic diets from this excellent post on Reddit – Keto in a nutshell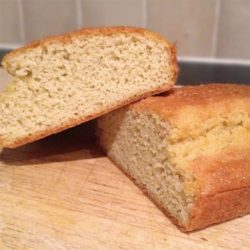 Print Recipe
Keto Bread
A super simple keto bread made with ground almonds and eggs. This simple recipe only takes a few minutes to prepare, and 20 minutes to bake.
Ingredients
3

large eggs

75

grams

ground almonds

(almond flour)

1.5

tsp

baking powder

2

tbsp

butter
Instructions
Mix all ingredients in to a bowl until smooth and well combined.

Grease a loaf/cake tin well to make sure the keto bread doesn't stick.

Pre-heat oven to 200C (390F).

Pour the bread mixture in to the tin, and bake in the oven for 20 minutes.