It's that time of year again! Time for the top food talent in my hometown to compete in the Milton Keynes Food Awards cook off. I was a judge last year and even more excited to be a part of it this time around, with eight chefs (some from my favourite local restaurants) battling for the coveted title of chef of the year.
I pitched up at the local college where the cook off was taking place to find a flurry of activity. Trainee chefs huddling at the bar waiting to assist the competitors, local reporters setting up their recording equipment, Steve (MK Food Awards organiser) making the final checks and hungry judges chatting about the anticipated food to come.
The chefs, all knowing what was at stake demonstrated a healthy dose of nerves. Some stayed deathly quiet whilst others cracked jokes. Some remained fixated on their box of ingredients; you could see the cogs ticking!
The Line Up
For round one, the chefs were tested on their creativity and improvisation skills with surprise boxes, filled with ingredients to create whatever starter they wanted.
Whilst they all got cooking, us judges milled around the kitchen asking what everyone was cooking and analysing every chop, peel and stir. As if the competition wasn't nerve wracking enough! I really love this bit of the judging; it offers a very rare view into the world behind what gets put on your table at a restaurant. I love observing alls the many different processes that go into the dishes; it's so very much more intense than cooking at home!
Judges tried guessing at what would be created with the ingredients. We thought scotch eggs or sausages would be popular, in reality it was risotto which ran a common theme among the starters.
(Most of them!)
Amazing how the same ingredients can produce such different results! The winners for me were the ones with creamy, lemony rice and use of the thickest part of the fish.
Mains were a freestyle: show us what you've got.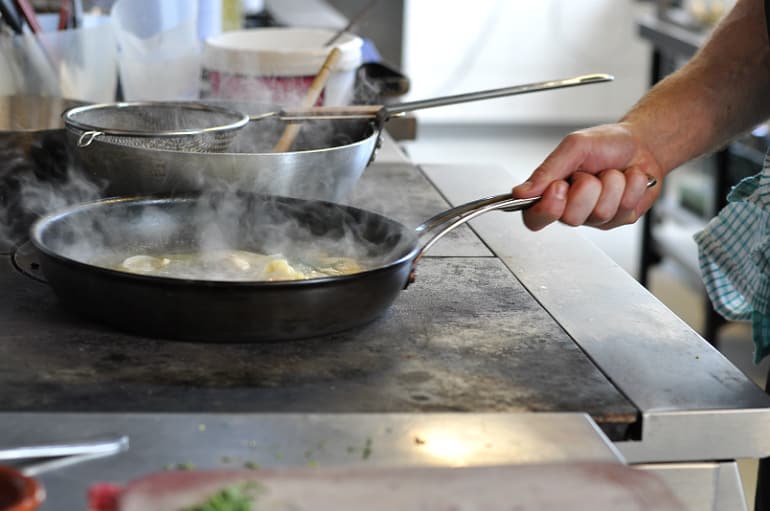 It's one thing having some blogger buzzing around you and pushing their camera into your personal space whilst you work against the clock… it's a whole other world of nerves when Phil Fanning, Michelin-starred owner of Paris House leans over your shoulder to observe your work!
*Stay cool, stay cool*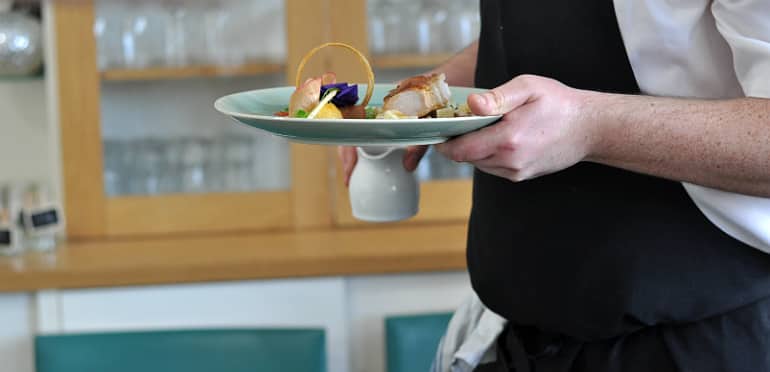 Chefs were met with a wall of cameras as they emerged from the kitchen. I loved that Vikram took some time to pose for us!
This round was really exciting because everything that arrived at the judging table was totally different.
The porcini mushroom sauce on this meal was stunning, so much so that I returned to it after tasting the others to have some more! Other than a slightly soggy bottom on the pastry this dish was flawless.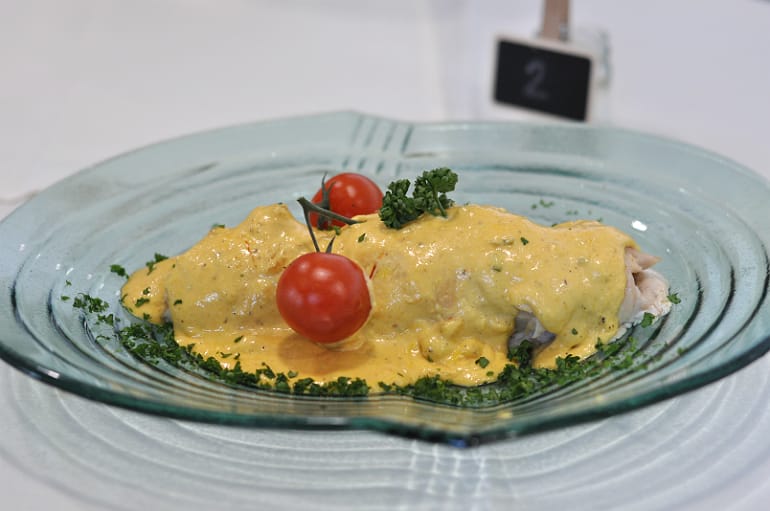 This main from Neil at the Black Horse won the hearts of mine and a few other judges for being so damn joyful. He was incredibly passionate when describing his celebration of wild garlic and the coming Summer. Tasting this took me to a happy place with sunshine and crisp white wine. Neil: get this on your menu!
And the presentation of this dish was utterly glorious. Food presented like this makes me feel like I'm eating an some Game of Thrones style banquet. Wonderful!
The last round was a technical test with a trio of desserts: chocolate fondant, cheesecake and the chef's signature. Imagine the judge's joy when we realised that eight chefs making three desserts each means we'd be tucking into twenty-four (twenty four!) desserts! Fellow blogger Lou and I were particularly excited, sniffing around chefs for tasters and empty bowls to lick!
*Drool*
Undoubtedly the best dish which came from Maaya was their signature Indian spiced rice pudding. It was creamy and sophisticated and worked really well with the fresh berries. Simple but very effective.
This dessert from Spencer at Bistro Live had it all going on, including a particularly delicious "white chocolate and raspberry thingy" as it was getting called amongst the judges.
The pink notes on this dessert were just dreamy. I'm not sure what the pink dust was but it's so very delicate and pretty! Sadly the fondant wasn't quite hitting the goo factor as we delved our spoons into it.
Wow. That was a lot of food to consume! The top button on my jeans feared for its life as we sat around a table counting scores and deliberating over who was our favourite chef from the day.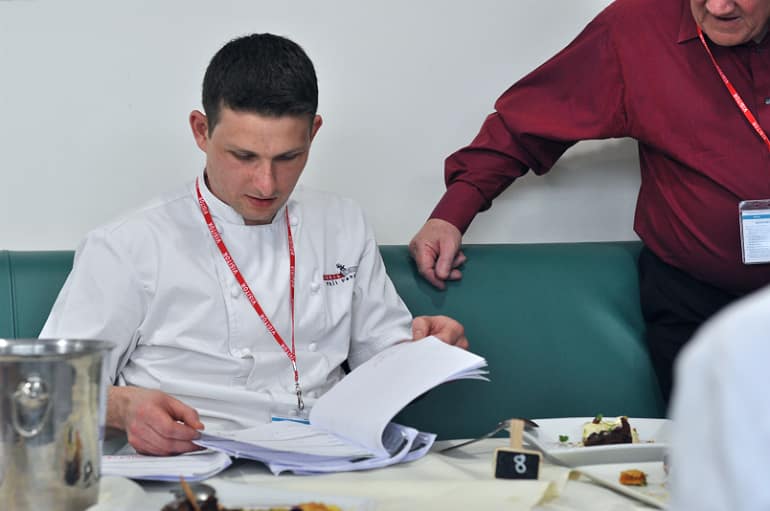 It's amazing how much opinions can differ on the same experience. Phil and I debated long over one of the starters which he had described as a 'car crash' whilst I had found it utterly moreish! There were differences in what judges held in highest regard too; for some it was taste, for some the technicality of the dish, whilst others gave merit for use of local ingredients. What we did all agree on, was that it had all been very interesting. Some chefs I had expected to stand out blended in, whilst others, from restaurants I'm yet to try, surprised me with their flare.
Our results? I've been sworn to secrecy I'm afraid. But the 2016 chef of the year will be revealed on 8th May at the MK Food Awards ceremony.