Burgers are one of my favourite foods (I thought they were everyone's until I recently met a girl who didn't like them, but that's another story) particularly for the fact that something so simple can be so vastly characteristic from place to place. You've got the juicy number at Patty & Bun, the smoky soft Honest Burger, the oh so cheesy Five Guys…
But here's one I've never had, or the entire UK for that matter: the Smashburger. I feel ever so proud that my town Milton Keynes is home to the very first one in the country, take that London! I got invited to check it out and honestly I had no idea what to expect having never heard of them before.
It's a small but well-formed diner kitted out with all the modern-meets-industrial vibes that are trendy right now. Downstairs are rows of high tables and stools for those eating extra casual, upstairs is a mezzanine for table service; I like that they have a mix of dining options.
So the name is quite literal; describing the way they take a ball of burger meat, place it on a buttery flat grill and *smash* it down into a patty. The result is a thin burger with crispy bits and an endearing, uneven shape.
I was ravenous when we arrived and couldn't resist a hand spun shake, going for an Oreo one seeing as our waiter was so enthusiastic about them… and all the food in fact; he was really into the menu in general. You can't beat that instant milkshake gratification! It feels so wrong but so right, especially when they bring you the leftover, extra ice-creamy bits that didn't fit in an extra cup. Q thought I was going to spoil my appetite but fear not, I was ready!
The food came promptly in metal baskets and wax paper. We ordered three sides because they all sounded so damn good and were a little different to your average burger place. I highly recommend the pickle fries which won me over with their intriguing salty-sour-crunchy-soft thing they had going on. Very moreish, I found myself dipping into these more than the chips.
The standard fries are thin and crisp. The sweet potato Smash fries are soft and slathered in rich rosemary and garlic oil. A couple of slightly underdone fries but the overall flavour was delicious.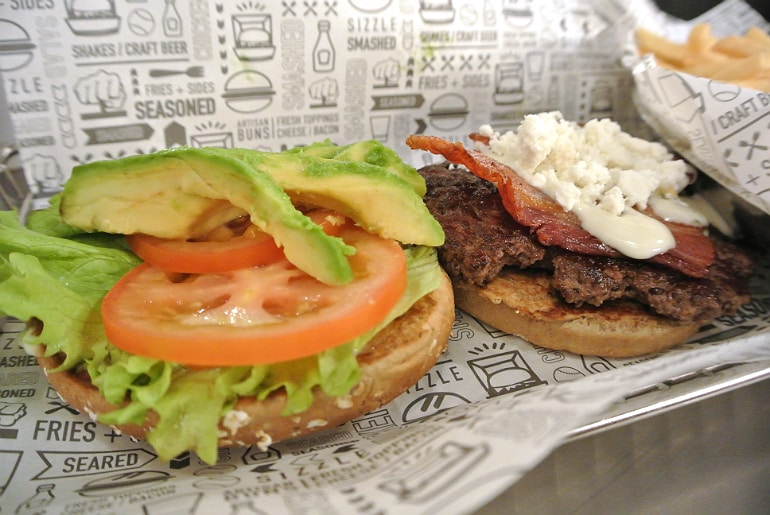 Here's a glimpse of that uneven smashed patty. The burgers are very thin as a result. Tasty, but definitely double up if you're a meat lover or extra hungry. I like the idea of smashing the burger down with a hot iron, I'd love to have a go at that! Overall I like that it's a patty different to the likes of Byron, GBK and other chunky burger makers. Variety is the spice of life after all!
I think this is a fantastic little diner for a casual bite to eat. I'm already making plans to come her with the girls from work! The thing that really sets it apart is the pricing, which is much more competitive than other burger places *cough* Five Guys *cough*.
Psst heads up Brighton, the next Smashburger is coming to you guys!
Disclosure: our meal was complimentary. As always all thoughts are my own.