Disclosure: Our visit was sponsored by Hotels.com. As always all thoughts and words are my own.
I am forever grateful that one of the most incredible cities not only in the country but the entire world is but a thirty minute train ride from my home.
Q and I venture into London regularly, either for day trips or on special occasions we'll book a hotel and make a weekend of it. Whatever the occasion we're met every time with painful indecision about where to eat and a lot of prior research goes into ensuring that we make exactly the right choice to feed our appetite and maximise our day out.
Thing is, London has an infinite amount of good places to eat so no matter what you're never without a sense of FOMO – or perhaps a 'Fear Of Missing London'. As we walk to our pre-determined destinations we'll pass endless eateries that look, smell and sound incredible, and our heads will turn and crane as we walk by; feet almost turning to enter.
But we always stick to the plan. We methodically tick off restaurants from our hit list.
Soho Unplanned
Except this time we didn't. This time we accepted a challenge to explore one of our favourite London neighbourhoods without much of a plan at all. We stepped off the train as usual and followed the crowds through the ticket barriers and out into the concrete courtyard of Euston. As usual we waited at the pedestrian crossing at the first and very busy main road… and as usual we became tired of waiting for the green man and picked our way through the backed-up traffic. Then we headed down our usual route towards Covent Garden and Soho; a walk which is far too pretty to miss out on by taking the underground.
But twenty minutes later our London routine came to an end. And here we were in the heart of Soho with no plan and no direction on what to do next. This meant a good amount of strolling and taking in the streets; the wonderful dark and sooty brick streets lined with tall buildings and narrow doors and wonderfully quirky (and kinky) shop windows.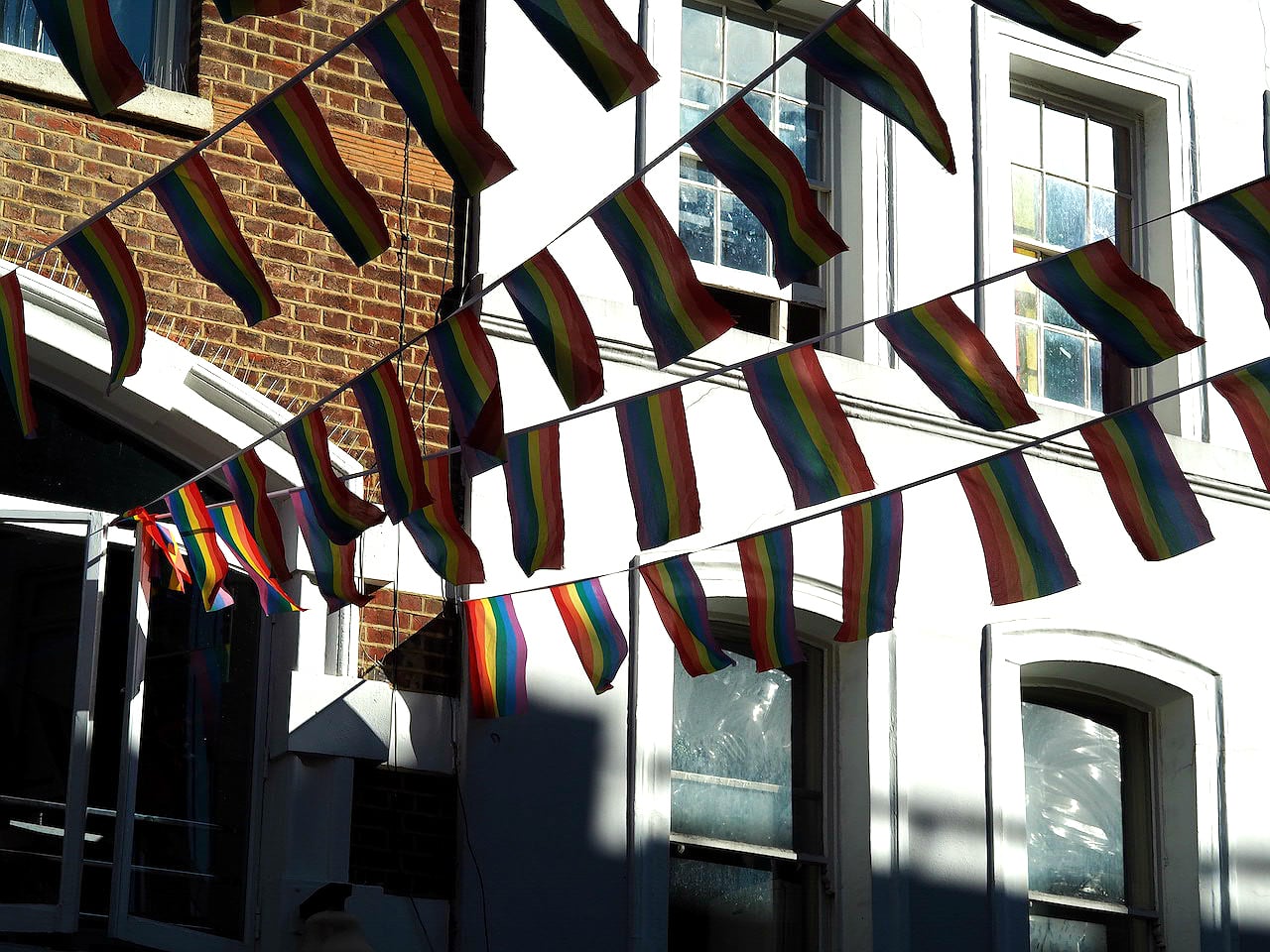 A Snack at Cafe De Nata
Having already walked past far too many tasty looking Soho restaurants we took stock with a snack in Cafe De Nata; a tiny little unit on the street corner of Old Compton Street. They sell coffee and Pastel de Nata. Nothing else. And nothing else needed.
At £1.75 these Portugese pastries are an absolute London bargain. And you can watch them being lovingly made:
Sweet, cool custard and light and crispy pastry heaven. These are insanely delicious. I must have another.
Cafe De Nata is an incredible spot to perch and people watch. One of my favourite things to do in London.
We poured out of Cafe De Nata and back onto the cool October streets. Within a short distance I was eyeing up a more famed dessert outlet…
but now we were saving ourselves for the main event – lunch! I felt my feet wanting to turn as I saw the beginnings of Chinatown. But no – it was new experiences today!
As we wondered around, in and out of shops and down alleyways and along main streets I did find myself (particularly with camera in hand) admiring and noticing more about Soho than I perhaps would have on other visits. No head down to curb the FOMO with no destination in mind: everywhere was a possibility today! Soho is such a unique mix of niche fashion, individuality and real living, infused with contrasting jewels of high end here and there, like Michelin starred Yauatcha or luxe Bob Bob Ricard.
Lunch at Jinjuu
We eventually found ourselves walking down Kingly Street which leads to Liberty… my bank card is grateful that we never reached the end and instead found our way into a dark and overall mysterious looking Korean restaurant that we'd never heard of.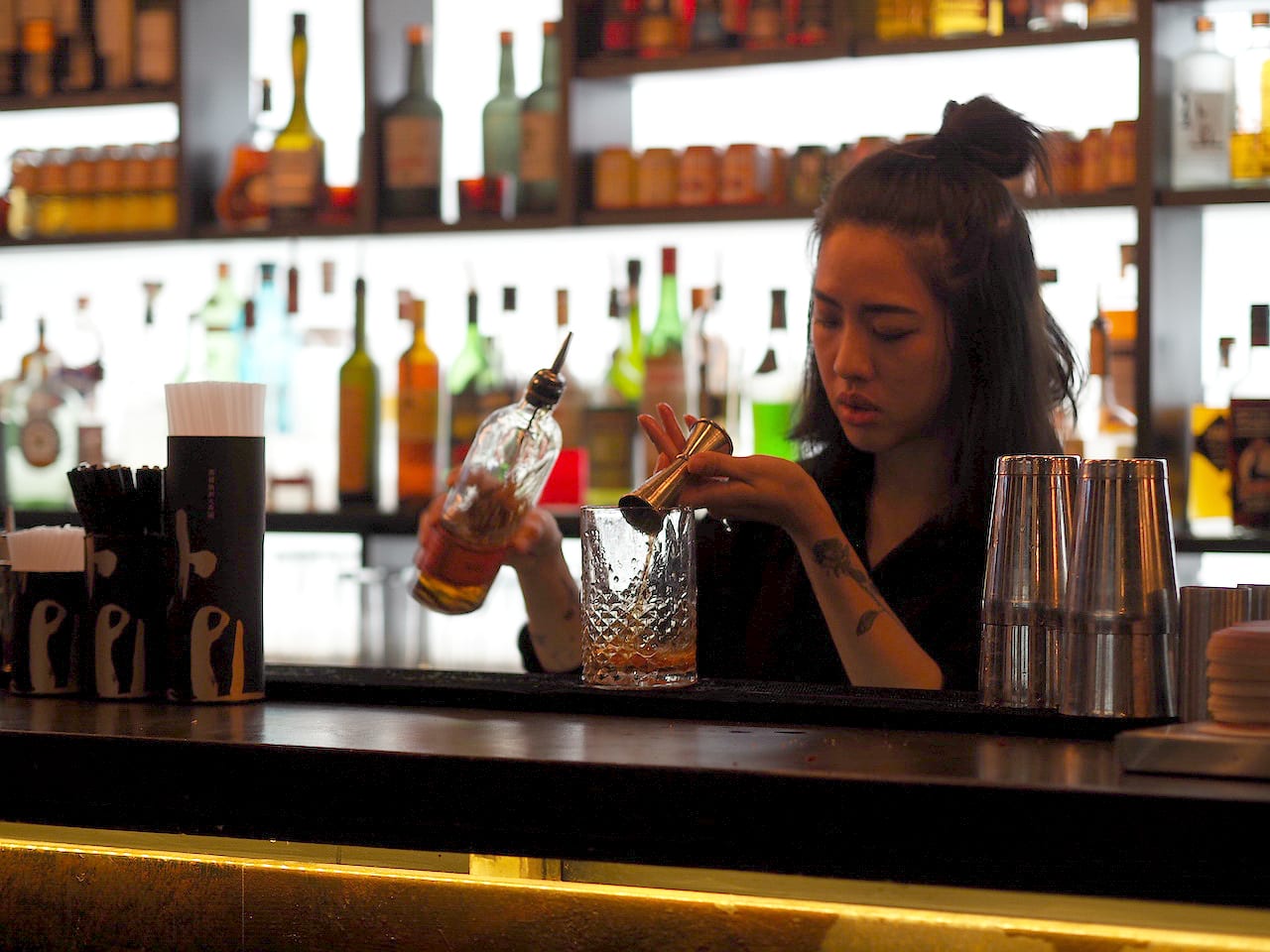 Inside it was as super dark, save for some yellow pendant lights and a backlit bar. Jinjuu serves traditional and contemporary Korean street food. We sat at a solid stone bench with solid stone bowls and ordered up some starters.
Beef and pork Mandoo dumplings, served with a soy and sesame dipping sauce. Absolutely beautiful, the kind of food that makes you do that wide-eyed 'oh my God' face at your dining partner. You know the face!
My only complaint was the odd numbers and subsequent fighting for the third dumpling.
We also had to try Jinjuu's signature Korean fried chicken: boneless crispy chicken thighs fried in their famous batter that creates a deep red crust. Pickled white radish accompanies along with two adorable bottles of sauce.
Q chose the perfect lunch for an chilly Autumn afternoon: bibimbap with bulgogi and kimchi.
Bibimbap virgins: this dish is glorious. A big bowl of rich topped with meats (in this case thinly sliced and marinated beef fillet – bulgogi) vegetables and a fired egg. It comes in a medieval looking hot stone bowl that cooks the rice and adds a crispy texture to your meal. Great fun to keep stirring up!
Being the raw fish lover that I am, despite the weather I couldn't resist a cool poke bowl.
A giant offering of rice, avocado, green beans, salmon, tuna, prawns, edamame and seaweed. Raw, simple, super healthy and so damn delicious.
I blinked as we headed back out into the daylight again and began to wonder around in search of dessert. This is a three course, three stop outing y'know!
We arrived at Chin Chin. Which caught my eye with their hilariously inappropriate "I'm divorcing you' cake in the window.
Inside the tiny parlour is rough and ready, smattered with bright, garish colours and finished off with the occasional sea of fog creeping out from where they make their ice cream with liquid nitrogen.
If it's vanilla you're after you ain't gonna find it. And quite fitting really, given that soho is anything but vanilla. Get ready to pick from flavours like basil choc chip and coffee & olive oil. I chose a glorious scoop of burnt butter caramel (sounds like something straight out of Harry Potter right?) topped with giant nuggets of house made cinnamon toast.
Ooh so good! One scoop plus topping is £4.45. Q chose a Tiramisu sundae for £5.75.
Very full at this point. Full of delicious new food and full of excitement for some brand new discoveries – successful discoveries – in my favourite London neighbourhood. Y'know I'm trying to recall a bad meal I've had in London… and I can't! You've gotta be good to survive amongst all this competition huh?
Why I Love Soho so Much
It's walking distance from Euston making it super easy and most enjoyable to get to. The underground stresses me out. I love that I can be in Soho within 1 hour of leaving my house in Milton Keynes!
It's casual. I'm a girl of comfort and not so much about keeping up appearances. I love the come-as-you-are attitude of Soho.
Chinatown is right next door. I love Chinatown.
The abundance of ultra cool coffee shops. Make mine a flatty and save me a window seat for people watching.
Blacklock Soho: dark, industrial vibes and nothing but sweet juicy meat meat meat. Their sweet potato side is something else as well. I'm yet to experience their Sunday roast but it looks unreal. One day soon I hope.
Yauatcha: Absolutely 100% worth the hype. Dim Sum heaven. Insist that you dine downstairs with the spectacular fish tank bar!
Honest Burgers: Found in a number of London locations but as my second favourite burger place of all time it gets a mention. I came to Soho for my very first bite of Honest Burger heaven.
Barrio Soho: Given their extensive rum-based cocktail menu I was always going to enjoy this place. I have fond (fuzzy) memories of dancing wildly in here with friends this Summer!