Disclosure: Our meal was complimentary, as always all thoughts and words are my own.
"Is that it there? Ooh it looks lovely!"
"Wow, it's big."
"But how do we get to it? From the roundabout?"
"No, I think we missed the turning."
"Oh God how to we get there I'm starving!"
…Is what you would have heard from our car as we approached a pub; yet another pub in the seemingly endless collection of pubs in our part of the world. But no, I am not tired of pubs, I could never be. Pubs are glorious, homely boxes of heart warming joy. I feel hugely lucky to still be discovering new ones in my hometown.
This was the Black Horse in Great Linford. A large and beautiful building that can be seen from the roadside, illuminated in pretty lighting sat right alongside the canal. Getting to it is a little challenge, down an unassuming junction that took us a couple of passes to find! When we found it we arrived in a spacious stone-walled car park… I'm growing to enjoy ample parking at pubs, is that me showing my age?! Pokey car parks when hangry are never enjoyable!
We stepped inside to a rich yellow glow. I have no benchmark on what the pub looked like before its refurb, I can only say that it was obvious that a serious amount of time (and money) had gone into the new look. It's plush and warm and inviting and everything that I just mentioned that a pub should be.
And for the gin lovers a beautiful gin garnish station.
I chose a wine however (its definitely red wine season now) and Merlot in hand we ventured outside to stumble upon a stunning terrace right by the canal side, complete with gorgeous floral greenhouse booths.
Canals to the left, classic pub gardens to the right.
Despite being October we spent a long time sat out in one of these lovely booths because they were so… well… lovely! Sitting out here in the Summertime is going to be an absolute dream. Even in Winter I can picture huddling up wioth blankets and mulled wine.  When we headed back into the warm glow of indoors we had some samples waiting for us from the kitchen showcasing some of the starters available on the menu.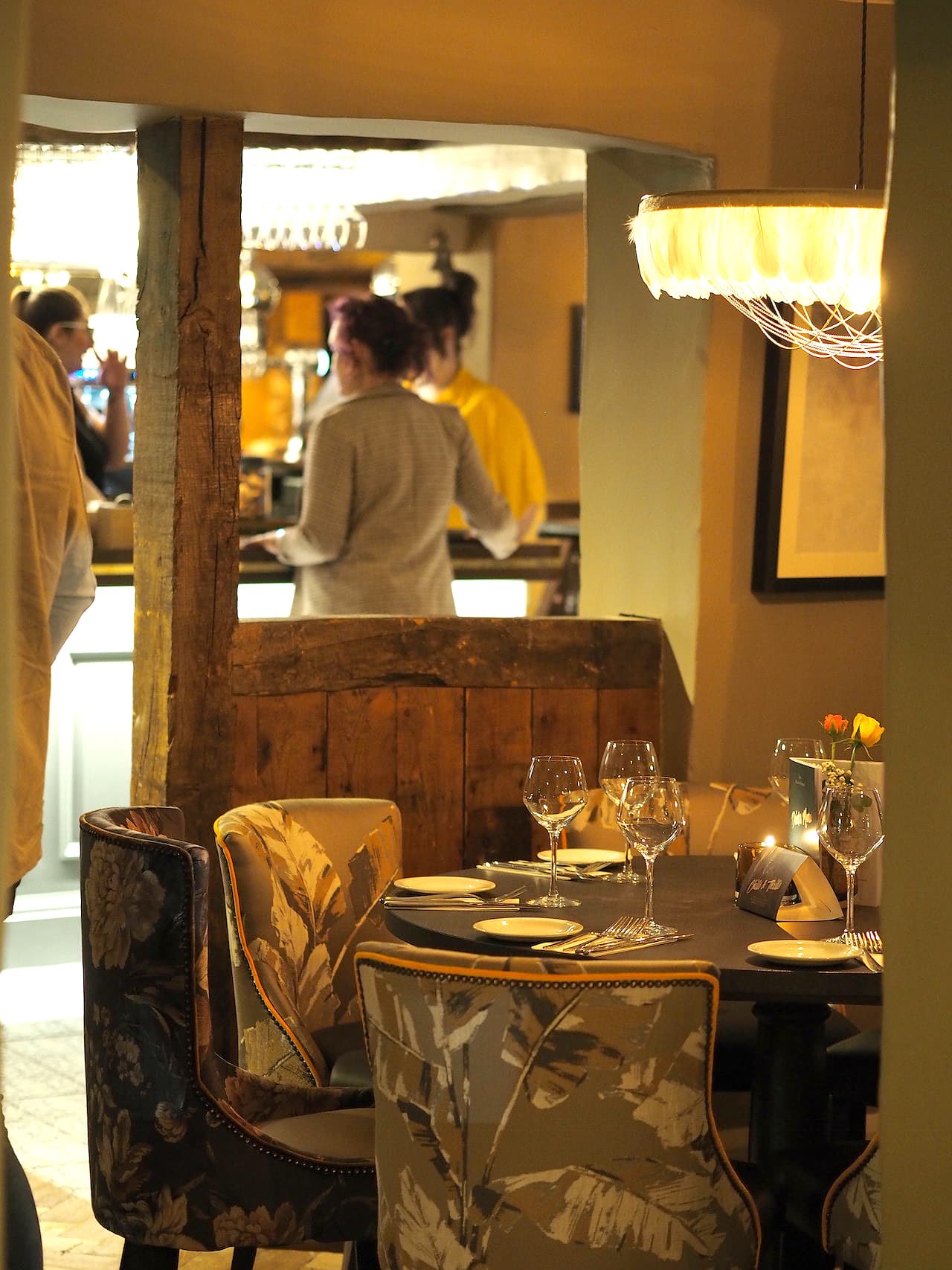 Later on we sat down to dinner with our menus, in a wonderful nook framed with ancient wooden beams. The different areas within the pub are seemingly never ending and keep the atmosphere cosy despite being a very large space.
The menu is pretty extensive. There is a clear desire to infuse a classic pub menu with Asian elements. Starters include a sweet chilli king prawn roll, szechuan pepper squid and crispy karaage chicken.
We mostly plumped for traditional pub grub.
The gooseberry and Prosecco compote which accompanied the duck and port parfait was delightful; chunky and refreshing against the rich and creamy parfait.
The winner of the mains had to be the roasted (and perfectly pink) rack of lamb served with aubergine, roasted sweet peppers, potato dauphinoise, and red wine Jus. Autumn on a plate!
The juicy spit-roasted chicken came with the option of classic fries or (check that Asian influence again) kale & cauliflower couscous salad with pineapple, lemongrass & ginger dressing.
There's also a pretty large Italian selection including pizzas. I was in the mood to test this wild card on the menu so I chose the Padana Pizza with caramelised onions and goats curd.
To quote Mark Corrigan from Peep Show, the pizzas are "a little bit asymmetric, which I usually find is a mark of quality." I think the toppings could have reached their way a little further to the edge, but a tasty pizza nonetheless. One I think I would fully enjoy as a Summer offering up on that beautiful canal side terrace.
Absolutely gorgeous setting? Check. It really is a stunning job that they've done with the refurb and it perfectly marries classic cosy pub with modern injections here and there to keep it fresh. The different nooks to sit in are wonderful.
The food is solid quality and the meats in particular were all cooked extremely well.  I suppose my only critique as always is a menu which tries to do too much. Perhaps the Italian section feels a little forced, whereas the Asian influences are more interesting and feel more like a passion of the kitchen's.
The service was snappy, engaging and everyone we met was beaming ear to ear with pride for their new surroundings. It's always lovely when you can feel a positive vibe from everyone working in a Restaurant. For a great dining experience I always believe that atmosphere is king. Now, when does the mulled wine start being served in those beautiful booths?!