When it comes to Chinese food, me & Mr YumDimSum favour function over form. In London we're found in a back alley restaurant in China town, rather than the flashy units of more fashionable areas of the city. But it was Mr YumDimSum's birthday and I thought it was time we experienced how high end Chinese food compared against the impeccable flavours of more humble vendors. So, we made our way to Yauatcha: a Michelin star tea house in Soho with a reputation for beautiful dim sum.
Pushing open that big, blue door we were met by a contemporary space filled with occupied tables. The edge of the restaurant was lined with glass counters containing pristine rows of little cakes and pastries. Front of house was considerably less animated than the loud, efficient greetings I was used to and I wondered for a moment whether the personality of the Chinese dining experience would be lost among the leather booths and glass counter tops.
Unexpectedly we were ushered down a dark flight of stairs to our table, which sat underground in the main body of the restaurant. This space had a completely different vibe: it was cosy and packed full of chattering people with waiting staff rushing around with towers of steamed baskets. This was more like it! The interior décor of Yauatcha really is stunning and I completely fell in love with the ceiling dotted with spot lights to resemble stars. There was also a bar aquarium full of fish, which entertained me greatly!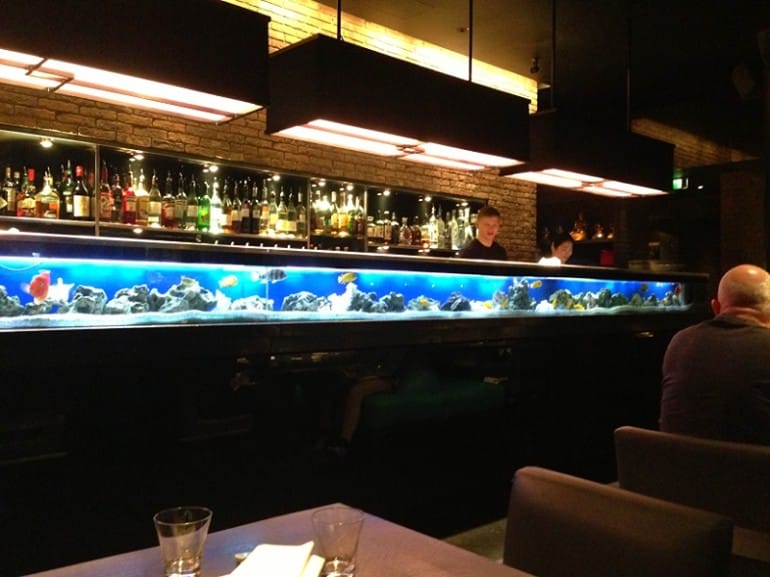 The tea menu, as you'd expect for a tea house of this calibre, is vast. We chose a flowering orchid tea which was perfect for a cold Winter day. It smelled sweet like honey but tasted mild and smooth.
The menu is equally expansive and really well set out so you can make an informed decision, eliminating the risk of order regret! The dim sum we picked were a mixture of classics as well as a few contemporary 'posh' ones.
I should start out my mentioning the condiments. Usually these are completely disregarded by myself in a regular Chinese, but Yauatcha really go to town. Sweet pickles and the most beautiful chilli garlic sauce were very popular with the both of us!
First to arrive was a duck and pumpkin puff, beautifully presented as adorable little pumpkins! The duck inside was meltingly tender and accompanied by a sweet pumpkin purée; a combination I've never had before but it partnered spectacularly.
This was classic shumai with Michelin star attention to detail, complete with a tiny little mushroom crown and a really complex mixture of onions and chives. You could taste there were many different kinds, but they all balanced out to create a mellow hum.
Steamed chicken shumai with a twist: wrapped in a green casing and topped with a little pool of broth and tiny noodles. These were delicate in flavour and super succulent.
This for me was one of the best: a spicy pork wonton with some really complex flavours. At first it was deep and smoky, followed by a honeyed sweetness, then finished with a slow growing heat that allowed you to enjoy the other flavours before taking over.
Next were venison puffs, these were so rich and hearty! I've never seen venison on offer in Chinese form before and I thoroughly enjoyed it.
The duck rolls were packed full of juicy, tender meat and accompanied by a devilishly thick hoisin sauce. Absolutely delicious but I have to say Michelin star rolls didn't stand out above other good quality ones I've eaten. I guess a duck roll is a duck roll, no matter where you go!
Our final dim sum was char sui pork cheung fun, and what a one to finish on! It was filling, juicy, wonderfully sweet and left me dipping my finger in the leftover sauce whilst smiling.
Our bill, was pretty good value given the level of dining & location. The food, tea, a coke and a bottle of water came to £56 with service charge included.
Yauatcha deliver really beautiful dim sum in equally beautiful surroundings, I loved that Michelin Star dim sum opened up a whole new level of ingredients and flavour combinations, along with stunning presentation that made every little morsel a joy. I would say that the restaurant is only let down by service not being quite polished enough: there were pacing issues with food arriving to our table and it certainly wouldn't hurt front-of-house to crack a smile! The waiting staff however were very friendly made lots of effort to wish Mr YumDimSum a happy birthday.
Yauatcha is a great spot to treat yourself to some high end little works of art. I'll be back to try their Jasmine tea smoked ribs!