If I were an animal I would most definitely be a bear, because dark nights and numb feet make me think about nothing but sleeping in late and warming my belly with something hearty. Bears like warming their bellies, right? Well, they definitely would with this beast of a Winter snack: deliciously sweet sausage rolls with red onion and creamy feta.

12 Sausage Rolls
 4 pork & apple sausages
500g ready made puff pastry
1 red onion
2 tbsp feta cheese
A few sprigs of fresh sage
1 egg
A dash of milk
Handful of breadcrumbs
1 tbsp orange honey
1 tsp balsamic vinegar
1 tsp wholegrain mustard
Pre heat your oven to 180c. First step is to prepare the sweet, soft onions. Begin by cutting into thin strips.
Add them to a pan with a knob of salted butter and a few chopped sage leaves.
Once they've softened and soaked up all that delicious sage butter, stir in the balsamic vinegar and honey, and leave to caramelise on a low heat until they're very soft and very sticky.
Put the onions on a plate too cool and move onto the sausage meat. You need to cut open the sausages and place the meat in a bowl with the mustard and breadcrumbs, mix together well.
Flour your counter and roll out the pastry to the thickness of a pound coin. The length of your sausage rolls is up to you, I went for 4-5 inches long. Just make sure to leave 1cm around the edge of the sausage meat for sealing and just over double the width of the meat to pull the pastry over the top.
Once you've formed the meat into sausage shapes and piled the onions and crumbly feta on top, beat the egg & milk together and wash around the edge of each sausage roll. Pull the pastry over and seal with a fork.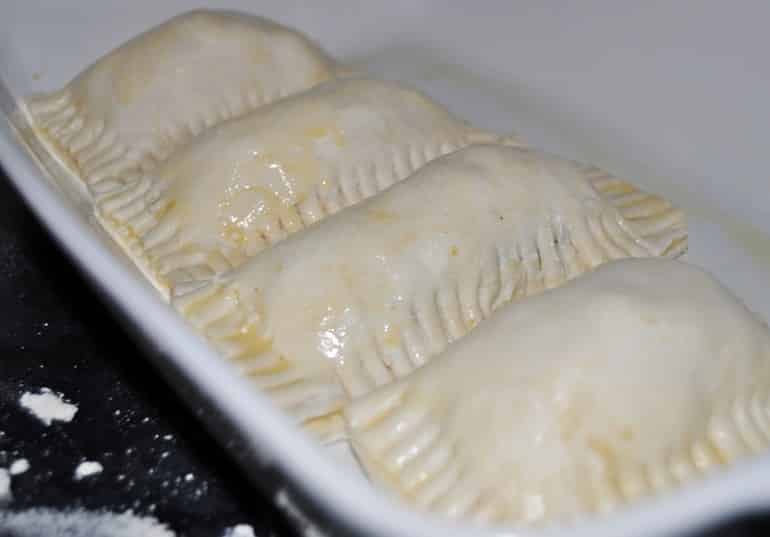 One final egg wash all over and these go into the oven for 25 minutes. They'll meet you on the other side golden brown, light and puffy and completely irresistible.
These sausage rolls are the most perfect Winter treat. The apple and mustard in the sausage meat, the gloriously soft onions and those nuggets of creamy feta work together perfectly to create a sweet and tangy sausage roll that'll have you humming away with happiness.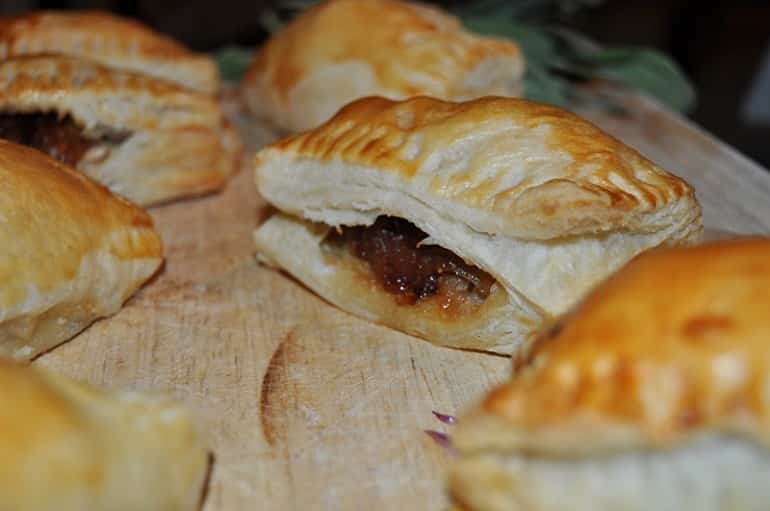 I like to think the John Lewis bear wouldn't mind getting up for one of these…