Ever since discovering keto bread it's become quite a regular in our dinner/snack repertoire. Why? Well, it's unbelievably easy to make for starters with just 4 main ingredients. But it's also a very tasty way to get the illusion of stodge into your meal without actually consuming loads of bloaty carbs. I've been experimenting with different flavours and cheese & tomato has become a winner. This recipe makes 6 faux bread buns which are great for making sandwiches or even better… burgers!
Cheese & Tomato Keto Bread
 2 cups / 2 large packets of ground almonds
4 large eggs
5 tbsp unsalted butter, melted
2 tbsp red pesto
1.5 tsp rosemary
2 tsp baking powder
Strong cheddar, for grating
Makes 6 buns
Preheat your oven to 180c. Melt the butter and beat the eggs in a separate bowl. In your main bowl, add the almond flour, baking powder, rosemary and red pesto. Mix until you have a breadcrumb consistency.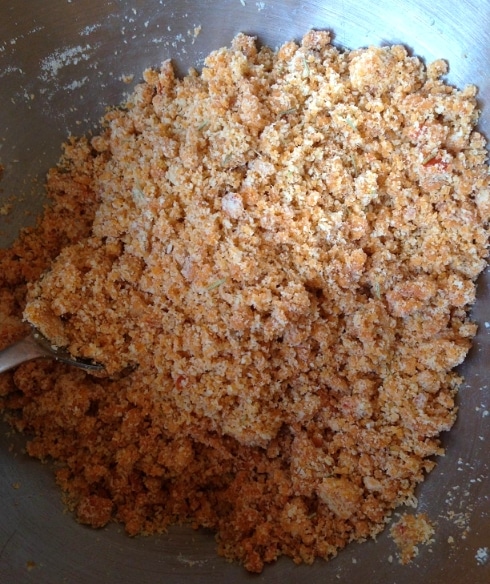 Now add the wet ingredients and whisk until well mixed. Grease your moulds/tray and spoon in the mixture and cover with a grated layer of strong mature cheddar. Using strong cheddar means you get an awful lot of flavour from using less.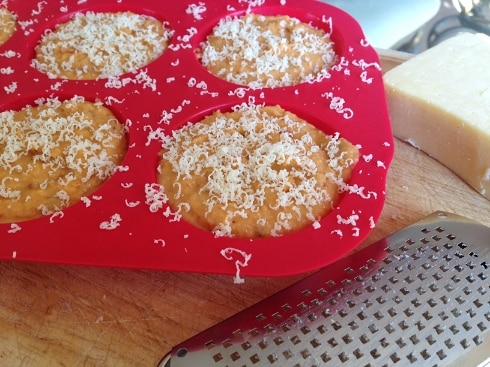 I really recommend using silicone moulds for this recipe: in shallow metal trays the bread can go a bit flat. Anyway, into the oven for 10-12 minutes…
Ta-dah!
Adding cheese on top helps give the keto bread a convincing bread crust. Inside they're soft and dense, similar to white bread.
I cut them open and shoved in a big, fat ground steak burger!
The lack of carbs in keto bread makes it a great way to sneak out some of the guilt from a meal. The addition of red pesto & cheese gives these buns an indulgent & tangy flavour. I enjoyed these keto burger babies with some fruity cous cous & salad: the perfect Summer dinner!