What an absolute scorcher it's been! For the last few days there's been nothing but the smell of hot coals in the air and I absolutely love it. I spent my weekend making the most of the sunshine with not one, not two, but three BBQs in the space of 24 hours!

Ones with friends involved bringing a dish and lolling about in the sun with cider and all the meat imaginable.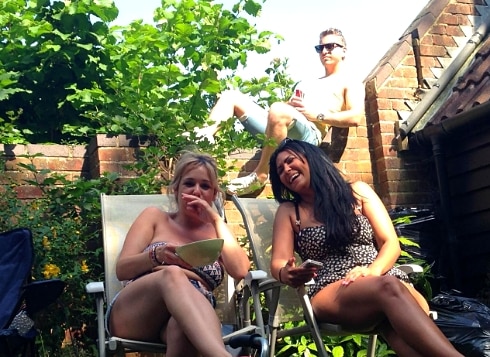 In true British fashion it also meant chasing the sun around the garden, even climbing up the wall to catch the last of it!
Dedication.
I come from a family of BBQ enthusiasts. For us it's less of a weekend novelty and more of a Summer lifestyle; from May through to late September my family are sat out in the garden cooking their dinner on the grill, sunshine or no!
The legend of my parent's BBQ skills runs strong throughout the land (well, with whoever I brag to at least) and it seems only right to finally divulge the tried and tested formula that guarantees our little family one spectacular garden feast every single time!
The BBQ
Now, when it comes to the coal Vs gas debate I refuse to budge in my opinion that coal wins hands down. I don't like gas ones, I mean sure they're all shiny and pretty but it's exactly that which takes away from the entire charm of the BBQ. For me, half of the enjoyment comes from that deep, smoky smell of coals crackling away and the primitive satisfaction you get from starting your own fire.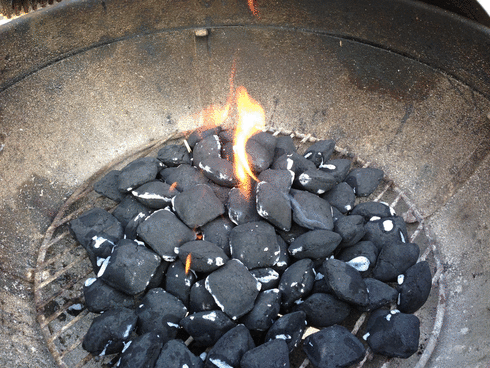 Any coal BBQ will give you far tastier results, but for me nothing beats a Webber. My parents bought theirs in the late 70's and it is still going strong. It's ancient and clunky, the metal is weathered and the paint has chipped. But my God if we don't all love that thing.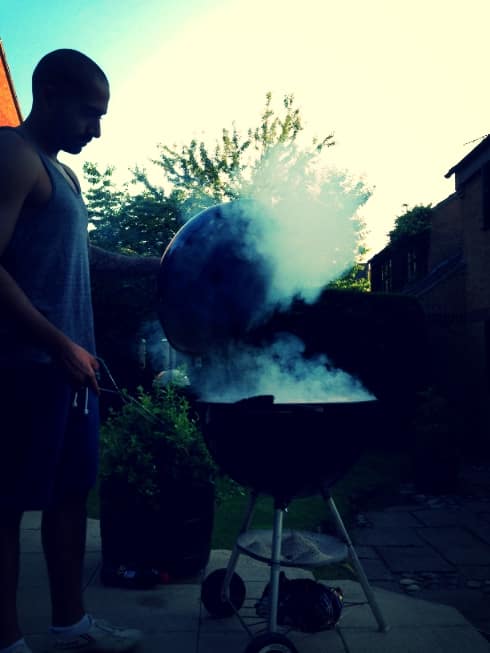 If you're looking for an investment. Get a Webber.
The Meat
This is a big moment. I'm about to share the only two marinades you will ever need. Ever. These recipes have been in our family as long as the BBQ itself and in over three decades they've stuck fast as timeless, ridiculously easy and utterly delicious. The first one is for chicken breasts.
I just love when the page of an old, favourite recipe is splattered from all the times you've made it before. This chicken marinade is so simple and yet I cannot describe how tasty it makes the meat. The red wine vinegar breaks down the protein whilst the oil keeps in the moisture, the result is gloriously juicy chicken with an intense, tangy bite.
The second BBQ marinade you'll ever need is for pork. It works spectacularly well on ribs and chops. This one gives the meat an aromatic spicy flavour, whilst making the fatty bits all sweet and caramelised. You'll never cut the rind off again.
Make these marinades the morning of your BBQ and leave the meat to soak.
How to BBQ
I can hear readers everywhere huffing and puffing "I know how to BBQ!" But here's the thing: I've attended so many where the designated chef is more than a little lost at the hands of the grill. I think many folk for fear of getting food poisoning make the mistake of having their BBQ way too hot. This is the worst way! Your food will end up being bitter and blackened on the outside with a luke warm, dry middle. Here are the golden rules for tasty juicy barbecued morsels!
1. Let your coals mature: Resist the urge to cook your food as soon as you've managed to make fire! The coals need around 30 minutes to settle, firstly to burn off any dust or chemical fire lighters, but also to die down into an even and intense glow of embers. If there are flames, it ain't ready.
2. Avoid direct heat: Unless you're cooking steak, nothing should be placed bang in the centre of the grill. It should be placed on the outside away from direct heat that will burn the outside of your meat. Meats that are closest to being cooked should be moved right to the outskirts.
3. Cover the BBQ: It's fun to watch your meat cooking, but all that oxygen leads to one mighty hot BBQ! Put a lid on it, remove only to check up and flip things over.
4. Be patient: Taking the slow and steady approach is crucial to evenly cooked, tender meat. Cranking up the temperature will not cook it faster, only char the outside. Remember meat with bones need a little longer to cook.
Stick to these rules and you'll be set to impress any visitors, along with your taste buds! Serve up with whatever you and your BBQ pals fancy.
(Roast veg in a foil dish to keep them moist)
If you're anything like me you'll have to have 2 plates as there's never enough room on the first for everything.
So there you have it: laid back cooking, guaranteed to give you flawless food every time. That calls for a drink!