This is such a popular restaurant in the Milton Keynes area, yet I've only been the once! I was last there a couple of years ago for a damn good pizza, the restaurant is just a little too far from where I live for me to frequent more often. But I had a craving for a really good Saturday breakfast; knowing how much people rave about Nonna's, I wanted to re-visit to see what their morning menu was like.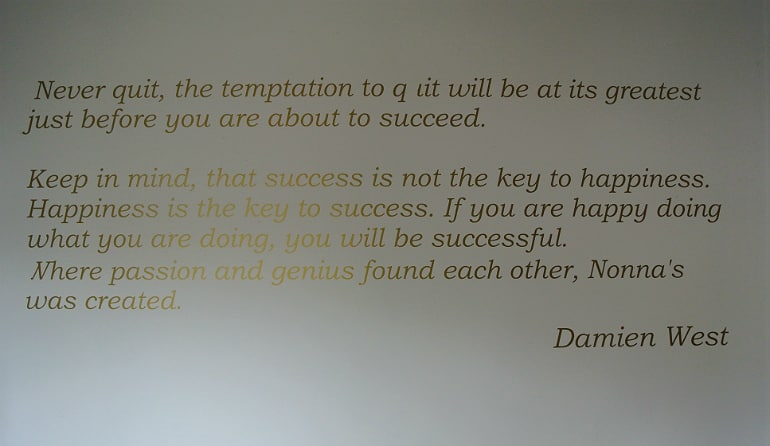 I loved this quote on the wall as we entered; the restaurant was as quirky and attractive as I remembered.
Now, if I'm not treated like number one priority in a restaurant I get miffed. My first impressions had alarm bells ringing as we waited a long time to be acknowledged by waitresses darting past the reception area. We weren't even granted a "Hello," or, "I'll be right with you," and there's only so long I can admire their gorgeous William Morris wallpaper or endure the singing from chefs in the kitchen before my rumbling stomach just wants to be seated with a menu already.
Nonna's is pretty small and it would appear tables at breakfast are a rare commodity. We were seated awkwardly in a couple of armchairs around a mini coffee table. I would have perhaps found this quaint but for the lengthy time it took for the waitress to come back to us with menus & drinks orders… instead I just felt a little neglected.
The look of a hungry man who just wants some eggs!
My opinion of the service was further let down having observed the waitress bring two wrong drinks orders to the table we were facing as well as a few cutlery drops. However my mood turned for the better as our food arrived. Two hearty and appetising dishes of perfectly cooked eggs. Mr YDS went for eggs benedict, the best he's had in a long time he commented. My scrambled eggs with bacon and brie on thick toasted bread was divine. I've not had brie with eggs before but it worked beautifully and made for a very rich and indulgent meal. The prices were very reasonable as well, costing a mere £11.25 for both meals.
Wonderful food but not quite the relaxing Saturday morning breakfast treat I was hoping for. The service was clumsy and inattentive which made me feel on edge. A great example that a good eating out experience is about much more than the food!