One fine day a few years ago, I visited The Crown in Granborough with Q and his family. We sat down at a table in the garden and having arrived as they were opening, got our pick of the sunniest tables. Soon a very young waiter came out to see us. He announced bluntly that there were no tables available and they had all been booked. Making no effort to see if we even had a booking, or offer us drinks at the bar instead, we felt as though our business wasn't wanted and shuffled off scratching our heads, after one last look around at the empty tables and chairs.
I followed the experience up with The Crown and whilst they were extremely apologetic and assured me that the (new) waiter was not representing the pub well, it really left a bad taste in my mouth and we haven't bothered with them since.
Needless to say, it was utter music to my ears when I heard that the owner of The Thatch– a wonderful, friendly pub- had taken ownership of The Crown and invited me to come and see what I thought of it.
Well, what a treat to actually make it past the threshold of the front door this time! I can't say what it was like before to compare, but what it is, right now, is lovely: classy modern pub spec. We were seated in the wooden conservatory in a gorgeous cosy corner surrounded by red brick and views of the twinkling fairy lights out in the garden.
I usually pay very little attention to the Specials at restaurants; too often they're a boring reinvention of ingredients from other dishes that need using up. The Crown however got my eye wondering to that chalkboard and had me actually feeling enticed by the descriptions. I could have ordered every course from the specials, but resisted in the name of giving an accurate review. Gotta sample the main show right?
I did however pick the seared scallops from the specials board, couldn't resist…
A good choice too: proper meaty scallops, with a rich sprinkling of black pudding chunks on a velvety smooth butternut squash puree. Really nice; even fish hating Q tried a bit of this and enjoyed it!
Q stayed true to his carnivore disposition and ordered the pork and sage scotch egg. A very hearty starter rocking back and forth as it comes to the table. It did however taste a little bland in my books and would have welcomed a smoky, sweet or spicy element to enhance it. The pickled veg on the side just added vinegar and nothing more. Q disagreed with me though and gobbled the lot up happily.
My main, in direct contrast to the less than flavoursome Scotch egg, packed one hell of a punch to the tastebuds. A roasted lamb rump on a fricassee bed of plump butterbeans and slice upon slice of ultra rich chorizo. Very much a Winter warmer; I'd forgotten how much I love butterbeans. I find them incredibly satisfying to spear onto my fork. The lamb is more there for texture than taste, with the chorizo taking over as king of the dish.
Q can't resist duck, so guess what?! I thought this was lovely presentation; I enjoy a bit of height on a dish. It came with some beautiful garlic mash that looked so damn smooth and delicious that no sooner had our waitress placed this down my fork was delving in for a bite. Once again I was offering my opinion on a dish that Q was enjoying; I felt there was a lack of sauce and that it looked a bit dry. Once again he told me it was all good by him, the buttery mash offering plenty of lubrication (oh somebody please offer me a better word that I can use than this!)
As you know I've always got time for dessert, but on this occasion in particular we saved the best until last, sharing two desserts that caught our eye.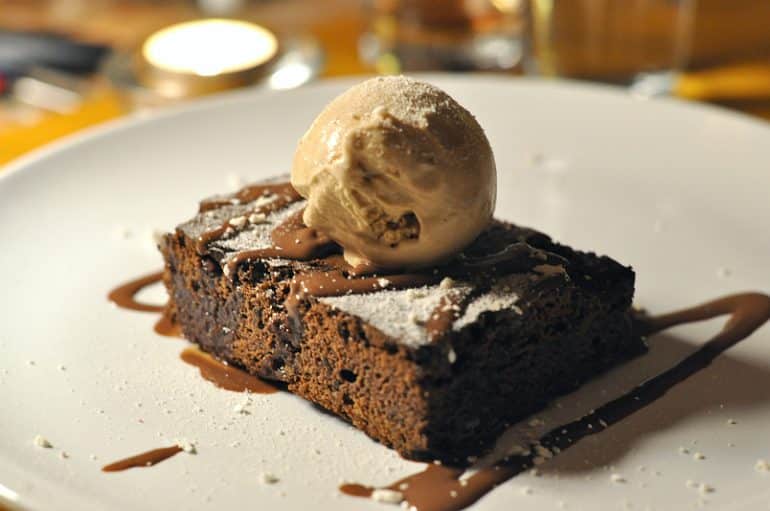 Oh yes, now this. Was. Amazing. Best brownie I have had in a long time, in fact I'm struggling right now to think of a contender anywhere else. It arrives warm with a little Crown (see what I did there) of salted caramel ice cream. The outside has a thick, chewy, chocolatey crust that gives way to rich, cakey brownie goodness. No rubbish nuts in this either. I hate nuts in dessert. Oh this was just a dream and as I write this I'm pained that I cannot have another one right now!
Okay, that was a hard act to follow and Q and I were still finishing our Oh-my-Gods about the brownie as we tucked into our citrus cheesecake. It was perfectly lovely and tasted similar to my mum's (always a positive comparison) with a subtle undertone of mint. Beautiful fresh fruit piled atop and an intensely mangoey (yeah, 'mangoey'!) sorbet.
I'm pleased to say experience at The Crown was enough to eradicate my opinions from the former owners. It was really nice for me on a personal level to review this pub and start afresh. I felt genuine relief as we were met with smiles from the staff and given friendly and relaxed service. Outside of the dining space there's some beautiful nooks and crannies that are perfect for drinks; I will definitely be back for a few ciders! The food, whilst a few niggles is well presented, hearty and cooked very well. The prices are very reasonable for posh-pub grub as well.
Oh and for the love of God, order that brownie.
Disclosure: our meal was complimentary. As always all thoughts are my own.