Nestled in my favourite city and serving my favourite food, I suppose Yauatcha could be described as my food Mecca. I first discovered the Soho restaurant when taking Q for his birthday. We had a fantastic time munching our way through classic dim sum and gourmet new kinds. I was pretty excited when I heard a new Yauatcha (city) was opening, I was even more ecstatic when I was invited to see what I thought.

Frankly, we couldn't have picked worse weather to visit! Picking our way through puddles and dodging the untamed (and hilariously broken) umbrellas of other Londoners we arrived in Broadgate Circle, looking fabulously corporate and futuristic.
It's got that cool, 80's sci-fi vibe, don't you think?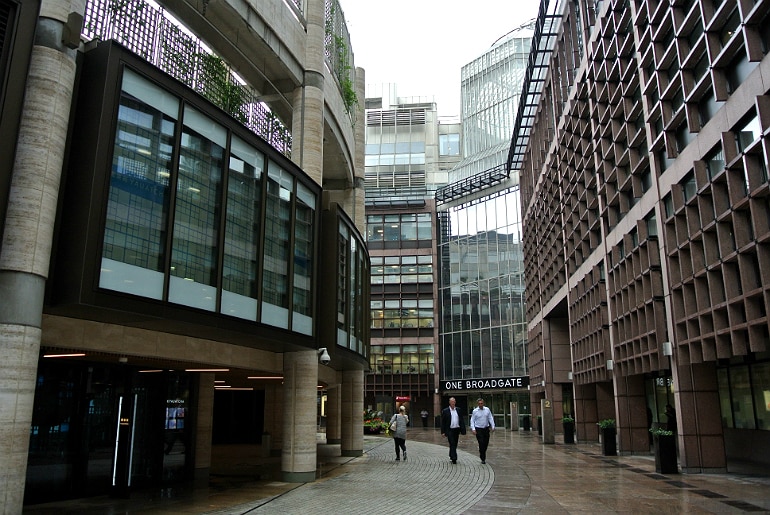 Front of house were as frosty as I'd found them in Soho. I could see the disdain in the lady's eyes as I handed over my sodden jacket! Just like Soho, they show no reflection on the rest of the restaurant, and we were whisked upstairs, through a cloud of incense into a buzzing pocket of business lunches and client talks. I find it wonderfully satisfying to be around working folk on a day off. Makes you feel a little smug!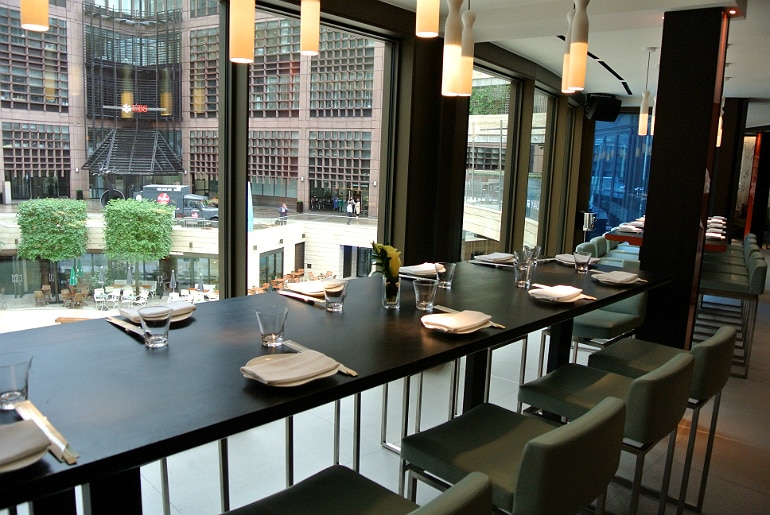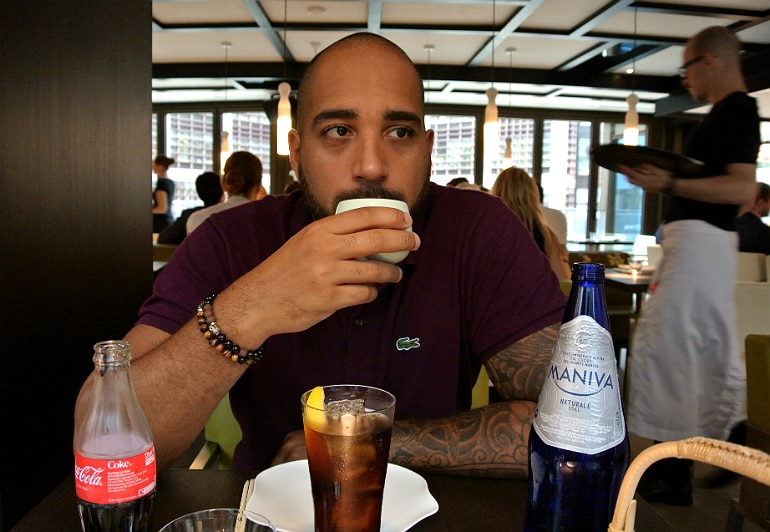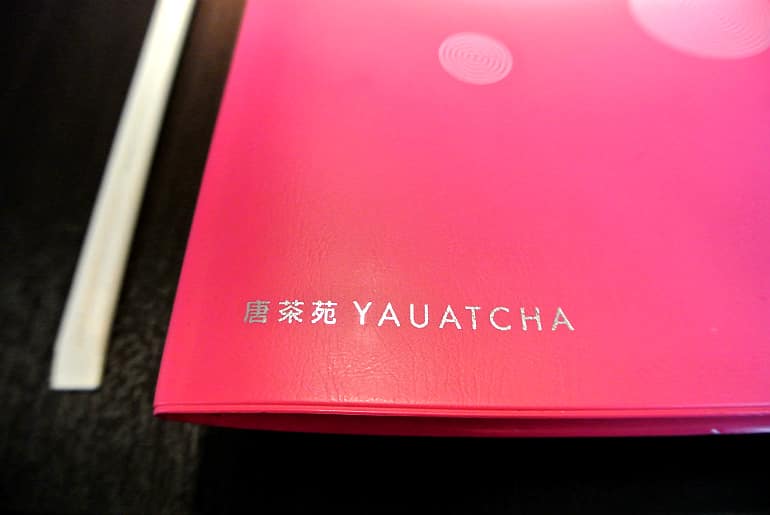 I love the Yauatcha splats! It's a fun little touch among an otherwise very slick & sophisticated restaurant. Speaking of which, I didn't love the disposable chop sticks.
Yauatcha City have an insane tea menu. We chose a classic Jasmine tea to warm us up and it was the most beautiful thing to drink. So delicate and soothing!
Okay. Now the folk at Yauatcha City fed us A LOT. We already kicked things off with a big order ourselves, but then came their own recommendations; excitable suggestions to try things they loved off the menu. I adored their passion for the food!
Wagyu beef dumplings. If you've never had Wagyu beef, put it on your gastronomic bucket list. It has a high fat content that makes the meat other levels of juicy sweet.
Two classics we both love: cheung fun and har gau. Both packed with filling, the cheung fun was the best I've had. And I've eaten a lot of it!
There was a fight for the last steamed prawn…
Here's a dim sum I've never tried: wild mushroom dumplings. Beautifully parcelled, with tiny cubes of water chestnut. Such wonderful detail!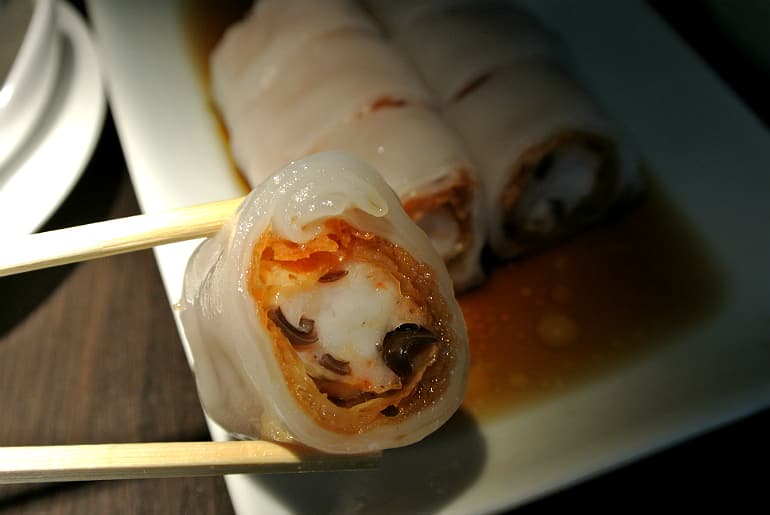 Spicy wontons, crispy beancurd, crunchy duck puffs. All made with real skill and real flavour. Those pumpkin & duck puffs blow me away.
At this point we're groaning from gluttony… then we remember we ordered ribs. Delicious, sticky, tea smoked ribs that are so shiny and inviting that I've got a pile of bones on my plate before I can stop myself! (Okay I was never going to stop myself)
I think I gave our waiter a look of fear as he asked if we'd like dessert! "Nooo!" I blurted, but he was quite insistent and served us the menus.
I'm so glad he did.
Look at that. We were too full to decide ourselves, so the passionate staff brought us their Summer special; a dome of passion fruit & mango with coconut mousse, white chocolate and mango sorbet. I cannot tell you how much we enjoyed this. One of the best desserts I've ever had.
They even snuck over some macarons to fill the last gaps in our stomachs! Yauatcha's patisserie is as delightful as their dim sum.
We arrived among a frenzy of banker's on lunch and were one of the last to leave. It's a beautiful restaurant that you can spend a lot of time in. I don't know how we managed to eat that much food!  I can assure you on waddling home there was no nimble puddle dodging!