I've been really excited about writing this post.
Firstly, because of the name. This is quite possibly, the most brilliantly named restaurant I have ever come across. Before I even knew what they cooked I was sold! But I was even more hell bent on trying this place when I learnt they're Nepalese. It's a cuisine I've never tried, but strafing the line between China and India, Nepal had to offer up some really interesting food. So following a good few phone calls to wangle ourselves a table (Yak Yeti Yak is very popular) we headed down an iron staircase into the basement restaurant.
The atmosphere is pretty intense. As soon as you step through the front door you're transported to another world. The lighting is dark and moody and everything is red and gold. The restaurant walls are adorned with weird and wonderful objects from Nepal and the air is thick with incense. It all feels a little surreal, only enhanced when you look up from your table and notice the ceiling…
The yeti perhaps?!
The menu really does reflect Chinese and Indian influences. The selection is wide and varied, with a lot of vegetarian friendly dishes. Among the starters were dumplings, meats, spiced potatoes and fried cheese. All the kind of things you can order and share with everyone at your table. Mains are curry based, which you can accompany with lots of exciting dal, channa and vegetable sides as well as rice.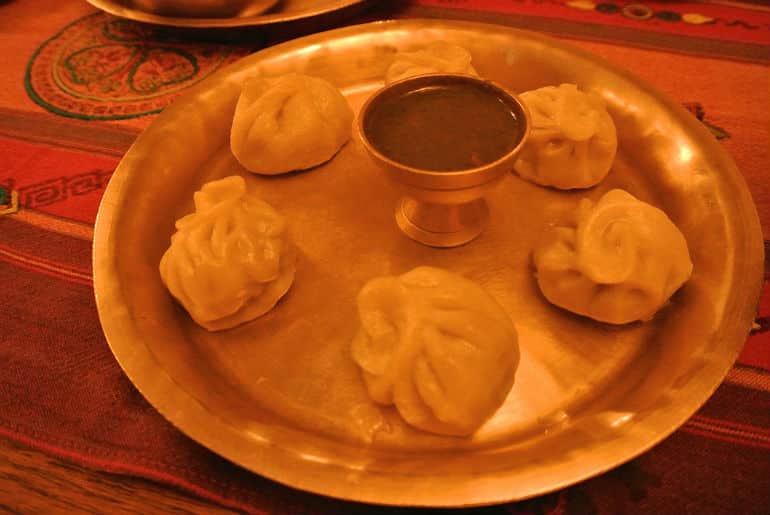 Being the huge dim sum fan that I am, the 'pork momos' really sprung out at me. These were fragrantly spiced pork dumplings served with a hemp seed chutney, and they were to die for! The dumpling itself is identical to a Chinese one, but the filling was rich and aromatic. Incredibly soft and tender, these got devoured in no time at all! Honestly some of the tastiest little morsels I've eaten.
This little salad of spiced potatoes served in a popadum basket didn't photograph so well but was surprisingly tasty! Very similar to Bombay potatoes but more nutty with the addition of sesame seeds.
We were so engrossed in discussing how tasty the starters were that before we knew it a giant cauldron of rice appeared at the table! I really loved all the golden bowls & plates Yak Yeti Yak use. They're satisfyingly heavy and make you feel like you're really feasting.
We ordered a big ol' range of curries and sides to dig into.
Yak Yeti Yak chicken, in a masala blend and a herb called fenugreek which has a sweet and nutty flavour.
Pork Sag Aloo, slow cooked and super tender. Finished with spinach & coriander.
I ordered one of the specials; goat curry. I love goat and really wish it was used in more cuisines. Similar to West Indian dishes, the dish was served with the bones left in. This can mean a little more work to eat it, but the bones are what give the curry such incredible flavour. This curry was so enjoyable with very soft meat and a rich sauce that was almost like a gravy.
With all the curries and rice the meal had a similar kind of vibe as when you go for an Indian, though dessert was refreshingly different. I'm always disappointed that many Indian restaurants hand you a menu of bulk-bought, pre-packaged frozen desserts. At Yak Yeti Yak authenticity ran all the way through each course and there was a selection of Nepalese sweets to pick from.
This apple tart is named 'Freak Street Apples', named after a lively street in Nepal which fell along the hippy trail of the 60's & 70's. This was a simple and tasty dessert with stewed apples caramelised on top.
This Gaajarko Tartlet is carrot based and spiced with cinnamon and cardamom. Really warm and comforting, perfect with some vanilla ice cream!
This was my favourite meal in Bath. Everything about Yak Yeti Yak was insightful and delicious. The menu, the walls, even the toilets feature facts and photos all about Nepal, the entire restaurant oozes Nepalese pride and the owners have gone to great efforts to give diners a taste of their culture. The food itself is beautifully cooked and I truly love the way Nepalese food marries the aromas of Indian food with the lively cooking methods of Chinese. The flavours are rich and complex, without any overwhelming spiciness.
I am now on a mission to locate the nearest Nepalese restaurant to my home, I need to try more!