In September 2016 Q and I realised a long-time dream and spent two unforgettable weeks in Vancouver. I have had a lifetime love for Canada despite, until this visit, having never been there, nor having any family ties with the country. Weird huh? I think it all began with watching The Raccoons as a child. I grew up being drawn to large lakes, giant trees and even bigger mountains. In my adulthood nothing has changed and I find myself (living in the flattest part of the UK, ugh!) constantly craving dramatic landscapes.
We flew out to Vancouver with crossed fingers that the city and surroundings would live up to our expectations and (spoiler alert) it ended up doing so in every way possible…. but you knew that from the title. Here's why:
Driving the Sea to Sky Highway
We rented a car to venture outside of the city and experience the unimaginable beauty of British Columbia. Almost everywhere you can go involves driving along the wonderfully named sea-to-sky highway which hugs the shore as it winds around the mountainsides. Passengers can press their noses against the glass and enjoy the meeting of the sea and the sky in a gorgeous display of hazy blues.
Nature Spotting
And this doesn't just mean watching your back for bears… although there's an element of cautious excitement as you come across warning signs for predators. I'm talking more about the abundance of incredible (and safe!) animals that appear when you'd least expect and ones that you may never have seen before.
This amazing place was a lunch spot a little further up from Vancouver in Squamish. Here we ate burgers and stared out at the river, where every now and again a sea lion would pop up to say hello!
And up the Chief mountain this little guy became our friend…
I also spotted raccoons (Burt?!), black squirrels and bald eagles. All animals I had never seen before!
Car Spotting… Everywhere
Vancouver is known for its obscenely expensive properties, meaning that those who are lucky enough to live in the city are often pretty damn wealthy… which in turns means lots of cars. In fact colourful sports cars seem to be Vancouver's answer to Cuba's affiliation with brightly coloured convertibles. Expect to turn your head plenty of times in answer to whatever is making that racket down the long strips of downtown Vancouver.
Industrial Vibes
Amid the slick city skyscrapers are some functional, more imposing structures worth marvelling at too. Vancouver docks is a good spot for this, where tall metal towers meet archetypal timber sheds. When the mist gathers and comes rolling down the hills across the sea it's an extremely cool site to see. This part of the city almost lends itself to a gloomy day; an area to wander around if the sun disappears on your trip for sure.
In Stanley Park you can walk under Lions Gate bridge and feel very small. Fun fact: this bridge was partly paid for by Guinness!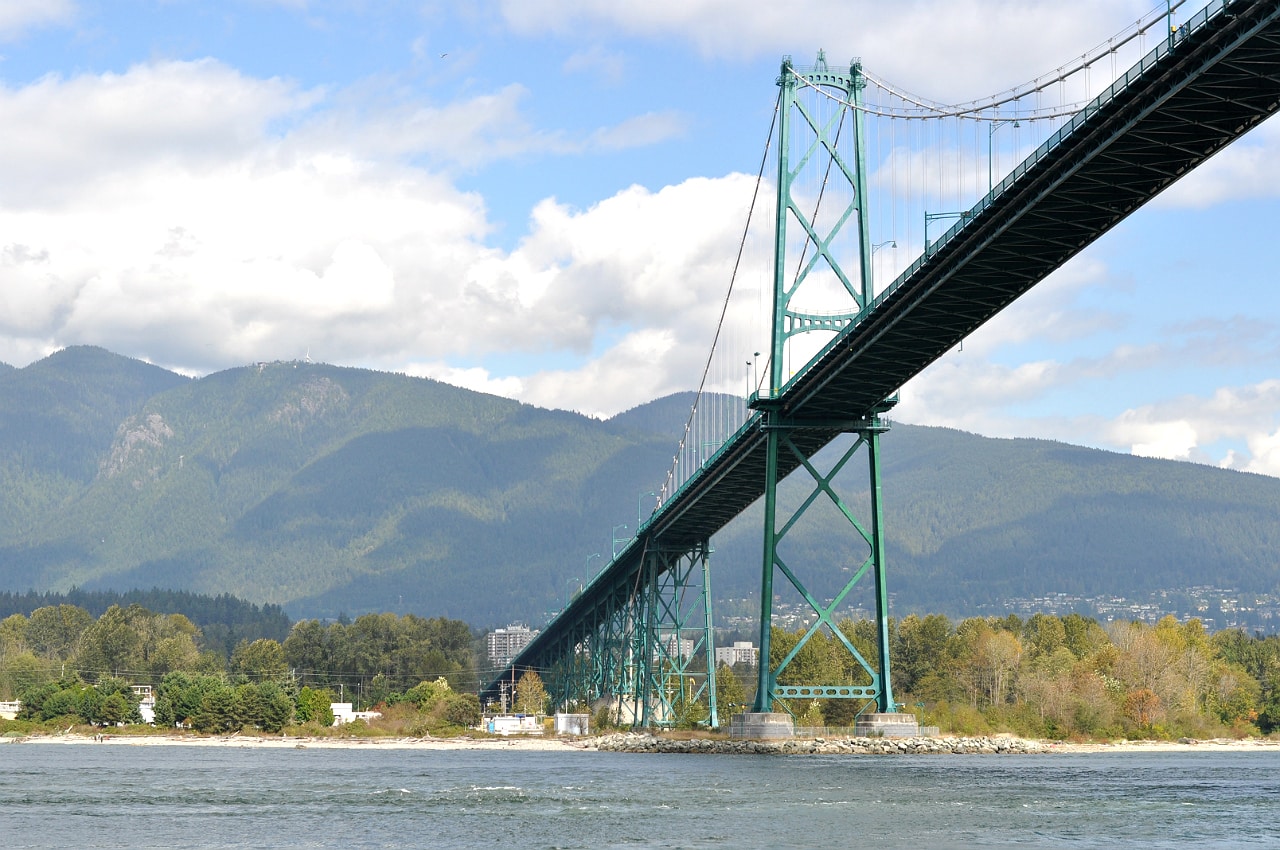 Untouched Beauty
I loved (loved) driving out of the city and in as little as twenty minutes transporting from urban metropolis to unspoilt nature. Traveling along the Sea-to-Sky highway we pulled over at unassuming lanes down to the water and found stunning coves. One of the best is Brunswick Beach.
This was the Canada I had yearned to see all my life.
Some of these coves are accompanied by millionaire's houses that I viewed with envious eyes; I couldn't believe that this was the home for some lucky families. Q practically had to drag me away from the peace and beauty of these secret beaches. It was heart achingly beautiful.
Balcony Views from Robson Street
Robson Street is one of the central streets of Downtown Vancouver and an incredible spot from which to base yourself. A sky-high flat, the higher the better, is a must. As is a balcony. I spent hours on our balcony staring down at the tiny people below, staring out at the mountains peaking above the buildings, staring out at night at the million twinkling city lights. Granted, sleep quality isn't the greatest this deep into the city, but the sights and sounds means a truly immersed experience of Vancouver.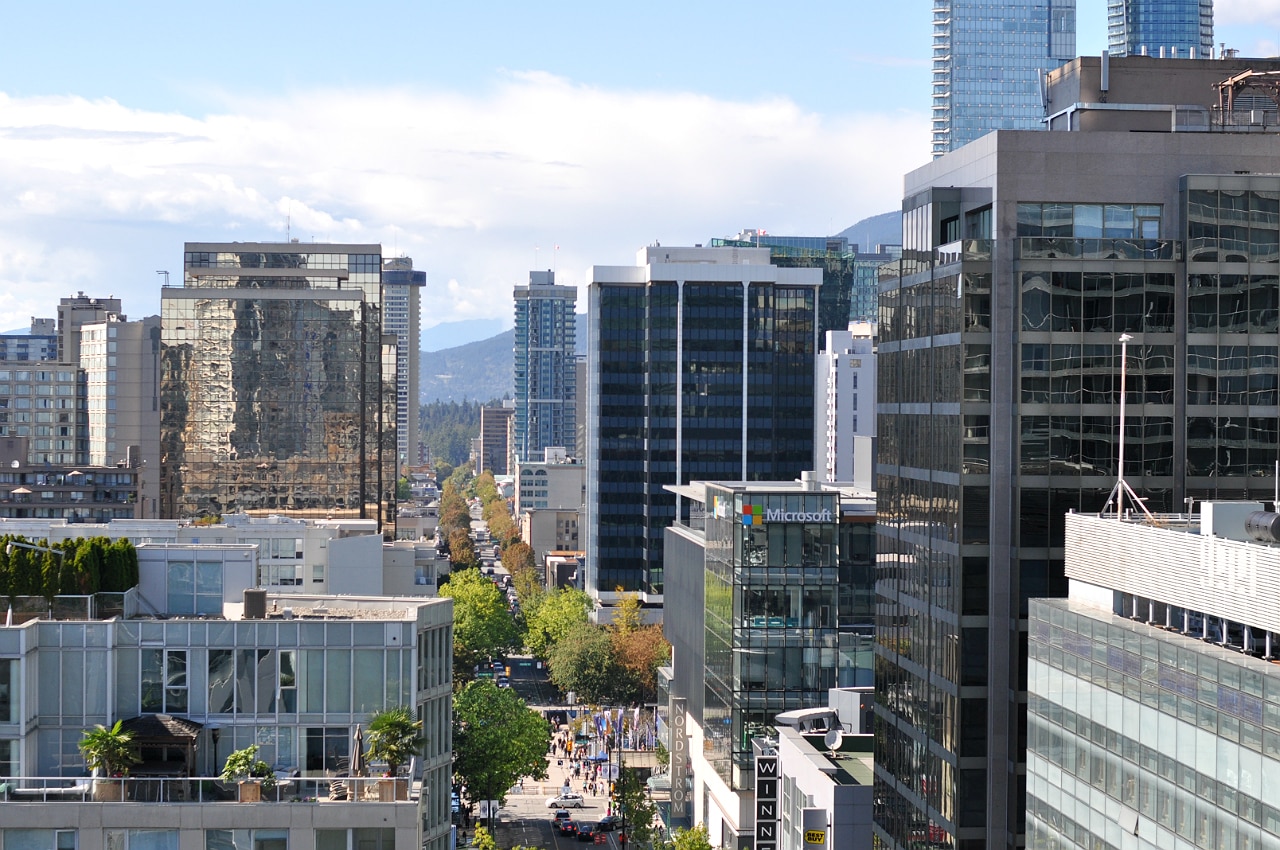 Adventure
Vancouver is without doubt the most active, exciting holidays that I have ever had. I clambered with childlike joy over boulders at Lynn Canyon…
I gazed at the disappearing ground below as we rode the Sea-To-Sky gondola at Squamish.
And wobbled across suspension bridges… everywhere. (They do seem to be everywhere!)
I gasped and lunged my way up Grouse Mountain, conquering the Grouse Grind.
I strolled for miles around Stanley Island, spotting sea lions along the way.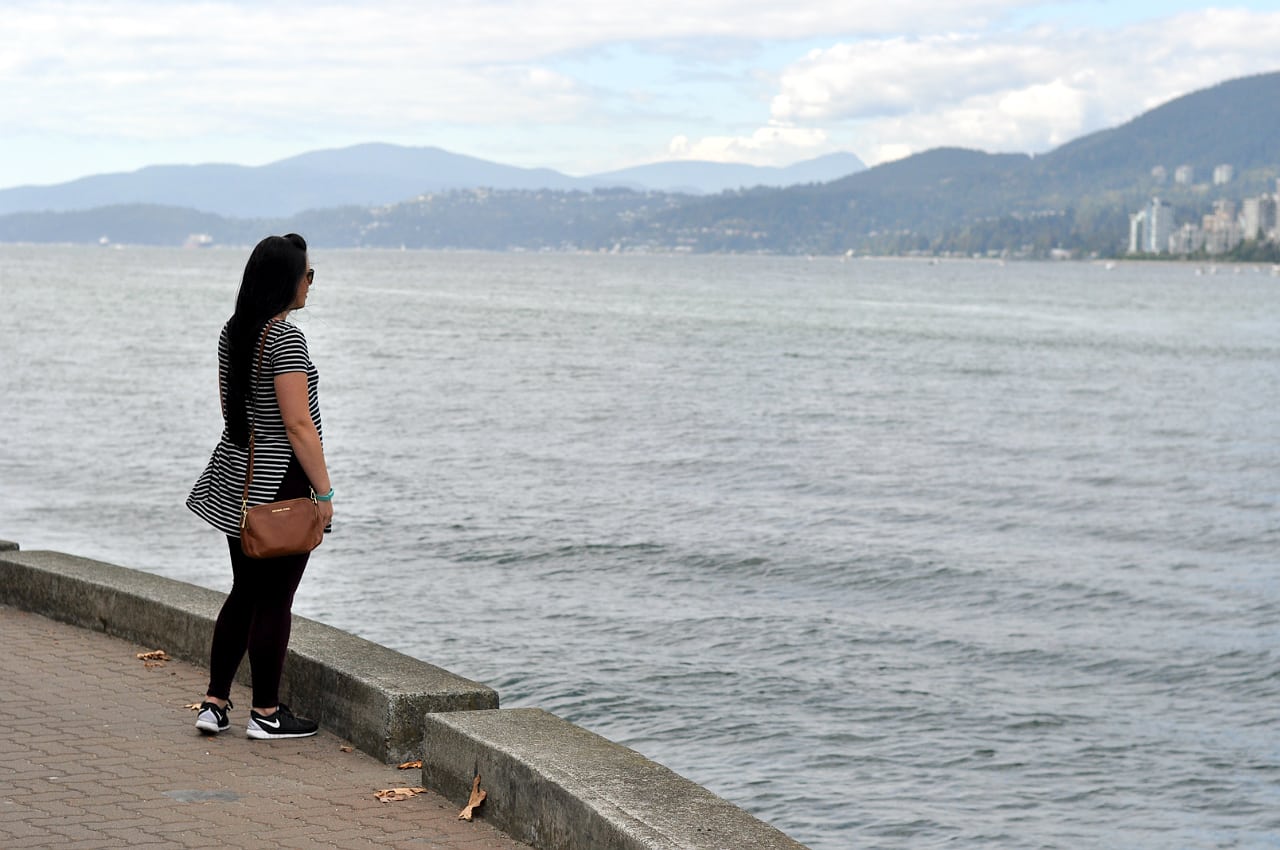 I sat on top of the world at Stawamus Chief. Which was honestly one of the most wonderful experiences of my life.
Endless Food Options
Like any top tier city, the food situation is off the scale. For two weeks we ate out every single lunch and dinner time (uh huh!) and with endless options not once did we go anywhere twice. There's no shortage of Chinese and Japanese restaurants so needless to say that Q and I were in heaven. The level of customer service in the city is like nothing I've experienced before; unbelievably polite, efficient and attentive. Every meal was a joy to eat and experience!
Top Tips For Vancouver
Rent a car. It is criminal to not explore the surrounding British Columbia wilderness! Doing it on your own terms makes it even more of an adventure.
Be patient with crossing roads. Jay walking isn't the done thing.
Try and get a hotel room or apartment high up: not only will you benefit from fantastic views but you'll be a little further away from the noise of the city, which means better sleep.
Stanley Island is a hive of activity and an amazing sea walk. To help the runners, cyclists and walkers enjoy it all together there are lanes, make sure you pick the right one!
Vancouver is a very safe and polite city, but East Hastings Street is an infamous area that should really be avoided.
 Rainy day? Check out the Vancouver aquarium.
Leave the heels at home. Vancouver is a very casual city and there's plenty of walking to be done. Think Soho, not Mayfair.
Be noisy when hiking. Bears are a rare but real threat and they don't like being surprised.
Vancouver isn't a mainstream holiday destination but it should be. It should be every bit on the hit list as the likes of New York. If you've got some town mouse and country mouse to satisfy at once, this is a part of the world to visit.