With palm trees and blue seas it can be quite easy to view St Lucia as a destination for doing nothing other than plonking yourself under the sun and baking all day. The resorts are of course all geared up for doing just that and I've spent many an hour happily gorging on Vitamin D.
But tropical climates don't just mean beautiful blue skies and the reason that St Lucia is such an incredibly lush island is that it rains… rather a lot. One minute you can be falling asleep on your sun lounger with the hot sun in your eyes and the next minute you're rudely awakened by big, warm raindrops splashing down on you! The showers are usually short and sharp, and the weather in general is like a chameleon. Always changing moods.
With that the island lends itself to more than just sun worshiping, and there are plenty of things to do in St Lucia.
Take a Hike up Pigeon Island
This is one of the first things I do every time I come to St Lucia. This is a little rocky hill that is attached by a little spit of land to the main island. It's a National Park and worth the small entry fee to get in. On the flat there's beautiful grounds and a couple of secluded beaches. And of course, lots and lots of small pigeons foraging around. (Pretty little ones, not the city kind.)
The main attraction is the walk to the peak of pigeon island, which takes you up to an old British fort, then along the ridge to the top.
Depending on the heat and humidity this can be a short, but surprisingly tiring trek so bring lots of water! The final section is a rocky scramble and at the top you're rewarded with spectacular 360 degree views all the way out to sea and over the mainland.
Some of the best views on the entire island!
BBQ at Cas Em Bas Beach
This beach is full of activity, making it an excellent people watching spot. Kite surfing, wind surfing, jet skiing, horse riding… it's all happening here!
Like many beaches in St Lucia, it is normal to drive onto the beach and park up. On Sundays in particular you'll find others doing the same; setting up tables and chairs and BBQs for a long, lazy afternoon of eating and drinking in the sunshine.
Horse Watching
I'm yet to spend time on a beach in St Lucia and not see locals riding their horses along the waters edge. It's lovely to watch! They start horse riding young and the skill is really quite impressive. No saddles, no helmets. Just man, animal and nature.
When they're not being ridden the horses relax in the shade and are usually quite happy for you to come up and say hello.
Soak up Luxury at Marigot Bay
Ah how the other half live… you'll see big boats, bigger boats and boat even bigger than that in Marigot bay! This is a beautifully manicured area with pristine boardwalks, luxury boutique resorts and casual but classy restaurants. It's a stunning spot to visit so be sure to bring your camera. Follow the road up the hill to get some great shots down into the bay.
Segway!
Sure, this one's a bit of a tourist trap, but if you enjoy having fun (of course you do!) then I highly recommend an off-road segway tour. They'll take a small group of you on a winding trail up into the hills where you'll enjoy incredible views, fresh coconuts and homemade rum punch. If you thought the journey there was fun, wait until the rum kicks in for the journey back! You'll look anything but cool on your segway but you'll be having such a great time that you won't care. (The uncoolest picture you'll ever see of me and Q coming up. Enjoy.)
Take a Boat Trip
I've been on a couple now with Carnival Sailing and they've been absolutely brilliant. From Castries you set sail onto the big blue sea…
The day trip took us all the way to the beautiful Pitons which look utterly spectacular from an unobstructed oceanside view.
I mean WOW.
Whether you go in the day or to catch the sunset, the trips are accompanied by snacks, lots of drinks and music. By nightfall everyone is up and dancing!
The evening cruise is around 2-3 hours and reaches as far as Marigot Bay which silhouettes so beautifully against the evening sky.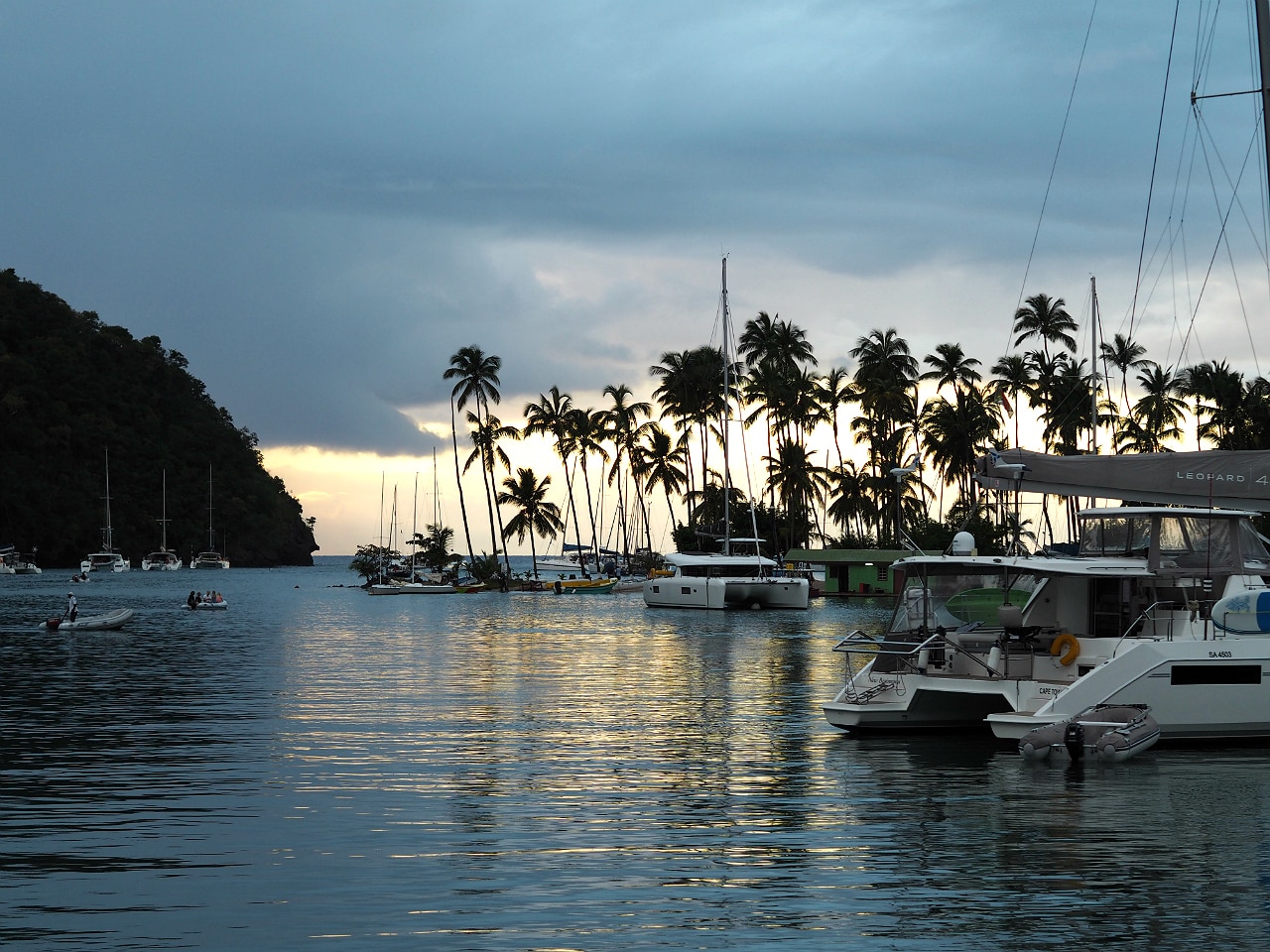 That chameleon St Lucia weather I mentioned means you can't guarantee a crystal clear sunset every time, but even when it is cloudy the sky still manages to put on a show. Like I say, there's something about St Lucian sunsets that seem particularly special.
Ah that beach life. It's more than lying down, closing your eyes and catching the rays. It's sitting up and soaking in the atmosphere, and for a short time joining in the culture of making the beach a part of where you eat, rest and play.