I seem to be venturing into South Bucks quite a lot of late! This time I was visiting The Lazy Pig in The Pantry (website), which opened in Chesham just 6 weeks before I visited.
Disclosure: Our meal was complimentary. As always all thoughts are my own.
First impressions coaxed an "ooooh this is nice!" from me as we turned in from the road. From ample parking to clean landscaping to a professional welcome desk, The Lazy Pig feels fresh, modern and built for purpose. From the moment you arrive it feels well put together and welcoming.
The Lazy Pig in the Pantry, a modern pub in The Chilterns
The pub is very modern and very large. Plenty of different seating areas with a selection of booths, tables, private nooks and best of all, a beautiful conservatory which I requested to sit in.
It may have been a gloomy afternoon when we visited, but nonetheless this conservatory area was beautifully bright; the daylight bouncing off patterned tiles and white marble effect tables. The conservatory glazed walls open up so that in the Summer you can dine al fresco. Although I found it every bit as atmospheric with specks of April showers running down the glass whilst we were cosy indoors.
The menu, like the pub itself, is modern and removed from the classical pub experience. There are dishes like charred mackerel fillet with an oat and lemon crumb, or herb crusted lamb with anchovy dressing. Overall, the offers contemporary twists with an injection of Italian.
Starters
Our chosen starters ranged from £6.95 – £7.25.
Q chose the three cheese arancini with pickled shallots and garlic mayo. A generous starter with five perfectly even arancini balls, with a thick and satisfying, deep golden shell. The texture was great: incredibly comforting with that crunch giving way to a soft and moist rice filling. The three-cheesy flavour didn't pack nearly enough punch as I was hoping for though.
Given their name, you'd hope that the pork was good at The Lazy Pig in The Pantry. And it was. My starter of smoked pork belly with a maple glaze, black pudding crumb and apple puree was a dream to eat. I could just about overlook the tiny offering of apple puree for how juicy sweet the meat was. The fat of the pork belly was maple infused bliss. A simple, pure dish for meat lovers.
Mains
Our chosen mains ranged from £8.95 – £12.95, which I think is amazing value. Under nine quid for a pizza so wide I couldn't fit it in the frame? Bargain.
Lovely wood fired pizzas I add, with a chewy crust and rich and even toppings. Q is a sucker for a classic and well executed margarita.
I was also feeling the Mediterranean vibes (it must have been the conservatory) and chose the mussels in cider and chorizo.
I was impressed by the quality of the mussels in that no shells in my dish were unopened. Nothing worse than delving into a dishful of duds. I picked my way through the shellfish, flecked with chunks of chorizo, dipping my toasted sourdough into the cider-infused sauce. An enjoyable light lunch.
Dessert
…A light lunch that left me plenty of room to explore the puddings!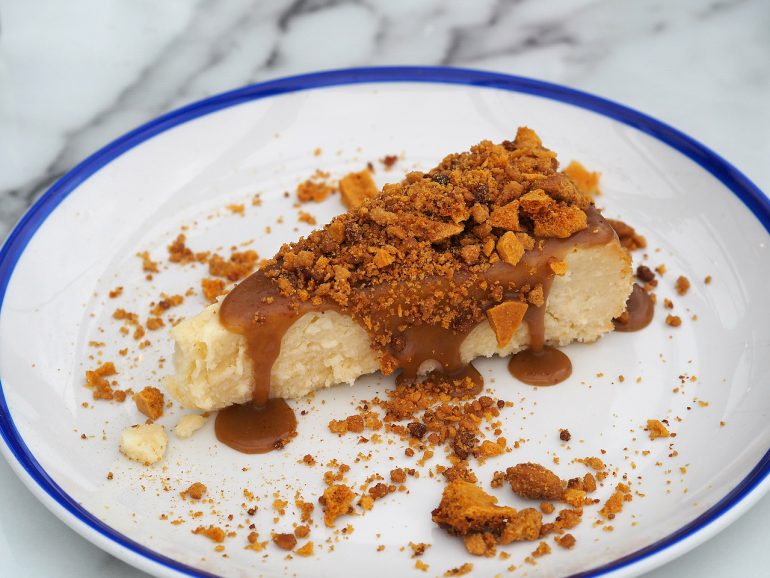 OOFT. Upside down baked vanilla cheesecake, ginger & honeycomb crumb and salted caramel sauce. I had to have this; it bounced off the menu at me and it did not disappoint. Cool, creamy and topped with crunchy burnt caramel flavours. Absolutely delicious, in fact I think I told the waitress so about three times.
Q chose the raspberry sorbet, which despite looking ever so traditional and out of place in presentation on an otherwise very modern menu, was ridiculously tasty. The sorbet had a slight milkshake quality to it; not like ice cream but without that excessive sharpness that sorbet can have. Extremely moreish, especially paired with fresh red berries doused in coulis.
Our desserts cost between £5.00 – £6.50. So overall three courses came to £20 – £27 per head. I mean that is some serious value for money. The Lazy Pig in The Pantry is offering food in an absolutely beautiful setting at very fair prices. For the price point the food is good and dare I say it makes the pub very accessible; I noticed a wide range of diners from young families to retired ladies that lunch. I would come here again for the beautiful conservatory and friendly service… and another slice of cheesecake.
More Pub Reviews
Looking for more great pubs around Buckinghamshire? Check out some of my recent reviews below: