Cruising along the motorway with a rumbling stomach and nothing but expanses of fields as far as the eye can see is no one's idea of a good time. Service station food was out of the question and whilst a few chain pubs came close to winning us over, we were finally saved by a bill board in a field advertising a pub in a nearby village. One swift exit off the motorway and a few roundabouts later we were chugging down refreshing, cold cokes amid the company of vintage cars and affluent customers smoking cigars.
Fixing ravenous appetites is a serious business! I was so hungry that it was proving impossible to decide…
"Go on have the burger." Said a friendly voice above me. It was the waiter, who had noticed me puzzling over the menu. I wasn't going to turn an expert opinion down!
We snuck inside once we ordered to take cover from threatening rain clouds. I watched out the window as a huge pile of waffles and ice cream got delivered to the cigar smoking table outside. That was me adamant we were going to order the same… that was until my burger arrived and was placed in front of me.
Just look at the size of it! A thick, toasted ciabatta bun topped with a weighty steak patty, smoked bacon, a blanket of cheddar, mayonnaise, salad and three of the roundest, most golden onion rings in all the land. What an absolute feast!
Happy girl.
I got a little confused in my excitement to eat and constructed it upside down!
The burger itself was so thick and filled with mustard seeds that gave it an amazing tang. The whole thing is so big you risk dislocating your jaw with every bite. I can tell you right now, it would be worth it.
Mr YumDimSum went for good old fish & chips which was equally as impressive.
The fish was moist and light, the batter completely lacked that greasy after taste. Just perfectly crisp.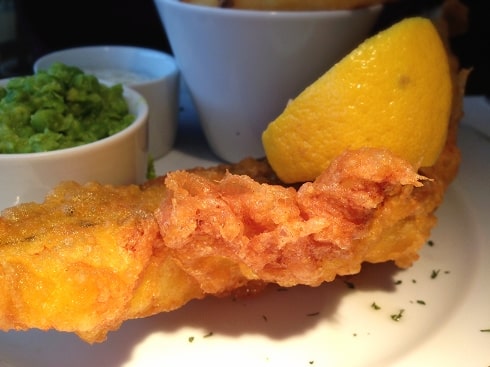 Chips at The George are equally mighty, each one might as well be an entire potato in itself they're that thick. If you can polish them all off, I salute you.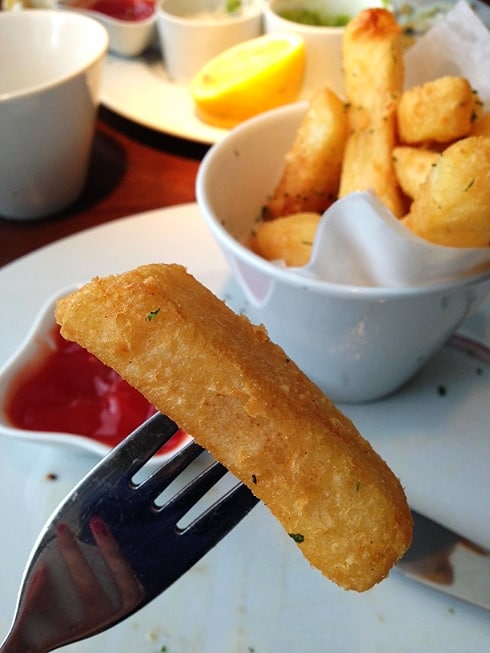 I put my knife and fork together and groaned with utter satisfaction. This was one mighty meal that had gone over and above our expectations. I looked longingly out the window at the waffles and ice cream and whilst my mind was still willing, my stomach had thrown in the towel.
This pub is a gem, I wished I could have taken it back home with me. What we couldn't believe was the value for money with each of our meals costing a meagre £8.95. Those sizes and that quality for well under a tenner had me picking my near-dislocated jaw off the floor.
If you are ever finding yourself passing by Spaldwick you must pay them a visit.