Isn't it amazing when hard work pays off? January has been a tough month for this food blogger: setting myself a goal to eat ultra healthy, train more and get myself in better shape for my wedding dress appointment at the end of the month to take my measurements.
Well I only went and bloody did it! Hellooo size 10 dress! It's been tough, postponing reviews, turning down event invites… Yep, it's safe to say once that appointment was done I was ready to celebrate and indulge a little.
What wonderful timing, that Byron Burger invited me to come and try their new special the day after my fitting. I can't tell you how ready I was for this!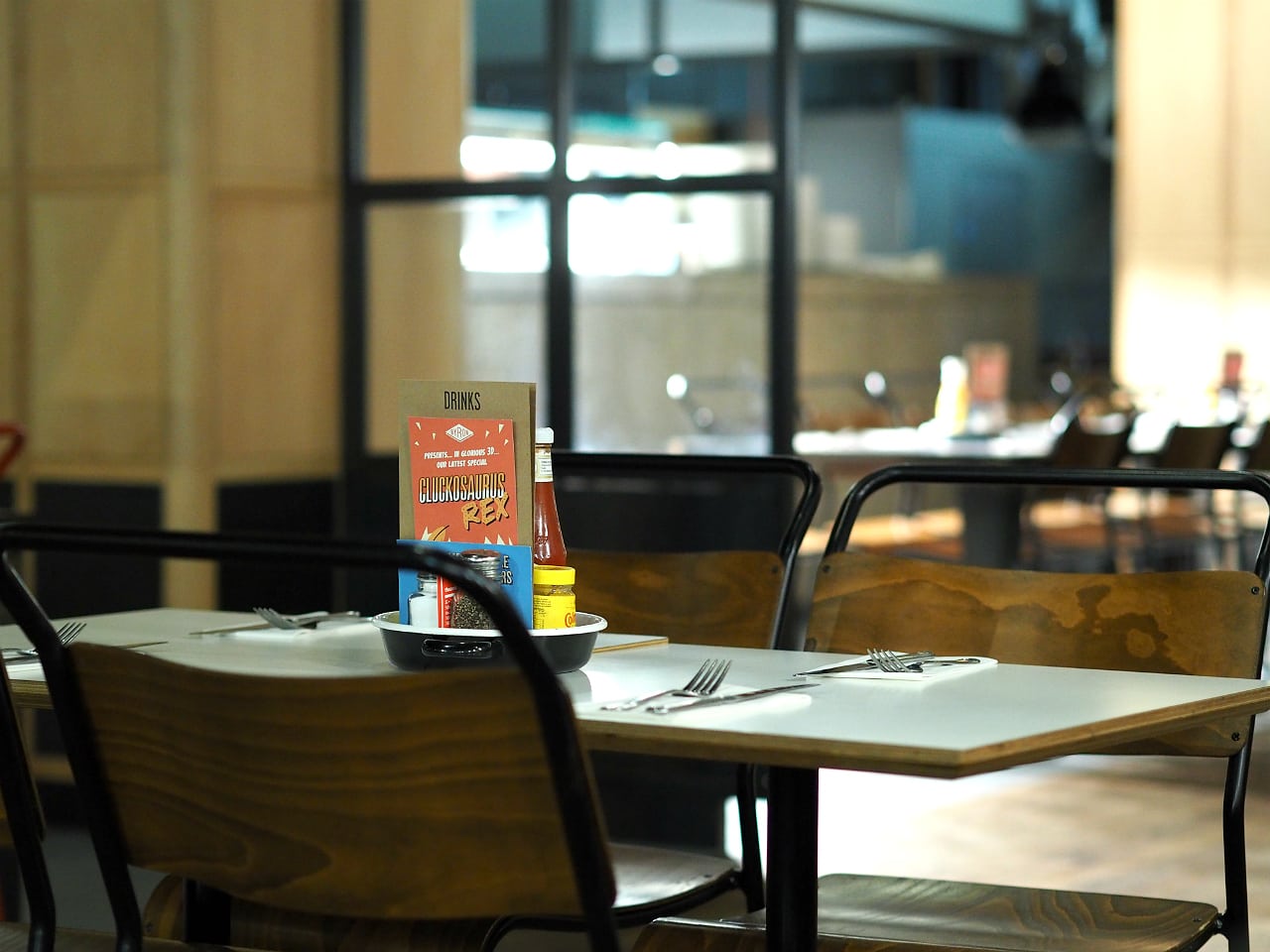 The new and limited edition appearance on the Byron menu is the (hilariously named) Cluckosaurus Rex. As you can guess, it's a chicken burger… a fried chicken burger, with streaky bacon, American cheese, an onion ring, pickles, jalapenos, more onion, BBQ sauce and mayonnaise.
Give me that. Give me all of those things at once. Right now.
Ooft. I could practically see my own grin staring back at me in that shiny brioche bun as I beheld the super meaty, mega indulgent feast I was about to enjoy. I got a side of sweet potato fries with mine.
Q chose his old favourite: the B-Rex. Looking picture perfect as ever.
Okay so back to the main man, the Cluckosaurus (seriously are we talking food or dinosaurs here?). I've gotta say chicken burgers tend to fall by the wayside for me as beef is king in my books for ultimate burger satisfaction. I was very pleasantly surprised to find that my burger contained not one, but two pieces of fried chicken; almost blackened in colour from the seasoning they have coated them in. It's got that nice level of crispiness without being so hard that it cuts your mouth to pieces; certainly not what you'd want with that lovely squishy bun. There's a satisfying, light crunch as you take a bite and realise just how juicy the chicken is; it was way more tender than I was expecting.
The burger elements are all delicious but pretty safe; there's nothing quirky or different. Arguably not much of a special then, until you realise that it's all about that damn tasty chicken. Everything else is there to compliment it rather than steal the show.
I caught the chef taking a few sneaky glances at our table to see what the reaction was (isn't that nice at a chain?) and he definitely would have seen some nods of approval… possibly my little burger happy dance.
So my local Byron Burger in Milton Keynes is always ever so snappy with the service which I love, especially when hungry. Q and I find ourselves eating our meals in much the same fashion and before we knew it, we were sat back in a state of post-burger euphoria not able to eat another bite.
… or so we thought, until we were served a surprise freakshake.
I didn't even know Byron sold these, and oh wow: time for me to eat my words. If you're a regular Girl Eats World follower then you'll have seen me talking about how silly and messy I think freakshakes are.
Yet here I was, loving every moment of my very first one. To be fair Byron place theirs on a saucer which is more than I've seen at other places. No messy tables. Yes yes, it was delicious and I absolutely loved sucking up the ice cream milkshake through the massive straw and dunking in the Oreos and fishing around with my spoon for brownie. Total gluttonous heaven.
Groan and unbutton the jeans time! After weeks of plain chicken and vegetables, fried chicken smothered in bacon and cheese was completely and utterly cathartic. Thank you for reminding me what flavour was Byron.
If you try out the Cluckosaurus I'd love to know what you think!
Disclosure: our meal was complimentary. As always all thoughts are my own.