Out of all the first world problems, being invited to a party you can't go to has to be up there. That pang of anxiety we've all felt when you know you're missing out on some great times and everyone is going to have fun without you! The fomo is real people.
It was a recent experience of mine when I wasn't able to attend the opening party for The Anchor; a pub which recently re-launched following one giant over-haul, including a brand new extension to the dining area. Not being the first to experience the menu? Nightmare. But I rearranged a date to review them, and finally got to see what it was like. Better late than never right?
I should start by saying that I have reviewed a lot of pubs in my local area recently and my God has it proved that there is a fantastic selection. I feel incredibly lucky to live in such a hot spot for brilliant British food. But with that admittedly came a concern that it had become a case of been-there-done-that. Oh look another pub… another pint… another roast duck, y'know?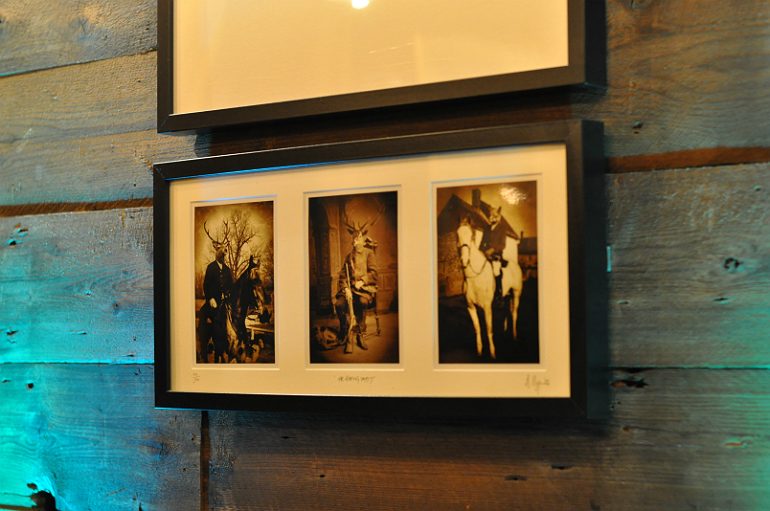 Can you get bored of pubs though? I honestly don't think I can, they're a comfortable, cozy, British bubble. And wow was the interior of The Anchor not only cozy, but incredibly cool as well. The extension is a stunning celebration of wood with floor to ceiling timber. The narrow yet tall dining space has dangling lights that kick off a vibrant yellow glow and the whole room has a Scandinavian feel. I found myself reminiscing about Winter trips to Helsinki I've taken in the past. My eyes moved over multi coloured uplifters, brightly printed cushions and quirky prints of deers in hunting suits and I couldn't quite believe something this trendy was nestled away in a sleepy, ultra traditional village in Buckinghamshire.
There's a private dining space upstairs as well that's equally cool (pssst, it's free to hire!)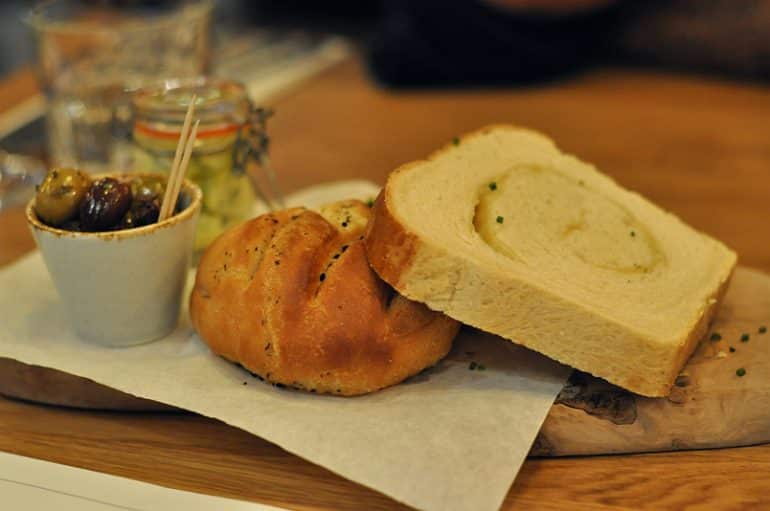 Back downstairs and time for food: breads to start. I haven't had bread to kick of a meal in ages and it was lovely. The day of the humble bread basket lined with kitchen paper is gone, huh? You either get nada, or a beautiful creation like this: garlic swirls and sundried tomatoes, with adorable pots of parsley butter and olives. Impossible to demonstrate any self-restraint over, despite that little voice in my head pleading: "Don't fill up on bread."
Pah, whatever. The voice in my head doesn't know me. Bring on the meals! I ordered what I thought was a rather conventional smoked salmon starter. What I received was anything but the usual: a delightful little fillet of salmon, lightly seared and charred on the outside but raw and fresh on the inside. Served with grapefruit segments and a medley of radishes.
Q's starter from the specials board was crispy pork cheek that was Earthy in presentation and rich in flavour.
Now what was I saying about specials recently? How they're rarely any good… well look at me eating my words, because Q ordered his main from the specials board too.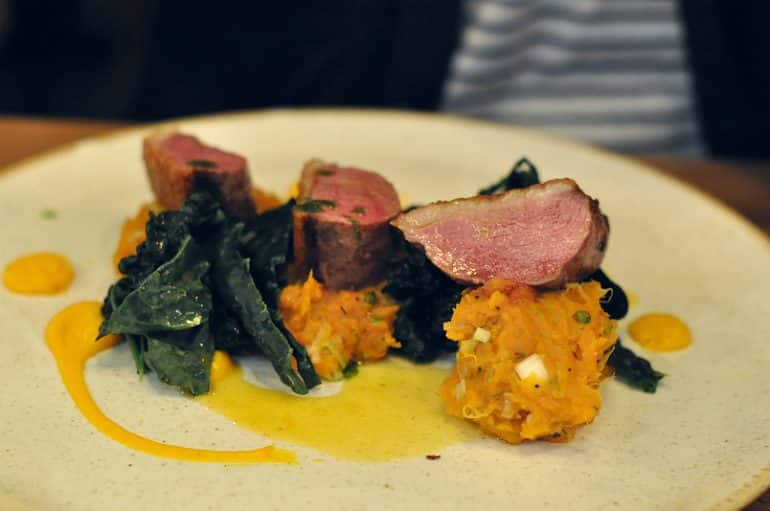 Duck (I know, another bloody duck) but look how pink and juicy! The kind that wobbles a bit under your knife as you cut it. I love that. It came with a refreshing change from the usual maris piper mash or dauphinoise; instead a chunky sweet potato mash with chopped spring onions and an orange caramel. Beautiful citrus flavours.
The duck was good, but not good enough to beat my dish. We agreed I'd won the competition for best main course this time with a lamb loin on garlic and chive mash, with celeriac puree and baby glazed carrots. Oh God was it good! That gravy too, almost a little sticky with a real meaty punch. I have to call it: ten out of ten. A total Autumnal treasure, right down to the plate; the crockery at The Anchor is just beautiful.
It's at this point in dinner, any dinner, that I really need to get a hold of my habit for excitedly shouting "Yes we do!" at the waitress before she's even had a chance to ask if we'd like to see the dessert menus. Too keen. But I just love dessert!
I'm going to rename this dessert 'Death by Sugar' for how I felt when I'd finished eating it. Said as a true sugar junky who sat back and enjoyed that guilty euphoria of devouring a rich, white chocolate panna cotta with generous shards of honeycomb. A minor annoyance was the green garnish on top that whilst looking pretty was awfully bitter. It definitely did not belong on anything sweet and I had to pick it all off before getting stuck in.
Q took the advice of our waitress and ordered the lemon meringue pie which came with an exciting sprinkling of zingy sherbet. I loved the neat and tidy sheets of meringue which made a satisfying *snap* as your spoon made contact.
Yep. Another day, another pub. But when they're this good I do not mind one little bit. This meal was just wonderful! I almost dislike when I've had an experience this good… well no, that's a complete lie. But does it make for boring reading when everything was just so delicious and great? Honestly, I can only fault two things: firstly, the cider selection was poor. Secondly, the green stuff on my dessert. That's it? A drink and a garnish?
I really, really hope The Anchor can keep the standard this high forever more. I've been stung before singing a restaurant's praises only to see it decline after the launch period. I mean, I'm quite happy to return in a few weeks to re-assess. I'm willing to do that 😉
Disclosure: our meal was complimentary. As always all thoughts are my own.