The list of places worth going to that I've not yet visited in my home town is becoming increasingly short, but it does still exist! I would love to eliminate the list altogether this year and this weekend I got to check off another destination. A Thai restaurant sneakily hidden behind Wetherspoons on one of the main streets in central Milton Keynes. Very easy to miss which is why I've never been until now!

Thai Modern has been going for two years I was told by the waiter, and with very little presence on the internet they've developed a reputation on good old fashioned word of mouth alone. Clearly I've been missing a trick because the restaurant was filled with diners and their Trip Advisor reviews back up just how popular this place has got to be. The restaurant has a lovely warm atmosphere, with tropical plants flourishing from every possible nook and quirky music playing in the background that made me feel like I was emerged in the Jungle Book! A great setting to hunker down in with a big spread of food.
Being new to the restaurant, a sharing starter with a bit of everything seemed like a good way to get the party started, which proudly arrived on a giant gold platter.
The ribs in particular were great, and the satay sauce was some of the best I've had.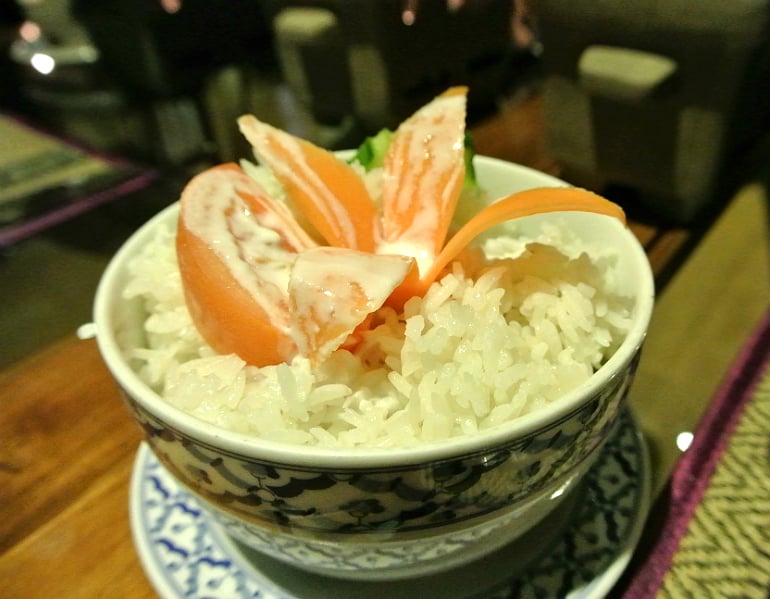 We ordered mains ranging from safe to scorchingly hot, I'm proud to say I wasn't the safest! That's right, Little Miss Korma braved a dish brandishing a one chilli warning (they go up to three) and ordered crispy monkfish in a sweet chilli sauce. Aren't you proud?! Lightly battered, meaty monkfish was definitely the right choice, especially when accompanied by sticky coconut rice. A wonderful marriage of lively and mellow flavours! The portion was very generous and although I admit to being on the limit of my spice tolerance, I battled through because the dish was so tasty.
If you're looking for something really hot, try the jungle curry. I couldn't handle more than a dip of my fork (I know, I'm a wimp) but it was incredibly tasty, bursting with fresh lemon grass flavours.
And if you're looking for something really indulgent, look no further than their crunchy chocolate pudding. I spied this as we walked through the entrance and knew I had to have it, what I didn't prepare myself for was the whopping serving size!
Yikes! Huge nuggets of chocolate covered honecomb with sponge and cream. Seriously naughty and seriously good all at once! A great way to round off a birthday dinner!
You know what, I had such a lovely dining experience here! I felt content and relaxed, the friendly and attentive staff really added to that. The menu has loads of tasty sounding stuff on it that I will definitely return to explore it further, I saw plenty of exciting sizzling dishes going to other tables that have me curious!