So we all know that there's another man involved in mine & Mr Yumdimsum's relationship. His name is Percy.
I wondered around their menu for a bit but once I found the pulled pork wrap I stuck with it. I've got a habit of doing that; I find my favourite and then refuse to budge! But the other day Percy's BBQ posted a special on their facebook page that convinced me it was time for a little change. This is T.H.E Smokie; a giant smoked sausage stuffed into a soft flatbread with salad, house sauce & crispy fried onion bits.
It's inspired by the pop-up restaurant that Percy's recently did in celebration of their 2nd birthday, which I was gutted I couldn't attend. So glad they brought this one out so I could get a taste of what they'd had to offer on the day.
It reminded me a lot of German style sausages, they way it's been char-grilled on the outside but the centre remains super firm and juicy as though it's been steamed. The pork is really coarsely cut so you can see that you're eating decent cuts of meat.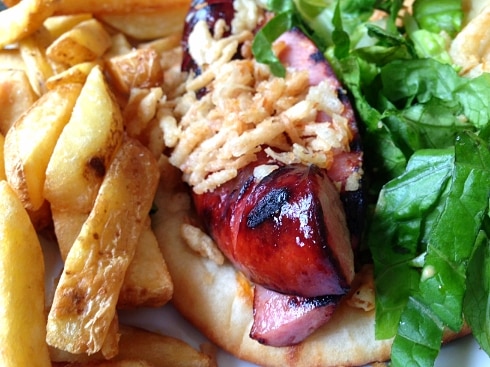 Those crispy onions on top are a dream! My only quibble with this – and it may be personal because I really do love my condiments – was that it needed more of that deliciously sweet house sauce to offset the rich, smokey flavour of the sausage. Nothing a bit of American mustard couldn't sort out!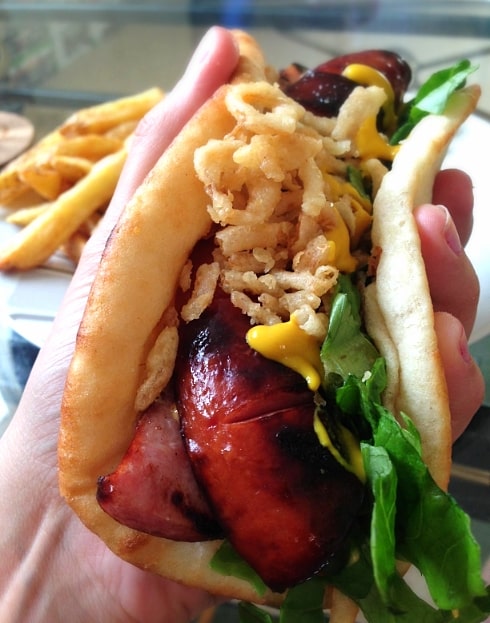 I think I got my money's worth. T.H.E Smokie is available for a limited time only, carnivores of Milton Keynes be sure to check it out!