The last time I visited The Swan at Salford it was Father's day 2015 and I'd treated my dad to one seriously tasty flat iron steak. None of us had ever had a flat iron steak before… The Swan seem good at whipping out a special.
I don't know why I haven't been back since. Laziness I suppose? It's a little out of my way in a pretty village. I was invited to dinner and arrived to see that others certainly weren't avoiding it, with plenty of people enjoying a post-work wine in the garden (lot's of serious power dressing!). Inside was just as busy and nearly every table filled on a Thursday evening! It's pub that does the gastro vibe very well: modern, cosy, country.
The menu was noticeably fishy. Definitely more sea creatures present on this menu than your average pub. Certainly no bad thing for a fish lover, particularly in the Summer. Q however, forever faithful to his land animals, steered clear and opted to kick off the meal with chicken and ham hock croquettes with a green bean salad.
I chose potted crab: a generous portion of buttery smooth crab meat that was cool and refreshing, served with crunchy ciabatta toasts. Very delicious, albeit a little samey towards the end with a lack of anything sweet or sharp to cut the cool flavour.
Q pretty much ordered his favourite dish for his main: duck two ways with white cabbage and a potato and spring onion rosti.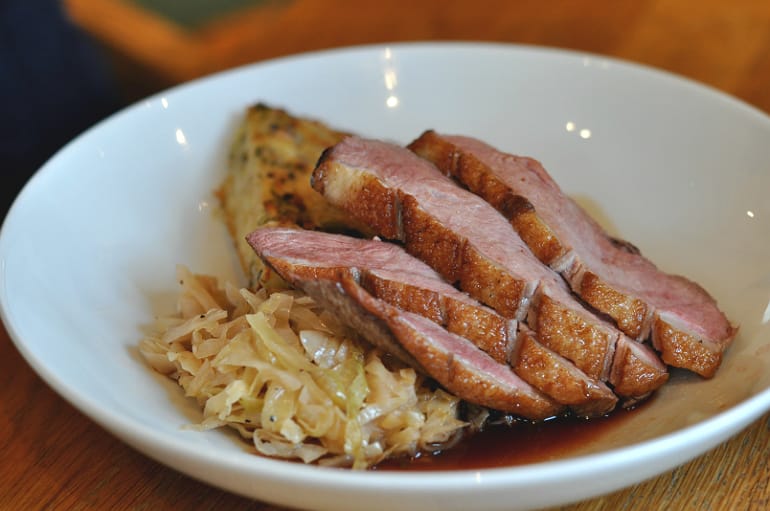 I was lucky enough to have a few forkfuls of this come my way and it was wonderful. Perfectly cooked, juicy duck breast and a rich confit duck leg. What this dish lacks in colour it sings in taste!
The warm Summer evening must have got to me as I ordered something light. A guilt free poached salmon fillet with new potatoes and roasted fennel was my main. It was simple but beautifully executed. The fish was gorgeous and I savoured every bite. The meal is finished with a lobster sauce that adds a lovely rich tone; absolutely luscious when soaked up into your potatoes!
Well, guilt free out of the way, it was time for something naughty…
Iced strawberry parfait. Those three words sounded so damn good together I was sold. It was everything I hoped it would be: cool and creamy with a layer of intensely sweet iced strawberry puree. What a great Summer dessert! Loved the ginger crumbs too.
Q ordered a blueberry cheesecake. This is a strange thing to like, but nonetheless I really did like that this arrived in the non-traditional triangle slice.
I think the look of those blueberries in the rustic cream cheese mix is just beautiful.
Nicely done, Swan! A tasty round of dishes. Service was a tad slow given how popular they were that evening, but not once did the staff appear rushed when attending to us. I saw lots of smiles and warm comments as they visited each table, making it a very friendly pub to be in and keeping the experience relaxed. The Swan actually have a lobster special going at the moment (told you they love a special!) and the half lobster and fries smothered in garlic butter I saw coming out gave me some serious food envy. Next time I guess!
Disclosure: our meal was complimentary. As always all thoughts are my own.