This one's a bit of a fusion of cultures. The chicken recipe is inspired by a programme I recently watched on Thai cooking. It's sweet and fragrant with a salty undertone. I thought it'd go marvellous with some mellow (and equally sticky) West Indian style coconut rice. This meal is full of flavour but really easy to make.
Sticky Ginger Chicken & Coconut Rice
Serves 4-6
6 jumbo chicken thighs, on the bone, skin-on.
40 ml fish sauce
1 tbsp oyster sauce
2 tbsp grated fresh ginger
2 tbsp honey or golden syrup
2 garlic cloves, minced
1 tbsp sesame oil
1 orange
1 cup of basmati rice
1 can of coconut milk
400ml boiling water
1 can of black eyed peas
1 white onion
1.5 tsp dried thyme
Sesame seeds to garnish
Fresh parsley to garnish
Large supermarkets will stock all the Asian sauces you need, but you will find them for better prices in a Chinese supermarket.
The chicken needs to marinade for about half a day before cooking. In a bowl, add the fish sauce, oyster sauce, honey/golden syrup, grated ginger, garlic & a squeeze of orange. Add your chicken and once well covered, leave it to infuse. When it comes to cooking, add the sesame oil, the remaining orange cut into wedges and an optional extra garlic cloves. Once up to heat, add the chicken skin side down first.
Large portions like these with the bone in means they'll take a good 20 minutes to cook on a steady heat. So you can cook the rice at the same time. In a large pot, fry the diced white onion in a little oil until softened. Add the rice and thyme, along with 400ml boiling water and the coconut milk. Bring to the boil and add the black eyed peas and season. Leave to simmer away until the rice is cooked and everything has boiled down into a rich mixture.
Flip your chicken when the skin is nice and crisp.
The oranges will break down in the heat and go incredibly soft and gummy. All the orange juice will seep out and keep the chicken moist as it cooks. When the chicken looks nicely caramelised, plate up your food, finishing it with a sprinkle of sesame seeds and freshly chopped parsley.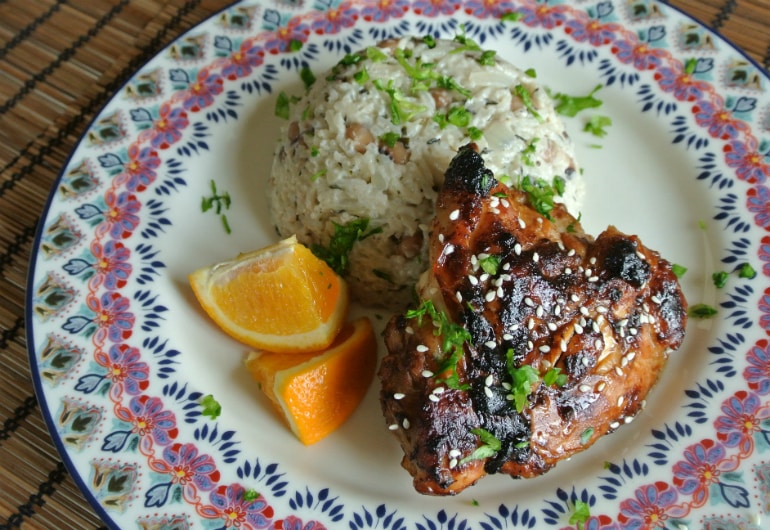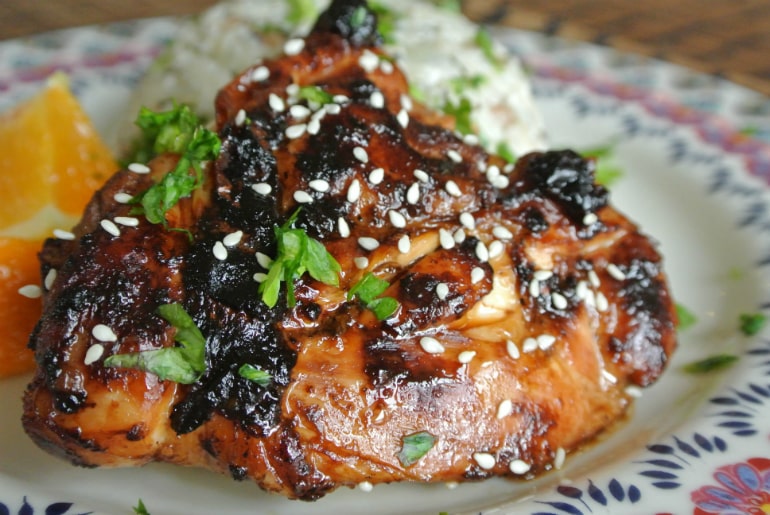 Tell me that's not an inviting bite to eat! Sweet, creamy, sticky, satisfying. Lots of flavours perfectly balanced.