There's a heavy American influence in St Lucia. It means big smiley service, big golden fries and big juicy burgers. Even the 30 degree heat can't make your appetite shy away from the smell of these babies cooking away on the grill!

Rituals is St Lucia's answer to Starbucks and you'll find them dotted around the island offering up a decent place to stop by for an iced coffee and a snack. But if you're looking for something more substantial they've got a new addition to their family: the diner. It's here you come for the beef!
You'll be handed a stereotypical laminated diner menu, complete with pictures of girls in 50's frocks and roller skates holding up baskets of food. Everything listed is really great value, so we waited for our burgers with big, icy cups of chocolate and banana coolers. So delicious, especially on a hot day!
It doesn't take long before a seriously juicy burger is plonked in front of you, accompanied by a pile of perfectly crisp, yellow fries.
Love it when a burger place leaves the salad on the side: no soggy lettuce and leaves you to customise your burger just how you like. How I like it? With everything thrown in there. Of course.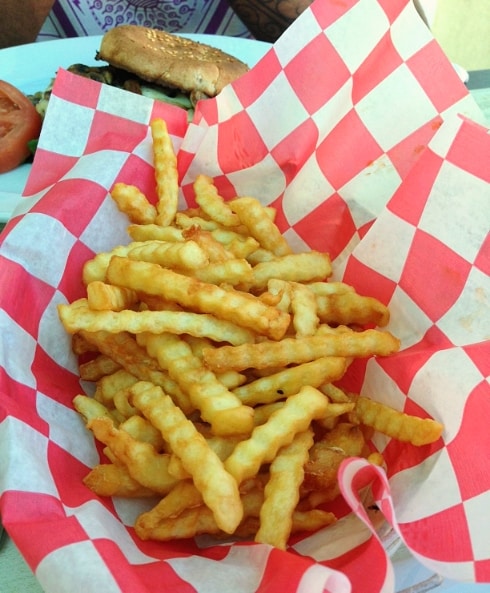 I haven't had crinkle chips served to me at a restaurant in years. Why have they become unfashionable? They're bloody marvellous! Extra crispy and more surface area for your ketchup 😛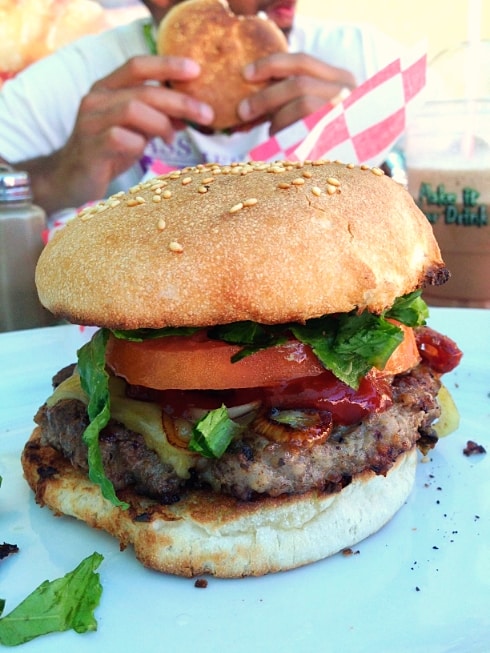 Beef in St Lucia really is fantastic quality. They grind it up and add a little hint of spice to make it extra tasty. Combine that with two rich and fluffy buns and you've got yourself a winning burger!
Reminiscing on this meal is making me very hungry…