One year ago, I posted this Tweet: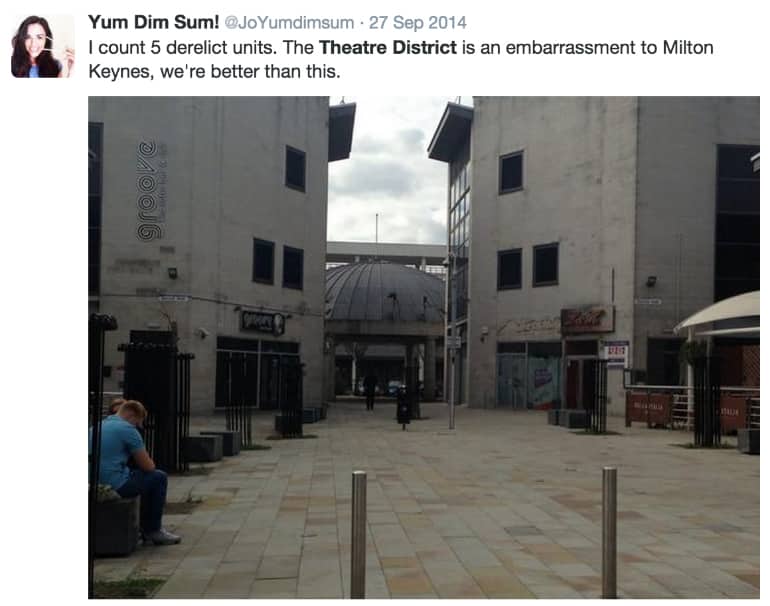 For a very long time The Theatre District has been a source of frustration for myself and others in Milton Keynes. We have plenty of visitors who come to this area for the fantastic plays and exhibitions and we showcase our home to them with the shuttered up fronts of poorly thought out businesses, abysmal architecture and a scattering of mostly low-grade dining options (MK Buffet Village.. Really?). Recently the only thing the Theatre District has been good for is a set for The Walking Dead.
I can remember when this area of MK was a busy hive of bars and restaurants with plenty of foot-fall. In recent years it's been sad to watch so many businesses try and fail to re-ignite some life, none so much as one particularly large unit standing on the outskirts with a round, glass front. This one has been lit up then locked up more than most.
But it's back in action once again, with a proud sign and twinkling lights from brand new chain Revolucion De Cuba! They've set up across the UK in large cities including Leeds and Cardiff, bringing Cuban themed drinks, food and nightlife.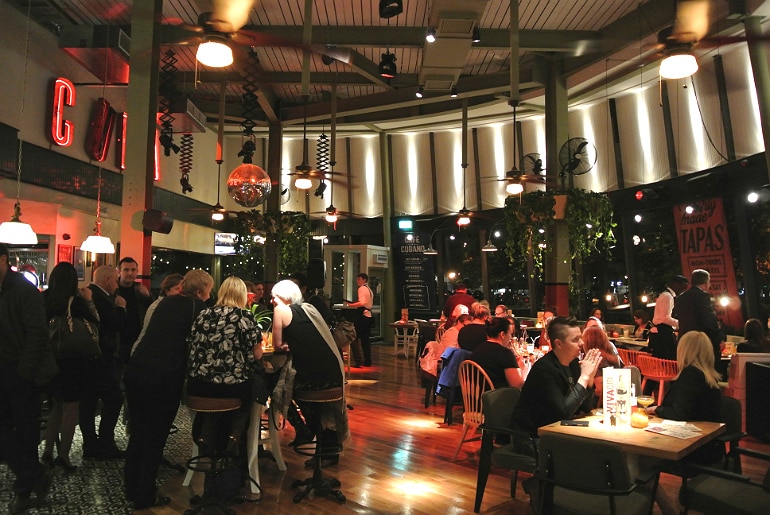 It's a lovely large space with stylish decor, a great long bar and (here's me showing my age) lots of seating. I instantly liked the vibe in here, thumbs up to the interior designer!
The drinks menu has an impressive array of cocktails with fun names, tempting illustrations and very reasonable prices. The absolute best thing about the drinks menu is how rum-centric it is. Best for me that is: I'm a huge rum fan! I was really impressed at the selection of rums to pick from; Mr YDS & I are chuffed we can get an El Dorado in Milton Keynes now!
It was pretty clear from the VIP night that food isn't the main event here. It's much the same as Las Iguanas: pleasing but basic. The canapes did make me wonder if Cuban food was just Mexican. I did enjoy their nachos, along with a fantastically cheesy croquette. Revolucion De Cuba is clearly more about the cocktails… which is just fine by me!
In fact, we were so keen on the cocktails that we returned the following evening for the opening night! It was hugely satisfying to see they had drawn a big crowd, though a shame that the newly trained staff were in meltdown as a result. It took up to an hour to get served (yes really, one hour!) and I witnessed misconduct such as dropping a friends' cocktail garnish on the bar, then putting it back in the drink… gross!
Revolucion De Cuba has got serious potential to break the curse of the Theatre District, I'm really excited for that! But they've gotta work hard on the service if they want to avoid the fate of others who've occupied this unit. Time to train those staff a bit more!
I'll definitely be back for an El Dorado though. When I can get to the bar.