I think that afternoon tea simultaneously feels special and familiar. Like going to grandma's house. Afternoon tea can be a really special way to celebrate something or someone, and it doesn't always have to come with the expense of going out to eat somewhere extravagant (as nice as that is!). If you fancy this traditional treat and giving it a go at home then hopefully this post is full of ideas for afternoon tea which can help you with recipes, setting up and generally ensuring that everyone who is invited has a lovely time.
Ideas for afternoon tea
If you have never hosted one before then you might be wondering what is usually served in an afternoon tea? Perhaps there's one clue in the name! But there tends to be three main foods served at an afternoon tea… or food and drink categories that is.
Sweet treats: most commonly scones, cakes and pastries. Sometimes more elaborate patisserie style desserts may appear at more modern afternoon tea settings. For homemade you may prefer to keep to the classics.
Savoury: of course finger sandwiches feature heavily. So do quiches, dainty sausage rolls and savoury pastries.
Tea: Perhaps the most obvious! Of course tea is usually served in an afternoon tea; lashings of it to wash down all the food. When eating out afternoon tea will usually come with a tea menu to pick your favourite. So as an idea for afternoon tea at home you could offer a selection of teas also for your guests to choose from.
If you are looking for ideas for afternoon tea then check out some of my favourite sweet recipes which would be perfect to serve for afternoon tea at home.
Rustic Blueberry Muffins
Blueberry muffins are pretty universally loved so they're great to have as part of your cake display. These can be served on their own platter or tier of a cake stand in quarters.
Classic lemon curd cake
Lemon flavoured cakes are such a crowd pleaser (and so damn delicious) that they really should (in my opinion) appear on any and every cake stand. This recipe makes on round sponge cake filled with lemon curd and lemon buttercream. You could either serve this cake at your afternoon tea in thin wedge slices, or cut the cake widthways to create square portions. Whatever your preference – both will look beautiful.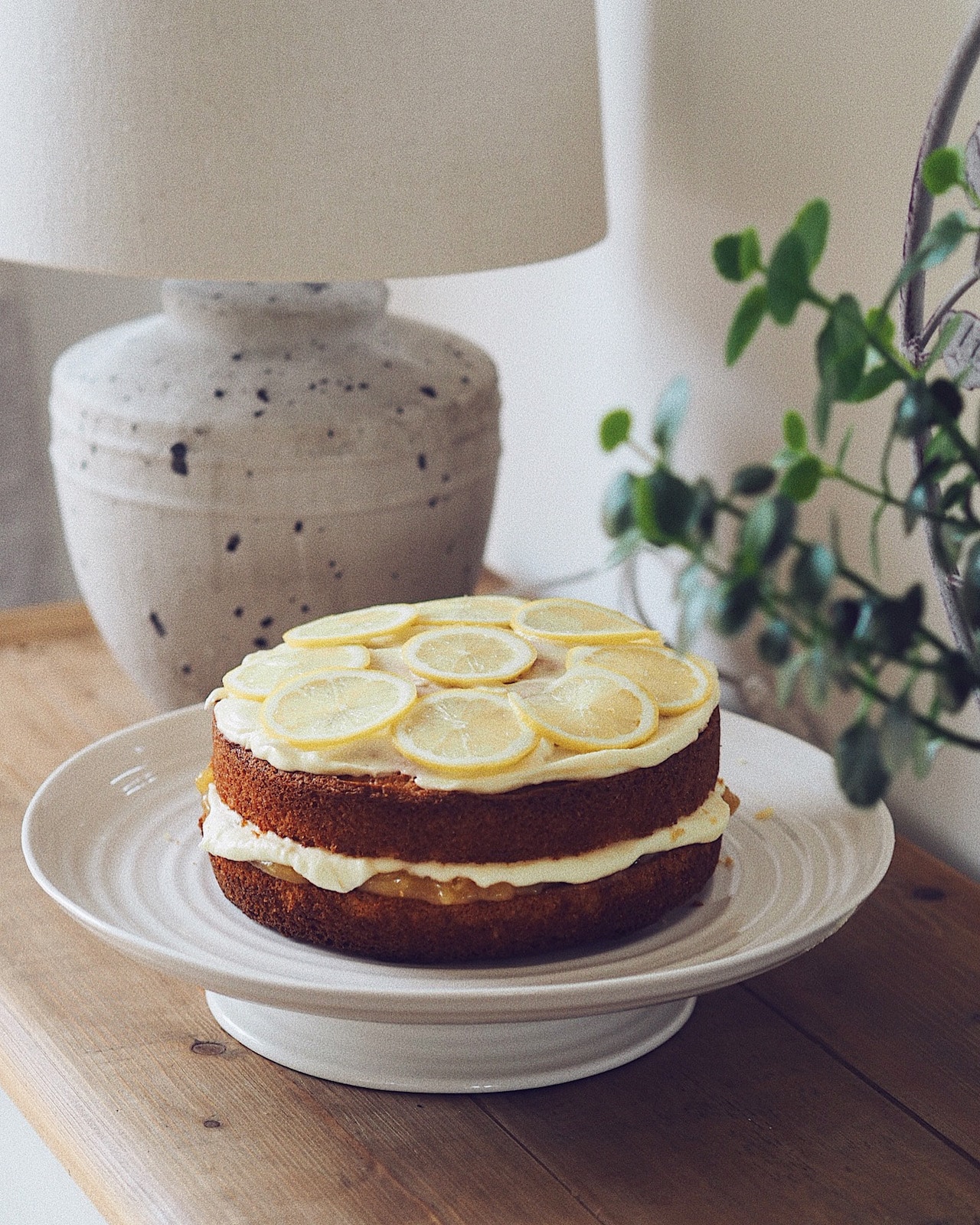 Banana and carrot cake recipe
I love this recipe – it perfectly marries two favourites! This is a lovely moist cake which isn't too sweet, making it a great addition to a selection of cakes where sweet tooths with already be tingling.
Banana brownies
Here's an idea for afternoon tea: something deliciously gooey. This is one of my most popular recipes so I have to give it a mention!
Nutella meringue
Meringues can be a nice change in texture if you are looking for alternatives of what to serve at an afternoon tea. The crunch makes a nice contrast to cake! Meringues can also be made to whatever size you fancy – why not try some delicious Nutella meringue kisses.
Sticky banoffee meringues
If you want something with real theatre for your homemade afternoon tea then these banoffee meringues will do just that. Mini meringues topped with spiced whipped cream, caramelised bananas and finished with toffee sauce. Definitely a treat to satisfy a sweet tooth!
How do you set up an afternoon tea table?
Afternoon tea (at least nowadays!) is a treat on occasions like mothers day or birthdays. So with that it should feel special. Here are my tips for displaying a beautiful afternoon tea.
Invest in a cake stand or two: How do you set up and afternoon tea table without a cake stand? It is after all the classic way to display your afternoon tea! Cake stands not only add to the afternoon tea aesthetic but they also have a functional purpose in taking up less space on the table. With so many tasty morsels of food to enjoy it can soon take up a large footprint on the table if not stacked. There are loads of different styles of stands. Pretty floral ones if you want to keep it feminine or even beautiful slate cake stands for a bit of a modern edge.
Keep cake portions small: With so many different options on offer, Afternoon Tea should be about sampling all the goods, rather than filling up on just one massive slab of cake. As such, keep portion sizes small. Cut up
….But keep the spread large: That's right: small bites but lots of them! If you're asking yourself how much cake to serve at an afternoon tea the answer is a generous amount. Afternoon tea should feel like a feast and be a spread that you can all sit around for a few hours chatting and nibbling. There should be a lovely wide selection of things to try.
What sandwiches are served at afternoon tea?
You can keep it traditional for a true afternoon tea feel, or add in some modern favourites. Classic British favourites all work well in both brown and white bread – whatever you prefer… although it is really nice to share a mix of breads for visual appeal and choice for your guests.
So, what do you put in an afternoon tea sandwich? Here's some ideas:
Ham and mustard
Mature cheddar and pickle
Coronation chicken
Tuna mayonaise
Pate and cucumber
Tomato, mozzarella and pesto
Beef and horseradish
Avocado and feta
Brie and cranberry
Just remember that when sandwiches are served at afternoon tea they are without crusts and very neatly cut into long fingers. You'll get three finger sandwiches out of a regular sized slice of bread.
What is the difference between cream tea and afternoon tea?
Closely related, both very British and both very lovely! I would describe the difference as essentially a cream tea being less of an event. Afternoon tea comes with tea and scones like a cream tea, but then so much more. Afternoon Tea is a bit of a feast! The difference between a cream tea and afternoon tea also comes down to the price. Cream teas are much cheaper and often found in cafe settings, whilst afternoon tea has a higher price tag and often a more elaborate setting.
Ideas for afternoon tea out and about
Perhaps you'd prefer an afternoon tea where the only work you'll have is picking which cake to enjoy first. There are endless places to enjoy a lovely afternoon tea in the UK. Here are some of my favourite afternoon teas in the South:
Follow Girl Eats World
For more food content come and join the online Girl Eats World community! Don't miss a recipe, giveaway or cooking news. I'm @jogirleatsworld across all social media channels.
Did you know that I have a cookbook?
That's right, my debut cookbook launched April 2022! And Cook It, Eat It, Live It includes an entire delicious section on bakes and desserts to satisfy your sweet tooth. You'll find more afternoon tea ideas in there for sure!
You will also find savoury recipes for all seasons and appetites, with inspirations taken from British, Japanese and Caribbean cuisine. Recipes are also punctuated with travel stories, food diaries and a personal philosophy for the every day joy that food can bring to life.
Cook It, Eat It, Live It has received fantastic reviews! Check them out
Final checks before publishing:
Remove first heading (subtitle) from the Contents block
Select relevent category before posting
Add internal linking to relevant/similar recipes (at least 3 links)
Add external linking to relevant and authoraritive but not competing resources
Post URL should be the target keyword phrase (please check SEO tasklist if in doubt, or ask AQ)
Ask AQ to do a onceover on the post once published