First rule of pudding club… well no actually, I wouldn't be a very good food blogger if I didn't tell you about it!
I've only really seen pudding clubs on TV programmes; I remember Rick Stein going to one and it looked glorious. It seemed like one of those things you only get to experience if you live in an affluent, beautiful village steeped in Englishness. (Englishness?)
But a lovely pub nearby (admittedly in an affluent village)  has brought it to life and having a sweet tooth a lot of curiosity, I was very excited for an invite to try it out.
The Crooked Billet very much holds onto that traditional pub vibe with no nods to modern interior. The dark wood and deep red walls along with the first hints that the light in the evening is fading faster had me feeling ever so slightly Autumnal.
So being my first pudding club I had no idea what to expect. How much food did you get? Should you eat dinner beforehand? How do you order? Was it entirely naughty for your dinner to be dessert? Well I knew the answer to that one, but I guess that should definitely be the first rule of pudding club: it's a treat so enjoy it!
We received menus which listed a number of desserts that change weekly, meaning die hard pudding club fans can visit every week for a new experience! You can choose 3 for £10 (nah) or 5 for £15 (that's more like it) which are sized appropriately to ensure that you can handle them all. When it came to ordering there was something very novel about reeling off a list of desserts to the waitress!
Our Puddings
White chocolate & pistachio parfait with strawberry coulis
Black pepper and basil Eton Mess (I know)
Honey sponge cake with lemon & lavender Chantilly cream
Roasted peach brandy snap basket with raspberry coulis and star anise ice cream
Fruit frangipane with mango & passionfruit sorbet
Chocolate fondant with white chocolate and Kahlua sauce
I suppose I have to start out on a negative point that I was surprised that all of the desserts came out at once, and all on one plate. It wasn't the prettiest of presentation and if anything it made me feel unable to take the time to really enjoy each dessert, being conscious of all the cream and ice cream that was slowly but surely melting!
Logistics aside and moving onto taste, I was very pleased with the selection.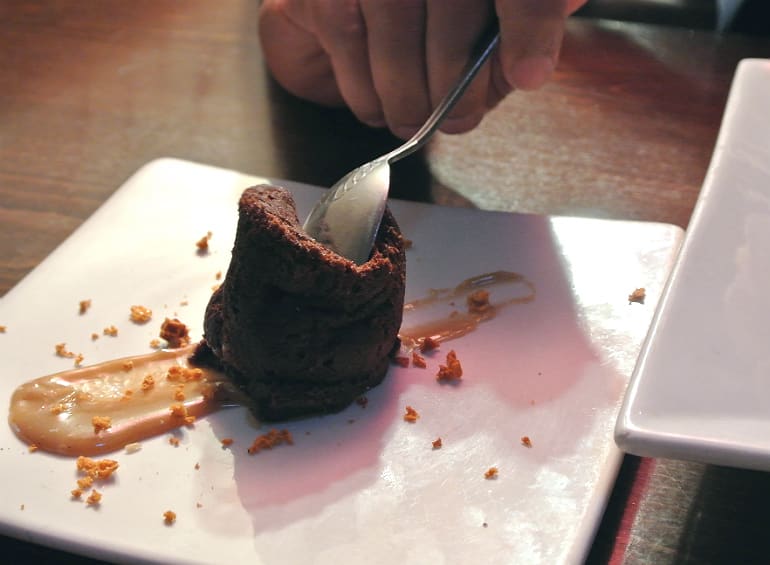 Everything was very different; nothing samey. We naturally began ranking the desserts and telling each other what had to be tasted next and both agreed that the honey cake was beautiful. It actually transported me back to when my grandma would bake for me as a child as it tasted so similar. Lovely home baking flavours with a sophisticated finish of lavender Chantilly.
The roasted peach turned out the be our favourite dessert on the table, it was amazing! Soft, sweet fruit, chewy brandy snap basket, spiced ice cream. The perfect combo, this needs to go on their a la carte dessert menu for sure!
The pudding club menu comes with a selection of dessert wines that are just as delicious as the desserts themselves! Beautiful honey flavours and blackcurrant and cherry. If it wasn't a school night I would have been topping up my glass a few times.
Pudding Club had a lovely selection of flavours, textures and temperatures. The kitchen certainly proved themselves as pudding pros and even the pepper and basil Eton Mess (which on reading the description had Q frowning!) was surprisingly tasty. I felt like I'd been offered a really interesting experience rather than just the classic crowd pleasers. I guess that's what a pudding club is all about? I do think the serving of the puddings needs to be changed though; a little pacing and individual plating would have given us time to really savour the puddings, and would have made the experience longer too.
Pudding Club is running every Thursday night. I look forward to seeing what other people experience on the menu!
Disclosure: our meal was complimentary. As always all thoughts are my own.