Disclosure: Our trip was fully compensated by Jet2. All thoughts, words and experiences are my own.
Prague has a dizzying collection of sights. Residential streets are colour palettes of greens and oranges and yellows, pavements are intricate mosaics of grey and white… when even the mundane is breathtaking, it becomes quite an overwhelming task to take in as much of Prague's famed beauty as you possibly can within a short city break stay.
Q and I were ticking off this cornerstone of Europe thanks to Jet2 City Breaks. Staying for three nights we had bookmarked a few key sights that we wanted to see, and had a clear goal to experience both the famous, and more local sights.
Wander The Residential Streets
Speaking of those beautiful, colour-rich streets, my first recommendation is that you must take a stroll down them.
We chose to stay at the Pentahotel which is available via Jet2 City Breaks. I loved its location away from the main buzz of the city. Here it was nestled among pretty green and yellow houses and cafes. Very peaceful.
Enjoying these streets is a perfect relaxing activity for days that you are travelling.
Jirak Farmer's Market
If you're looking for a more local experience then this is a fantastic one to visit. Jirak Farmers Market runs every Saturday 08:00-14:00 and is an intimate yet varied gathering of vendors selling groceries, flowers, artisan products and street food. Great for wondering around, filling up on food as you go.
Tourists are far outweighed by locals here so it's perfect for an authentic Prague experience.
We hugely enjoyed mooching and eating our way around the market. But best of all, on the day we visited there was a band! They played with such enthusiasm both local songs and well-known classics. They brought such a cheerful atmosphere to the market and I could not help myself but dancing along! They really made my day!
I've since learned that they play at the market often so be sure to add seeing these guys to your itinerary!
Masopust
By absolute chance we stumbled upon Masopust. This is a Czech tradition which takes place in the run up to Easter. It is a lively parade through the streets with drums and dancing and performers. Q and I observed the crowd and noticed that every one dressed up with masks and costumes as though it were Halloween.
To outsiders like us with no context at the time, it was absolutely bonkers.
Masopust (it turns out) is a celebration of the end of Winter and the time of plenty before Lent begins. But we only knew that after a good bit of research. But there in the moment, having stumbled upon a localised Carnival we looked on utter confusion and joy at the bizarre merrymaking taking place!
The Brazilian drummers were spectacular. The whole spectacle is great fun to see if you're in Prague in the run up to Easter.
Žižkov Television Tower
If you're an architecture nerd like us, then the Zizkov television tower is worth a visit. In stark contrast to the chocolate box buildings of Old Town, this is a 216m tall monolithic ode to the communist era. Nowadays, it hosts a restaurant, hotel and pop-up art installations. A bizarre and really quite creepy location for leisure activities.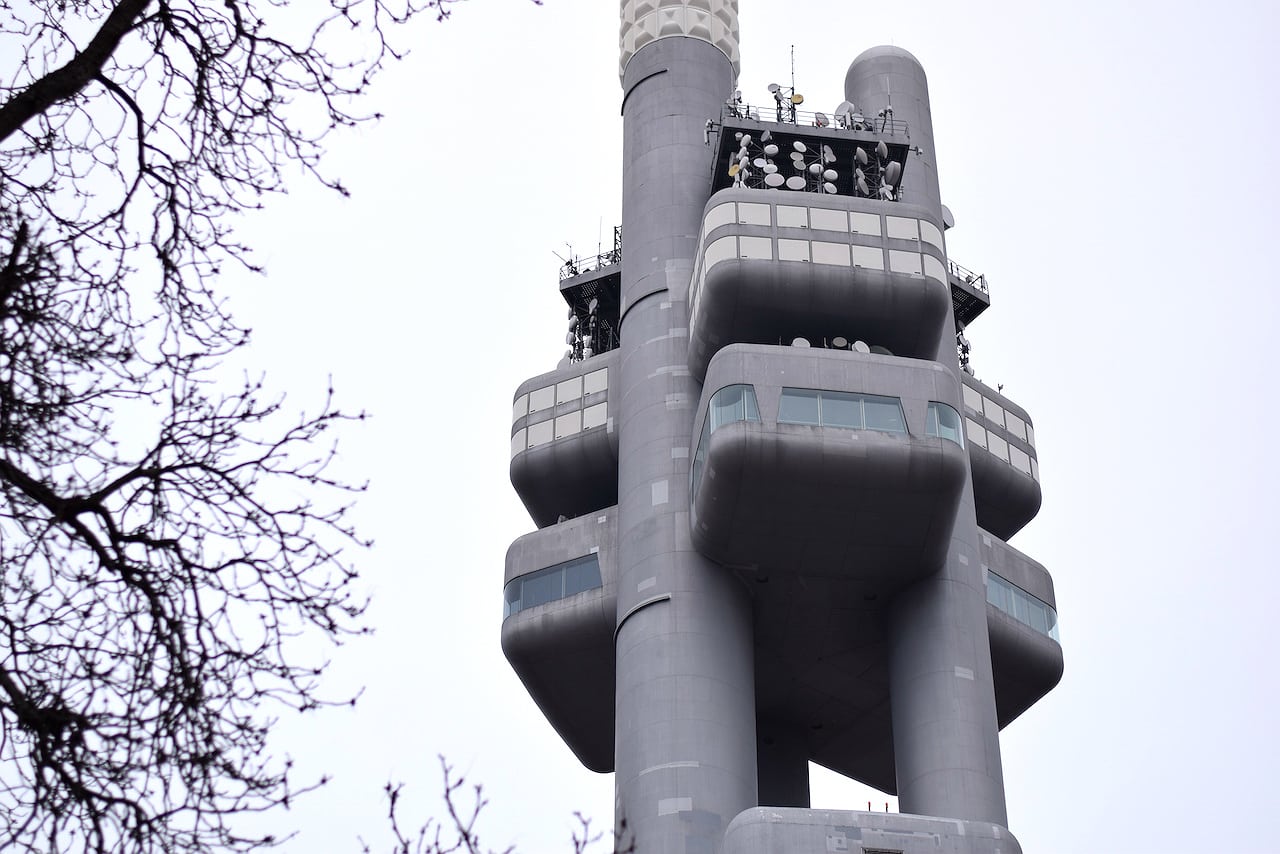 In the surrounding square are some great little coffee shops where you can grab a cuppa and take in the imposing height of the tower. I recommend Cofeeholic.
Old Town Square
Okay, onto what Prague is really known for. This should really be your starting point for delving into the main attractions. This is where the old streets we walked from our suburban hotel suddenly opened up to reveal a hive of activity.
The square is surrounded on every side with buildings so unique and beautiful that you'll fumble with your camera/phone and want to capture every single one.
From the square you can take a number of routes to other famous sights, so enjoy a bite to eat at one of the many street vendors or cafes and get fuelled for a solid day of walking!
St Nicolas Church
On the direct peripheral of Old Town Square this is a quick and easy landmark to tick off. I love visiting churches not only for their unimaginable beauty, but because no matter how touristy they are, they are always peaceful inside. St Nicolas Church is as beautiful and ornate as any other religious building of its time. Take a seat and crane your neck up at the beautiful paintings and carvings, not to mention the giant chandelier.
A lovely place for a quiet, reflective moment. Emerging from the church, the city feels even more lively by comparison. Buskers await you at the exit to awaken your senses once more.
The Powder Tower
It was only after gawping up at this beautiful blackened tower, finally adjusting our necks back down to the ground that we noticed an inconspicuous iron doorway, ushering us to explore inside…
Cheeky.
The tower used to hold gun powder, hence the name. You can climb part-way up the tower for free, where you can enjoy carved stone rooms and lovely stained glass windows. Then for a small fee (100 Koruna each) you can climb right to the top and enjoy spectacular 360 degree views of the city.
The spiral stone staircases are narrow and dizzying; a challenge for those unsteady on their feet or scared of heights. Particularly as traffic passes both up and down at the same time and there's a fair bit of "Sorry! Thank you!" as you shimmy around each other. The views at the top are well worth the effort however.
Charles Bridge
Charles Bridge dates back to the 14th Century and, like many of Prague's architectural delights, is a grand and Gothic spectacle.
The bridge sends you on your way from Old Town towards Prague Castle, and adorns your journey across the river with many statues of patron saints.
As a rule, I'm not the kind of hyper-reality blogger who gets up at 5am to photograph empty, idyllic streets that don't represent the real experience. But if you're wanting that perfect shot you'll have to do just that for Charles Bridge. It is a stunning piece of architectural engineering but the sheer amount of tourists and souvenir stands along it do take away from the beauty.
I admit in this instance I did just want everyone else to disappear for a few moments so that I could really enjoy the beauty of this bridge. One thing that remains completely unspoilt is the incredible views of the city beyond the stretches of the river.
Prague Castle
Q and I spent a good while chasing the imposing spires of the Castle Cathedral which peeked over the streets below. We eventually came to a staircase which lead us up (and up and up – you've got to earn this view!) to the Castle complex.
Prague Castle is a complex, and the sheer variety and scale of these buildings is breath taking. Dating back to 870 (I mean wow) churches, palaces, halls, towers and gardens all reside atop this hill. You could spend a whole day up here exploring; I was quite surprised to find that at no point was I ask for money to visit anywhere that I went.
The views up here are another reason to visit. Quite probably the best you can get of Prague city.
Out of all the countless buildings, and many architectural styles, Saint Vitus Cathedral was my favourite.  It is so monstrous and ornate that I ran to the farthest corner of the huge plaza in which it proudly sits only to find that it still didn't fit in my camera frame. Iphone pano to the rescue.
Its beauty and scale just cannot compare to seeing it in real life. One of the most stunning buildings I have ever seen. I was so pleased to have witnessed it bathed in sunlight.
Sight Seeing in Prague
Prague is surprisingly hilly! At least, I hadn't expected it to be. Pack comfortable shoes for those hills and cobbles!
It is undeniably an extremely touristy city. You will have to battle crowds, unless you set your alarm for dawn.
Worried about it being a stag do capital? They won't get in your way; they'll be hungover in bed whilst you enjoy the sights. I did however spot a chap dressed as a dinosaur with pink lipstick in Old Town Square…
Old Town is where everyone congregates; the contrast in people here Vs the rest of the city is quite stark. Be sure to visit further afield for some peace and quiet.
Jaywalking doesn't appear to be the done thing here, be sure to wait for the green man.
Watch out for trams!