Disclosure: Our trip was fully compensated by Jet2. All thoughts, images and experiences are my own.
One of my resolutions for 2019 was to visit more European cities so I am thrilled to have begun doing just that in the first quarter of the year. Let's be honest, I am late to the Prague party – quite literally given how popular the city has become as a celebratory destination.
But who cares! Old cities have always appealed to me and there are so many on my list to still visit. For their unimaginable beauty, the architecture that shapes them and has done for centuries. My old architecture lectures from university come flooding back whenever I am surrounded by classical buildings; the old soul in me enjoys these the most.
And of course, the opportunity to eat something new and exciting is a big draw of anywhere I go to… But you knew that already!
Flying From Birmingham Airport
So Q and I didn't get off to an organised start. I am one of those people that hates being late for airports. I am that person who wants to be there hours before with contingency time built into my contingency time. But this time, I did not have that contingency, because for the first time in my life I have kittens and getting them sorted in the morning (and the house ready for our cat-sitters) may have kept us punctual by regular standards, but horribly late by my own!
And for the first time we drove North to Birmingham airport. After a lifetime of flying from London, Q and I were unsure what to expect, but our very first impression – the car park – was already better than the chaos we experience at Luton. For £45 (for 4 days, not bad at all eh?) we parked on smooth tarmac and glided our bags along a covered walkway to the terminal, where we checked in with not so much as one person in front of us. Then off we strolled through an equally calm and quiet security check et voila: our contingency time had magically appeared again.
Flying with Jet2
Another first was flying with Jet2. They operate from nine airports in the UK and have a good few flights from Birmingham. Our entire trip was organised through Jet2CityBreaks; it's been a while since I booked a holiday through a 'one-stop-shop' and it made a refreshing change with less paperwork and information to carry with me. On hearing that I was flying with Jet2 my parents sang their praises: how they always use them now and how good their airport transfers are. We hopped aboard a little plane glowing a warm red inside and sounding out happy pop songs that put me at ease. Take off isn't my favourite but bobbing along in my seat to the Spice Girls had me relaxed and ready for my holiday.
Throughout the flight they play friendly recorded messages which I've not experienced before on other airlines. The messages tell you clearly what is happening – from seat belts, to dimming of cabin lights, shopping time and when it's time to land. They're easier to hear than the usual cabin intercom and more professional. A small detail but as someone who doesn't like not feeling in control on a plane it added to my enjoyment of the flight.
For 2 hours Q and I chatted at ease over ice-cold ciders about what we wanted to do when we landed, and of course, what we wanted to eat!
Staying at the Pentahotel, Prague
From the options Jet2 offered us, we chose to stay in the Pentahotel Prague. I'd never heard of them before but turns out they're a small chain of hotels found in popular cities across the world. In Prague, Pentahotel sits on a quiet street about a 30 minute walk (2.8km) from the heart of Old Town. Literally minutes away from the hotel are an array of restaurants, cafes and bars, nestled along rows of colourful residential buildings which I soon learned were synonymous with the city.
We swished through the front doors of Pentahotel and were instantly transported from historical quiet street into a bustling, ultra cool hub. Stepping inside you are met with a warm glow of modern lighting and trendy, atmospheric (but not overwhelming, take it from an introvert) music. It's marvellous how quickly the lobby sucks you in and makes you feel at home.
Central to the space is a large bar bathed in colourful lights where among choosing your poison you check yourself in. On the perimeter are sofas galore, cushions, armchairs… make yourself comfy. There's also a snooker table and even a multiplayer Playstation if you're feeling competitive!
Spaces are divided by deconstructed brick walls, fire and candlelight.
Our Room
Along dark black corridors you'll discover the rooms, which are more conservative. They are the classic city break hotel room: humble, clean and comfortable. Everything you need for a short stay:
Rainforest Shower
Quirky toiletries (in decent sizes!)
Safe for valuables
Tea/coffee making facilities
TV with a few limited English channels, plus pay-to-view movies
A generous offering of coat hangers (I hate when hotels give you only two?!)
Dinner at Krystal Bistro
Those restaurants I mentioned that are just minutes away? Krystal Bistro is the closest of all to Pentahotel, quite literally on the other side of the street. 'Traditional [Czech] cuisine with a French touch' was to be our first meal in Prague. The bistro had a lovely family-run atmosphere. Calm but very friendly with impeccable service.
Beer was of course the first thing we ordered, Prague is known for its incredible selection of beers after all! I had heard good things about the prices of food and drink in Prague but the reality felt too good to be true. Our very first beer; a large, refreshing tankard cost just £1.90. Say whaaaat?
Q and I quickly learned that Czech food is ultra hearty, Winter-style grub. Red meats, rich sauces and thick dumplings feature heavily. Absolutely, 100% our kind of food.
My steak tartare was served very finely diced, heavily 'herbed' and with wholesome slices of rye bread. There was an intriguing flavour in here that I just couldn't put my finger (tongue?) on.
We also learned fast that the Czechs, or at least Prague, loves a burger. Probably something to do with the aforementioned love of red meat and carbs, but wow they do a good one. The house burger at Krystal, complete with onion brioche and a rare steak patty was a glorious offering.
Y'know, we learned a lot about the popular themes in Czech food from this very first meal which we then saw running through menus throughout the trip. Rum, of all things and I was thrilled to discover, is pretty damn big in Prague! We finished our first meal in the city by sharing a delicious Kofola and rum cake (Kofola is Czech Coca Cola). This was basically a sticky toffee pudding but with rum. So better.
Our three-course meal with a good few beers thrown in cost around the £40 mark. Wow.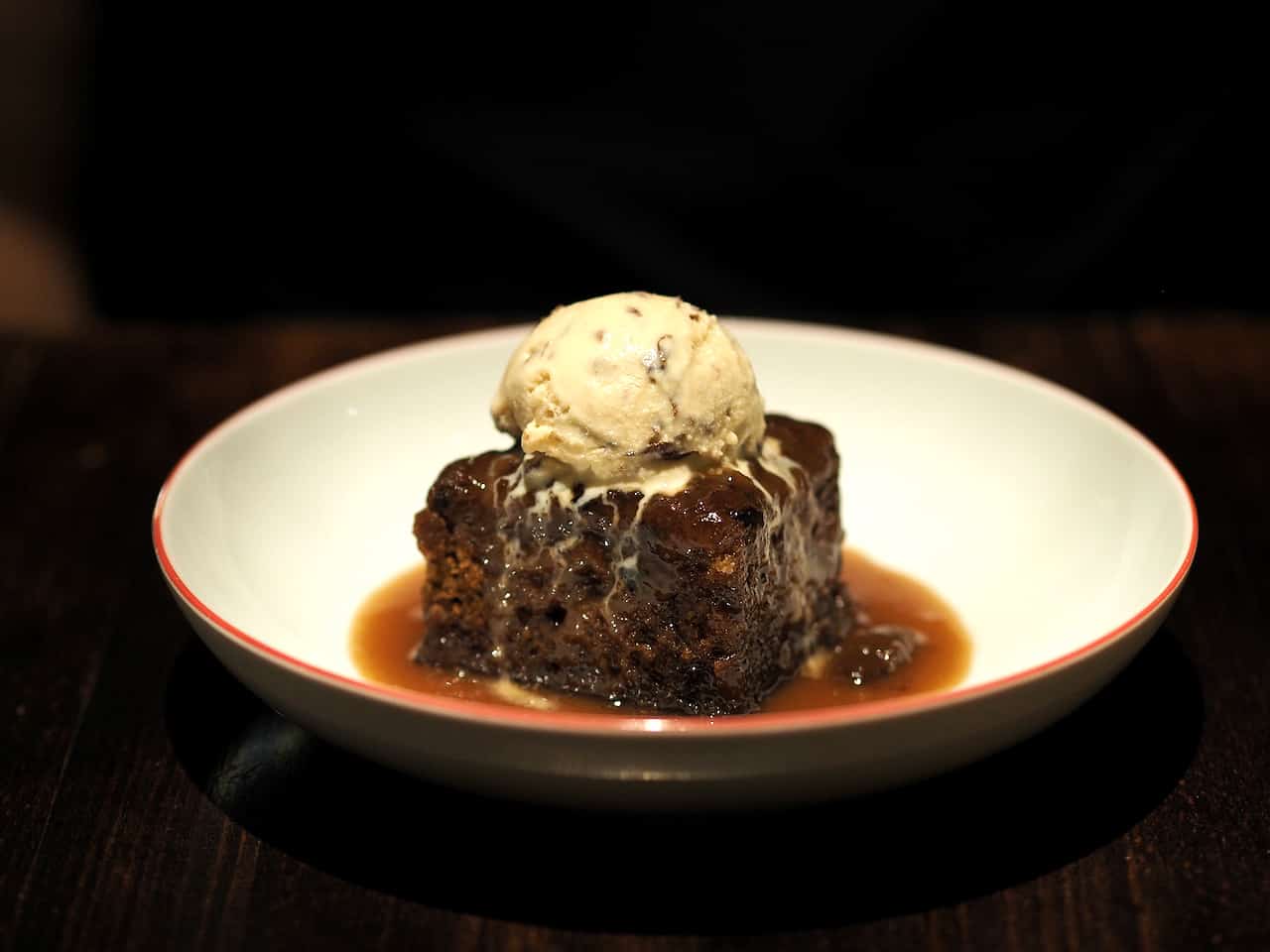 First Impressions
After an entire day of firsts we finished our evening back at the Pentahotel lobby, curled up on a large leather sofa in front of a trendy wall of faux fires, sipping on strawberry daiquiris – quite the feminine contrast to all that red meat and beer at dinner.
We reflected on how our entire day had gone seamlessly: from new airport, to new airline, to new hotel and new country. With so many unknown entities we had fully expected something to be a little off but no, it had been a fantastic day of travel. And with With a belly full of wonderful food (at even better value) in cosy surroundings I felt instantly at home. My fresh white bed was calling, ready to prepare me for our first full day in Prague…