I'm not a very middle-of-the-road kind of person, I like to do something properly or not do it at all. I'm the person who's either the designated driver or choosing their cocktail by how much alcohol is listed, the person who's either eating grilled chicken and veg or ordering every number off the menu of the local Chinese. Moderation is lame; it always compromises one thing whilst not completely satisfying the other.
So it's pretty special when I find something middle-of-the-road to get me excited. I'm talking Power Muffins. These incredible little creations are the birth child of another blog and I am seriously happy they've entered my life.
Power Muffins
5 ripe bananas

130g whole oats
100g ground almonds
100g dried cranberries, chopped
100g Pecans, chopped
100g sunflower seeds
5tbsp extra virgin olive oil
5tbsp manuka honey
1/2 tsp cinnamon
1 tsp baking powder
1 tsp baking soda
Pinch of salt
So, what's so great about them? They're delicious and nutritious: made with 100% all natural, non processed ingredients and packed full of fibre, healthy fats and vitamins. And the bad? Well y'know, they are still muffins, let's not pretend eating these bad boys every day is allowed. *sigh*
Oats are about as processed as this recipe gets. Unlike their cousin white flour, oats are a complex carb, meaning more stable blood sugar, a better energy source and less hunger pangs. Hoorah! Ground almonds also substitute flour in this recipe, replacing it with healthy fats and zero bloating.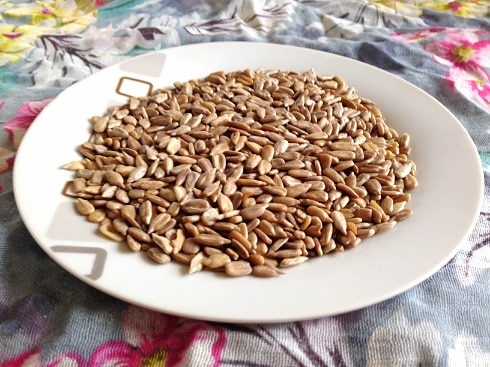 The nuts, seeds and cranberries make these muffins fiberous, naturally sweet and give them a little protein hit too.
I've used Manuka honey, which is apparently the super-food star of this show. I've been told how this stuff has crazy antibacterial properties, a higher concentration of vitamins and a lower GI index than other honeys, meaning a more gradual source of energy. Frankly at £8.00 for the cheapest jar it better be good. I can believe the antibacterial hype, it definitely has a slight medicinal taste to it. Of course you can use regular honey but hey, this recipe is meant to be powerful!
Okay, so time to make some muffins! Pre heat your oven to 170 degrees.
1. Peel and mash the bananas, then add the olive oil, honey, cinnamon, baking powder, soda and salt. At this point you're going to have a really unappetising mixture, but give it a really good mix until combined.

(Trust me it smells SO much better than it looks)
2. Gently mix in the ground almonds and oats. Follow this by folding in the cranberries, pecans and seeds.
3. Spoon into greased muffin moulds and pop in the oven for 20 minutes.
They'll come out dense and soft with a crunchy topping.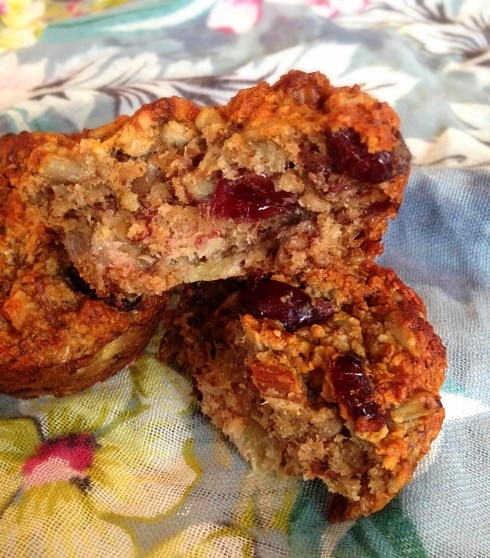 Oh God they taste so good. Think super gourmet nutri-grain with more love put into it.
Make these immediately. I've already forced a pile on my grandparents and will be taking a batch to my next meeting. (I told you I wasn't very good with moderation.)