You know when you get a burger itch and you just have to scratch it? Even if it means leaving your home town and hopping on a train to do so? Well maybe you don't, but I had that exact itch last week and so I went in search of a new burger experience! A London Blogger helped me whittle down my choice by confirming that this little burger Joint nestled in central London was worth a visit.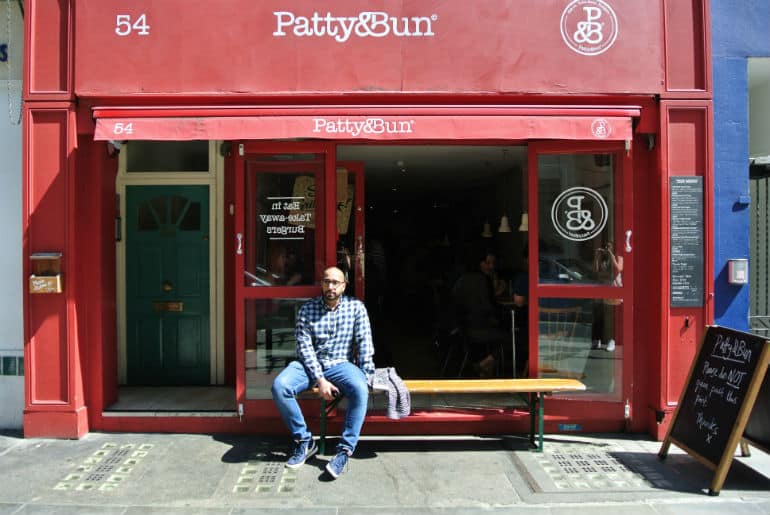 I'd heard of Patty & Bun, I'd also heard their popularity has an almost constant hoard of people queueing outside! Luckily we beat the worst of it and got seated within 15 minutes. This is a small place with a very stripped back 'London cool' about it. Worn wooden tables are huddled together (prepare to be intimate with fellow punters), signs are printed on cardboard and the menu is a weathered, thick sheet of paper.
The menu is equally stripped back and extremely well priced, particularly for London. Along with beef burgers there's chicken, lamb and a vegetarian option, we ordered two incredible sounding Smoky Robinson burgers for just £8.50 each.
In no time at all we had giant wax paper balls containing our burgers and polystyrene pots of rosemary salted chips whisked to our table. The pros of having a simple menu is you won't wait long for your food! This is a no plates affair, cutlery is available in a pot if you must, but the real fun is in getting stuck in.
Unwrapping the burger was surprisingly enjoyable, it's like unwrapping a present! I pulled back the last bit of paper to reveal one seriously oozy cheeseburger.
(I know the cheese lovers are all sighing right now)
I don't actually know what cheese in particular this was, only that it was smoky and creamy and I couldn't have been happier at how much there was of it.
The Smoky Robinson is a beef patty with lashings of that creamy cheese, salad, bacon, smoky mayonnaise and masses of sweet, soft onions. All lovingly stuffed between a super soft brioche bun. I cannot begin to tell you how well all these flavours work; there's such a good balance between sweet and salty. The beef patty is ridiculously juicy and soft, to the point that you have to wrap this baby up if you don't want to make an incredible mess.
The fries are fantastic too: rustic, skin-on style & given a little gourmet twist with a blend of salt & rosemary which gives them a really tasty herby hum.
You know what, I'm calling it. This is one of the best, if not the best burger I have ever eaten. It was a smoky, cheesy, squishy taste sensation. Delicious comfort food at it's finest! Burger fans be sure to check out Patty & Bun, on top of the brilliant food the service was really friendly and efficient. A warning to readers with a tendency to get hangry, avoid peak lunchtimes as you'll need to queue for quite  a bit longer. I can assure you though, it is worth the wait!