Bloody hell, does this restaurant have impact! I mean how often do you drive through acres of deer scattered grounds to get to your dinner reservations?
Paris House stands proud and monochrome against the green landscape. But inside? Eeeh, it was less than inspiring. On my last visit I was very privileged to sit at the chef's table in the kitchen, which was incredible. But I fear the dining room may not have done justice to the wonderful food we were eating.
The interior has very recently undergone a big makeover and Q and I were invited to an evening of champagne, canapés and a sneak peak at the new look.
The warmer weather seems to have left us; I feel awfully autumnal again and I gave a little shiver as we pushed open the chunky wooden door to be hit with a wall of warmth and the smell of fresh paint. Inside were a friendly crowd of chefs, press, fellow bloggers and friends of Paris House, including some of their regular customers. Candice Brown, winner of GBBO 2016 even came along!
The restaurant has been transformed from simple creams to dramatic greys and teals. It's contemporary and cosy. Fitting in with the surroundings, there are endless nods to deers and stags in the form of drawings and ornaments and tie clips and candle holders. And fitting in with Phil Fanning's love for East Asia as seen so often in his menus, there are beautiful decorative notes from Japan about the dining space too.
We found ourselves wandering outside again during our visit; the grounds are so incredibly peaceful. Leaving the bustling reception we were met with near silence save for a few rustling trees and the footsteps of deer.
…But of course, the canapés were calling! We wandered into the kitchen where there were live demonstrations, as well as some prep going on for service the next day; tasty pots of things simmering, pigs being butchered, macaroons being attentively piped.
At this point I was asked: "Would you like to play with some liquid nitrogen?"
Um… yes?!
Goggles and safety gloves on I had a go at making one of the desserts on the menu which consisted of frozen ganache with poached Asian fruits, mini cake and sesame and squirty custard. This was so much fun to make and even more fun to eat… I didn't do a bad job if I say so myself!
The canapés were all beautiful; it was a nice touch to watch them being made as well as enjoying them.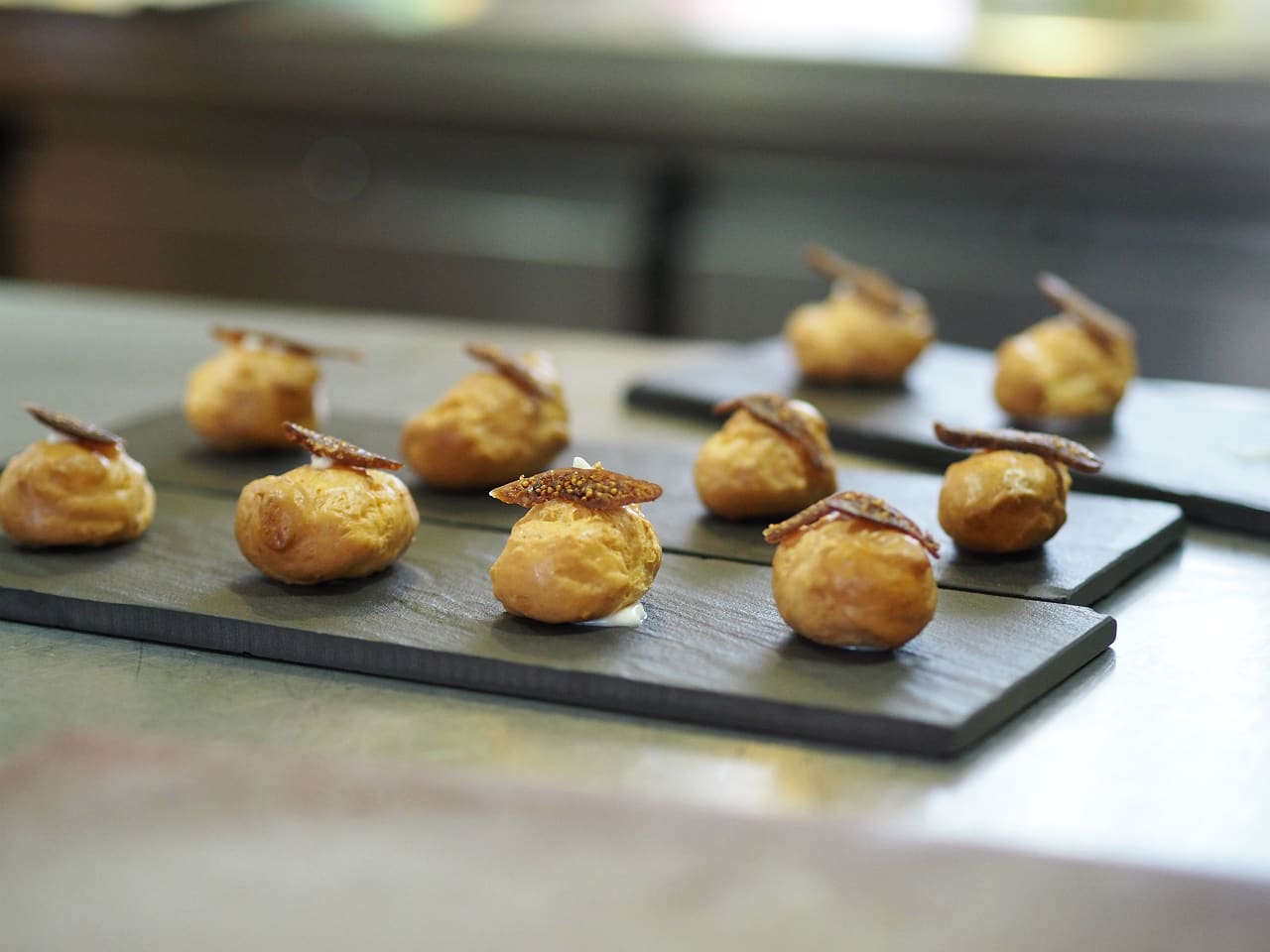 In particular dumplings served in bamboo steamers filled with lots of lovely ginger were delicious. Every now and again a gentleman holding a bottle of champagne would appear as if by magic and top up my glass. Handy eh?
So what I had expected to be a simple glass of champagne and mooch around at the new decor turned out to be just that with added theatre… and a few more glasses of champagne. Paris House successfully showcasing their passion for their food and beautiful patch in the Bedfordshire countryside. I really recommend paying a visit.