If you're anything like me you need something exciting to eat on the weekend, otherwise you feel somewhat cheated out of life. For these occasions it's handy to have a recipe up your sleeve that's still wholesome despite being a delicious little treat. Paleo recipes are great for just that: paleo is short to paleolithic and refers to an eating lifestyle mimicking way back when humans consumed simple foods which they hunted and gathered from the wild. This banana bread recipe is Paleo friendly, meaning it avoids using any processed, grain-based carbs or sugar and therefore is full of yummy stuff that will leave your sweet tooth satisfied and your belly un-bloated. Hoorah!
Paleo Banana Bread
3 large bananas (medium ripe)
100g ground almonds
140g smooth peanut butter (organic with no added sugar)
4 eggs
4tbsp melted unsalted butter
1tbsp manuka honey
2tsp cinnamon
1tsp vanilla
1tsp baking powder
1tsp baking soda
Pinch of salt
Pre heat your oven to 175c and grease & line your loaf tin. Slice your bananas into a mixing bowl and add the peanut butter and melted butter. Whisk until you have a thick (and seriously delicious) fluffy mix. I think this recipe works well if you leave a few banana chunks in the mix.
Whisk in the eggs then add the honey, cinnamon, vanilla, baking powder, baking soda and salt. Finally, mix in the ground almonds.
Pour the banana mix into your tin, spread evenly and bake for around 50 minutes. I've got to say when this is baking it smells AMAZING, which adds to the torture of it taking so long to bake! I suppose good things come to those who wait and all that.
I honestly think this paleo version is better than traditional banana bread! Unlike regular flour, almond flour holds onto moisture, making your loaf perfectly moist and fluffy. It looks quite dense but it's wonderfully light to eat whilst being full of rich, natural flavours.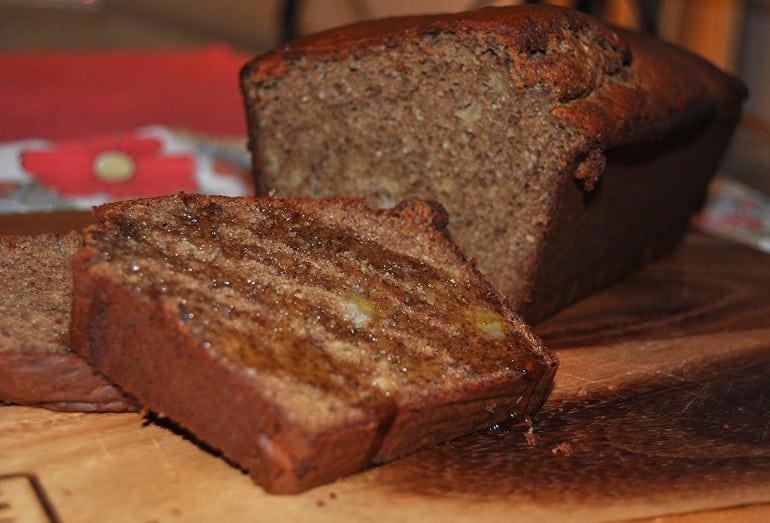 Because there is no added sugar you can sweeten up a slice with a drizzle of honey.
Alternatively you can have it as a more savoury snack with peanut butter, yum! Whichever way you eat it, it makes a super delicious snack to enjoy with a cuppa, especially hot from the oven!
*Edit 15.02.14: I recently made up a batch adding a big handful of raisins, using just two eggs (I'd run out) and putting into muffin moulds. The result was amazing! The bread was much more moist and dense, very similar to bread pudding. Give it a try 🙂