This recipe is a great alternative to the Sunday roast when you're in the mood for a more relaxed evening in rather than watching over numerous dishes cooking away. Using cheap cuts of meat cooked low and slow in one pot you'll get a delicious, hearty meal that saves money and washing up. More time for relaxing!
This a mix of oxtail and beef shin so you get a mixture of fat content and deep, beefy flavour. The meat is cooked in a rich tomato gravy with root vegetables and mushrooms, and topped with a delicious garlic potato gratin.
Oxtail & Beef Shin Stew
Serves 4-6
3 oxtail portions
3 beef shin portions
Handful of plain flour
1 red onion, diced
6 fresh sage leaves, finely chopped
2 large carrots, cut into half moons
2 large glasses of red wine
1 beef stock cube
1 tin chopped tomatoes
3 tbsp tomato puree
2 large handfuls of woodland mushrooms
1kg Maris Piper potatoes, boiled and sliced
350ml double cream
3 garlic cloves, minced
2 tbsp Boursin cheese
50g cheddar cheese
Salt & pepper throughout
You need a nice big pot for this dish. Preheat your oven to 150c. On the hob heat a little oil in the pot on medium and brown off the meat with some seasoning. Remove after 2-3 minutes and set aside. Fry the onions in the juices (you'll already have collected some in the pot) with a little more oil if needed and the sage. Once softened add the carrots and wine. Season well. Once the bottom of the pot has deglazed, add the tinned tomatoes, puree, stock cube and mushrooms and simmer on a medium heat. Add 1 cup of water, stir well and return the meat to the pot, making sure to cover the meat in the gravy.
Place a lid on the pot and cook in the oven for 2hrs 15 minutes.
Whilst the stew is cooking you can peel and boil the potatoes. Once just cooked, drain them and when cooled slice them into half-cm thick slices. In a bowl combine the cream, Boursin and minced garlic and grate your cheddar cheese and set aside.
Once your stew has reached 2hrs 15 minutes it'll be looking rich and dark and the meat will be well on its way to being meltingly tender. Remove the pot and place on a heatproof surface.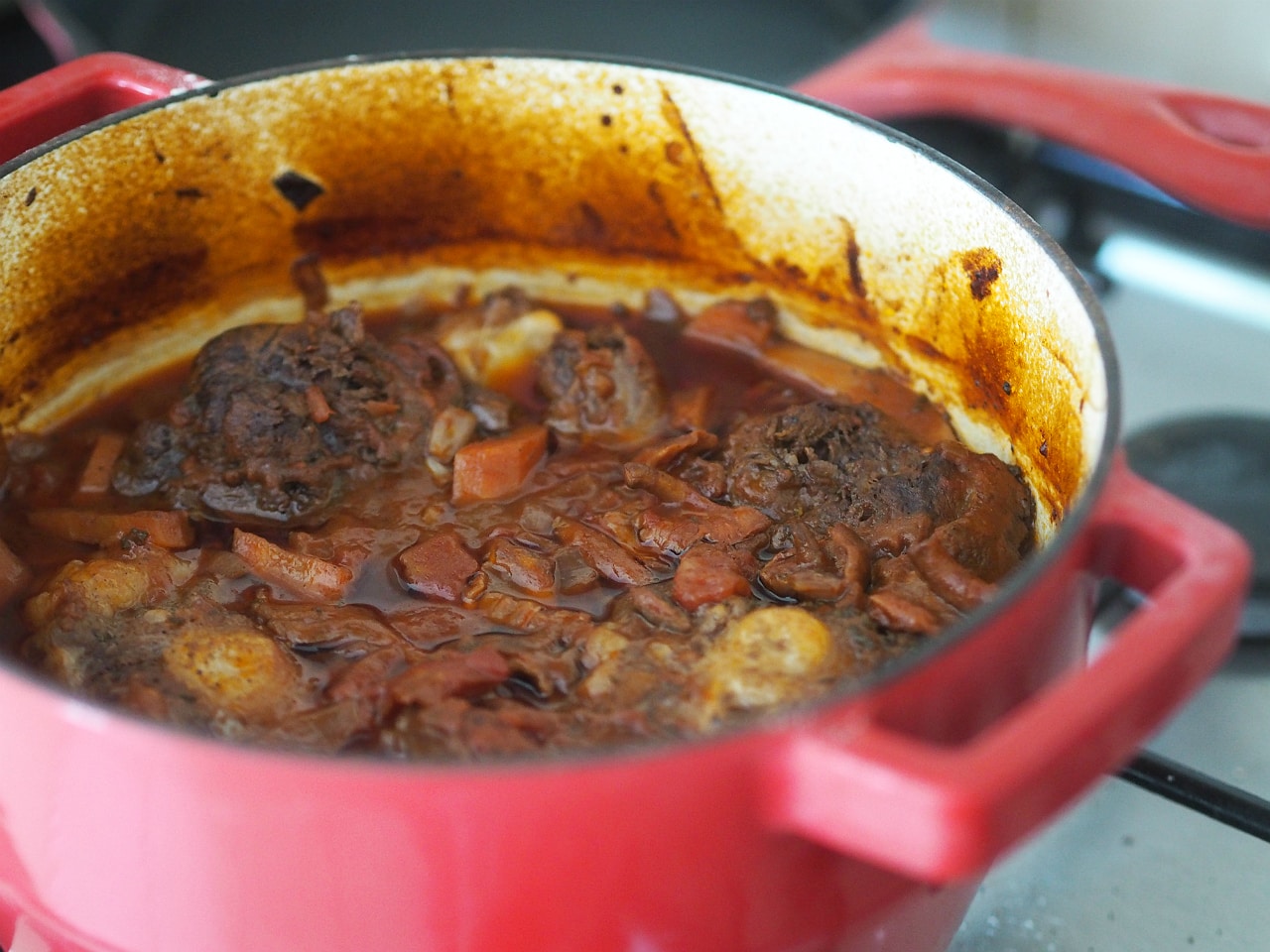 Top the stew with layers of potato, creamy Boursin mix, cheddar and pepper. Repeat until you're out of potato. Pour any leftover cream mix over the potatoes and top with once last layer of cheddar. Return to the oven at 150c for 45 mins with the lid off.
When your stew is removed from the oven for the final time, the potatoes will have melted and crisped into a delicious gratin, topping a rich stew of wonderful tender meat.
I served the stew with steamed asparagus, tenderstem broccoli and mushroom rice. I love rice with stew because it's perfect for soaking up all the delicious juices.
With one pot it makes a nice change that my kitchen isn't a total bomb site after, nor my dishwasher crammed full of crockery. As I mentioned in my recent post I was interested to get cooking with Boursin to see how it lends itself to a world outside of crackers. It's worked bloody lovely in this case; the garlic and herbs and creaminess make it easy to get a really tasty potato gratin. Ooh it is satisfying, cutting a large spoon through that crispy topping to the tender stew underneath! Yes yes yes, the perfect end to the weekend!