There is nothing that I enjoy more on a weekend than to start the day with a luxurious breakfast. During the week breakfast usually has an air of functionality: eat it on the go / get it guzzled before heading out / pick something quick and easy.
No, weekend breakfast is for making up for all that rushing around. Time to indulge in a slower morning pace and an exciting feast to start the day. With this recipe I am testing out my new pan from Buy Me Once with delicious breakfast quesadillas, which are made fully from scratch but are wonderfully stress free and (most importantly) fun to make.
Deliciously soft corn tortillas filled with breakfast favourites like egg and avocado… and given a gourmet twist with a cheesy layer, flavour-packed guac, and a wonderful spicy coriander sauce. This breakfast will wake up your tastebuds… and you!
Oh yes get ready for the ultimate start to your weekend.
Breakfast Quesadillas.
I think this is a fantastic breakfast to enjoy making together with someone else. There's a few elements to make, not to mention some theatre in cooking the tortillas. So stick on a cheerful morning soundtrack (I love Khruangbin!) pour two cold glasses of OJ and have fun bonding through cooking!
Ingredients
For the tortillas:
1 mug of masa harina (it's the morning, let's skip exact measurements)
Half a mug of warm water
2 eggs, beaten
Grated cheddar (measure with your heart!)
For the guacamole:
1 hass avocado
1/2 red onion, very finely diced
1 garlic clove, minced
Juice of half a lime
For the spicy coriander sauce:
3 tbsp olive oil
1 tbsp honey
Dash of Worcestershire sauce
Handful of fresh coriander, chopped
1 Jalapeño, deseeded and finely diced
Method
First we'll make the tortilla dough. 
In a bowl mix together the masa harina and water until a damp dough forms. Knead this on a clean surface for 5 minutes until a smooth ball forms. The dough should be soft and smooth but not sticky. If it is sticky, knead in some more masa harina.
Wrap in cling film and fridge for 20 minutes (while this is chilling go ahead and prep the guacamole and coriander sauce.)
For the guacamole:
In a large bowl mash up the avocado. Keep some texture running through; in my opinion mega smooth guacamole isn't nearly as appealing. Add in the onion, garlic and lime juice and season well with salt and pepper. Chill in the fridge.
For the spicy coriander sauce:
To a bowl add the olive oil, honey and dash of Worcestershire sauce. Season well and stir together. Add the coriander and jalapeno. Set aside.
Make the tortillas:
Heat your pan to a very high heat. Cut the chilled dough in half and form into balls. On a floured surface roll the balls into thin tortillas. Add a tortilla to the pan one at a time, with no oil, and cook for 40-60 seconds on each side. The tortilla is ready to flip when it has taken on some brown spots and air bubbles form.
Set aside your cooked tortillas and get ready for quesadilla time!
Make the quesadillas:
You're going to make these one at a time, so consider pre-heating your oven to 50c to keep the first one warm.
Add a little oil to your pan on a low-medium heat add one beaten egg. Manipulate the pan to get the egg into a rough circular shape and a similar size to your tortilla.
When the egg has cooked underneath but remains runny on top, add a tortilla on top. Cook for another minute and then flip. The egg will have stuck to the tortilla. Sprinkle your cheese over the eggy side and cook for one more minute and then remove from the pan. Repeat the process.
Top half of your tortilla with the guacamole and spicy coriander sauce, then fold in half and cut down the centre.
Et voila: one incredible breakfast packed with fresh flavour and goodness. Completely made from scratch!
Recipe Overview
Breakfast Quesadillas
Delicious corn tortillas filled with egg, cheese, guacamole and a spicy coriander sauce
Equipment
3 Bowls

1 Knife

1 Chopping board

1 Iron pan
Ingredients
For the tortillas
1

mug

Masa Harina

0.5

mug

warm water

2

eggs, beaten

2

handfuls of grated cheddar
For the quacamole
1

Avocado (Hass)

0.5

red onion, finely diced

1

garlic clove, minced

0.5

Juice of half a lime
For the spicy coriander sauce
3

tbsp

olive oil

1

tbsp

honey

1

Dash of Worcestershire sauce

1

handful of coriander, chopped

1

Jalepeno, deseeded and finely chopped
Instructions
Corn tortillas
Mix the masa harina with the water in a bowl and then knead on a clean surface until combined and smooth.

Divide into 2 balls and roll into thin circles.

Heat your iron pan to very hot. Add one tortillas at a time and cook for 30 seconds on each side. Set aside.

Add a little oil to the iron pan on medium heat and add one beaten egg, aiming to get it roughly the same size as the tortilla.

Once egg has cooked on one side add the tortilla on top and flip once egg is fully cooked.

Add cheese to the eggy side and once melted remove from heat.

Repeat for the second tortilla.
For the quacamole
Add the avocado, diced onion, minced garlic and lime juice to a bowl. Season and mash. Set aside.
For the spicy coriander sauce
To a bowl add the olive oil, honey, Worcestershire sauce, coriander and jalepeno. Stir well and set aside.
Final construction
Add the guacamole to one half of your tortilla and spoon over the spicy coriander sauce. Fold the tortillas in half and then cut in half.
Masa Harina
This is the corn meal used to make corn tortillas. It creates beautifully soft and moist tortillas and I have recently been completely converted from flour tortillas, which used to be my go-to. Masa Harina is also a fantastic option for Celiacs as it is gluten free. It isn't the easiest to get hold of as many supermarkets do not stock it. However you can buy it online. There are many brands, but I use Maseca which has great reviews.
Why Hass avocados?
You can use whatever avocados you fancy but I really recommend Hass avocados as they're bigger and creamier. The smaller varieties of avocado I find can often be quite hard, even when ripe. Great for salads but not so suited to a lovely cool and creamy guacamole.
Solidteknics Iron Pans
To make fantastic homemade corn tortillas you need to get your pan extremely hot. This helps to cook the tortilla quickly and gain those lovely toasted spots. The result is a soft and pliable corn tortilla that hasn't dried out from long heat exposure, and is full of flavour. Iron pans are perfect for tortilla making as they can withstand such hot temperatures without warping and distribute heat really evenly.
Solid iron pans are not the cheapest but they are a fantastic investment. I live my consumer life by the motto that if you buy cheap you buy twice. Where possible I invest in products that will last a very long time.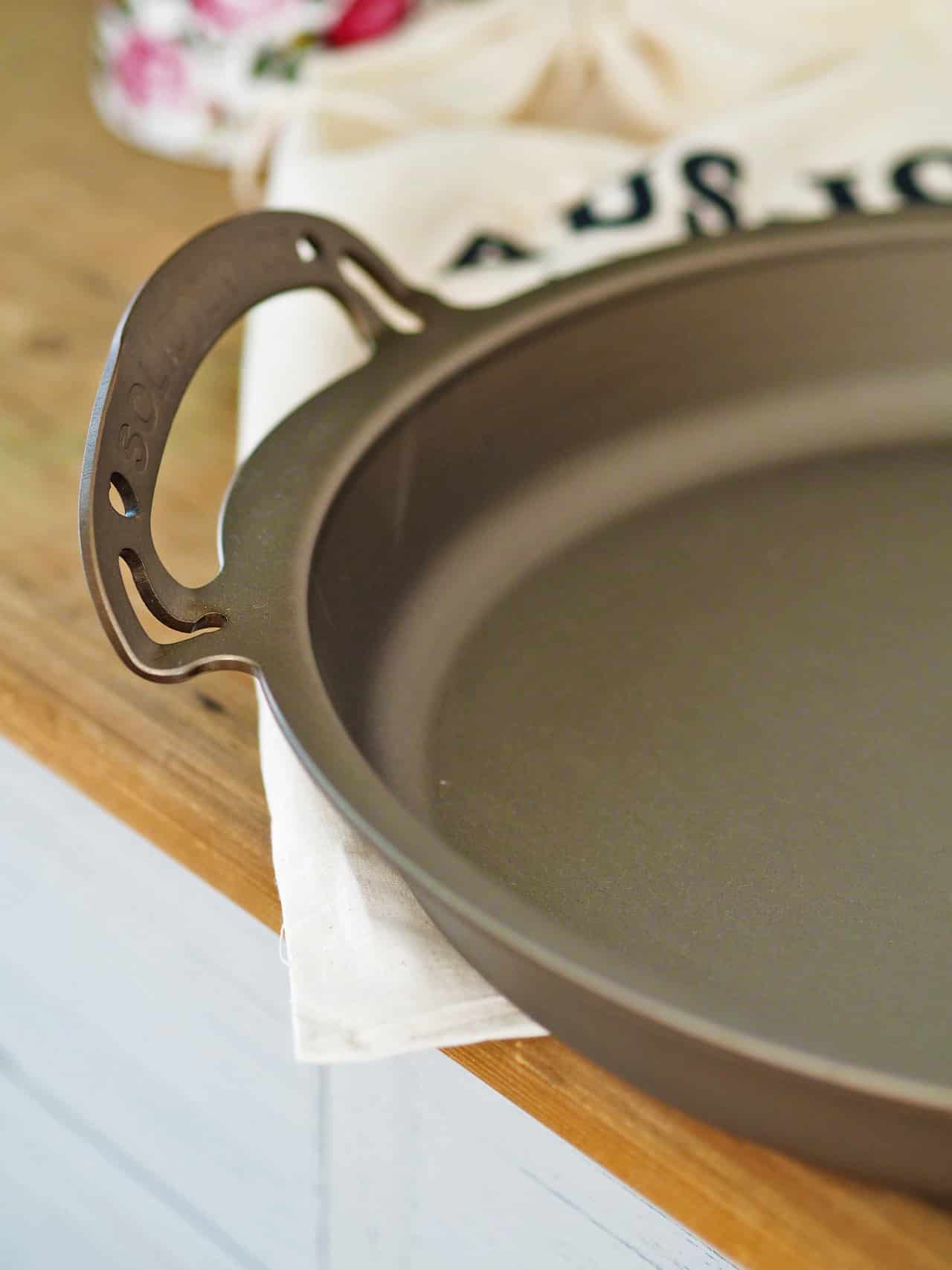 Iron pans will last a lifetime given they're basically indestructible… the same cannot be said for non-stick pans which usually last 5-7 years before the coating breaks down and the handles get wobbly. Neither are an issue for Solidteknics pans; with a natural and renewable seasoning which is perfectly non-stick. They are also made from one seamless piece of iron meaning no wobbly handles ever again.
My Solidteknics pan comes with a multi-century warranty! I love that, it means they can become an heirloom for generations to come. It doesn't get more sustainable than that.
Buy Me Once
Buy Me Once is a wonderful online store which shares my values for cost-per-use and focuses solely on sourcing and selling only the highest quality and most durable pieces for your home. This means less waste for the planet, less waste of your hard earned cash and less time wasted as they do all the research so you don't have to.
More recipes
Looking for more fresh meal ideas? Here's some similar recipes that I think you will love.
Pin it for later
Love the sound of waking up and starting your day like this? Then keep this recipe easy to find by pinning it your your favourite recipe board.