Disclosure: Meals were complimentary. As always all words and thoughts are my own.
Now I know that I'm a greedy guts, but I outdid myself recently reviewing not one, but two restaurants in one evening. Q and I spent the weekend in London after the metaphorical blogging buses had came at once and I (and my stomach) were called to the Capital to check out some new food experiences to share with you.
Milton Keynes is just a thirty-five minute train ride away so we often head into London for the day. Less often we make a weekend of it and as we hadn't done so since Q's birthday I was super excited to pack up our things and head to our base in Fitzrovia!
Dinner number one (oh yes, truly realising my Hobbit persona!) was an invitation to VOC London in Kings Cross. Hidden away in a lovely, rather secret courtyard called 'Varnisher's Yard' and under another archway, it's a bit of a challenge to find! In fact the first thing the lovely lady on front-of-house asked was whether we had found it okay.
VOC London is a pretty small and quirky place. You're immediately met with little wooden tables on different levels and the bar as you come in: it's got that really cool, old London feel about it. Up a short flight of stairs is the main dining space. Warm and classic.
The menu is based around small plates rather than starters and mains, with 2-3 plates recommended per person. Greedy guts here of course chose three, as did Q. There is a good selection of dishes from sea, land and field which range from £5.50 to £8.50 each. As real meat-lovers we did find ourselves favouring the land section!
VOC London prides itself on quality cocktails based upon very old recipes. The drinks menu is varied and full of enticing names and intriguing ingredients; it all sounds like alchemy! Exactly how any good cocktail menu should. The winner of the evening was Q's 'Blackstrap Swizzle' (what fantastic names!) a mix of Bacardi Oakheart with molasses and bitters, served with lime, coconut and crushed ice.
The menu is inspired by the ancient spice routes and so there's a strong East Asian influence within the menu. Service was prompt and polite and our dishes flowed out of the kitchen in quick succession until we had a full table ready for feasting.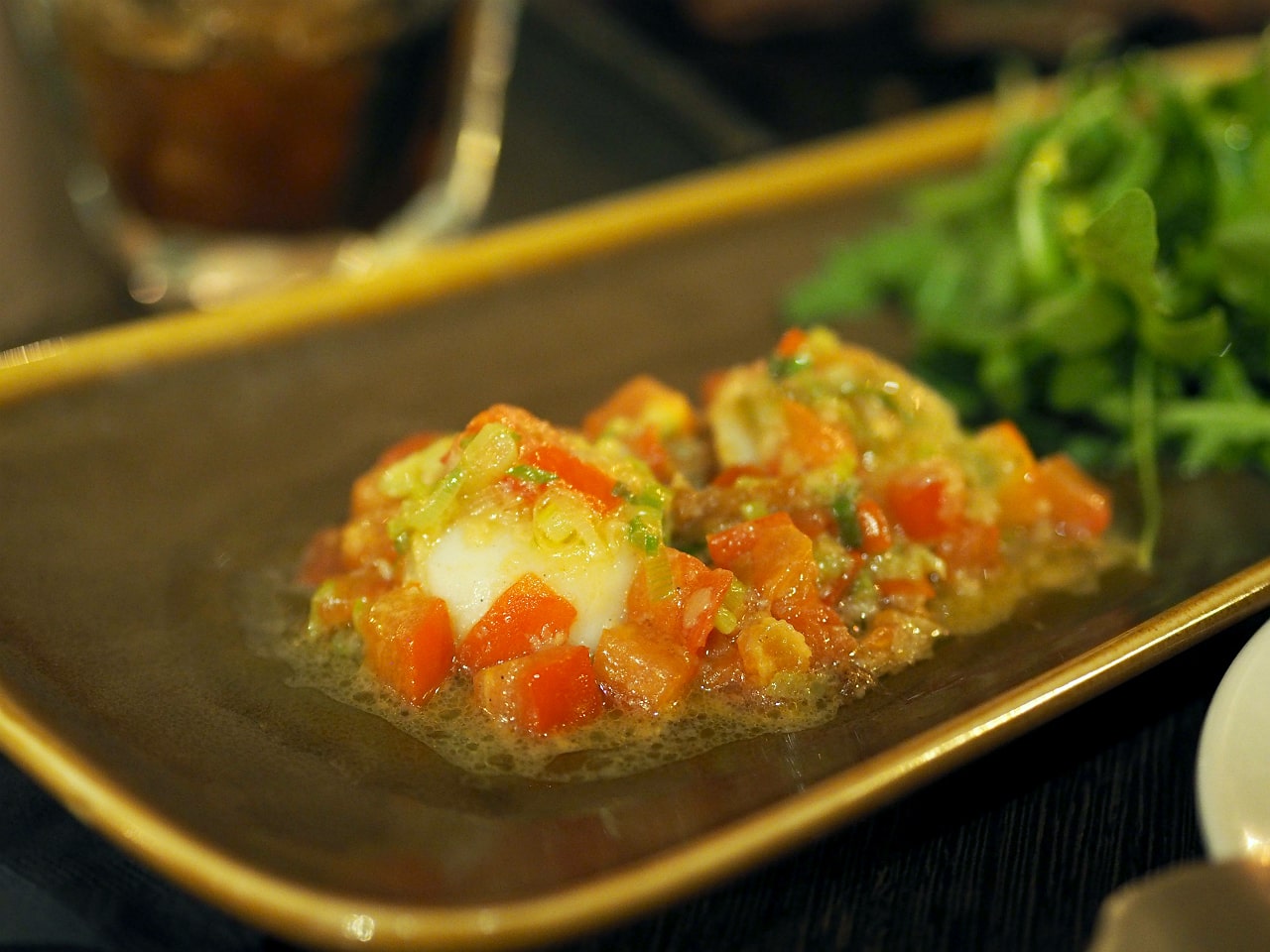 The only 'sea' dish we ordered was the scallops served in gin and tomato salsa which were well cooked, meaty bites with bright, juicy flavours.
The braised oxtail ravioli, despite being very mellow in flavour was very enjoyable. This is a very comforting dish that would be very welcome on a rainy day with a spicy cocktail. In fact, my 'Butterfly' cocktail of spiced rum, ginger and liquorice went perfectly.
Scottish blackface lamb cutlets with a lovely salty herb crust were nice to gnaw on, if a smidge overdone for my liking.
The umami chicken was my favourite of the day; you barely had to show it the fork and it was falling off the bone! Absolutely packed with delicious meaty flavour on a bed of rich, woody mushrooms. How rare that chicken takes centre stage in my books! The waitress smiled and agreed it was one of her favourites when I said how much I had enjoyed it.
More of those lovely mushrooms came with the Korean marinated veal which unfortunately I found to be thin and dry., I wouldn't order this again.
Next came the crispy duck, and they weren't lying about the crispiness! Air dried for five days, the duck becomes more of a crunchy garnish to the tender greens beneath. Q really enjoyed this one, though admittedly I found it anti-climatic for lovely rich duck meat to be reduced to a crouton.
My experience at the VOC was perfectly pleasant. The setting is beautiful and the staff are excellent; I actually think VOC London is suited to a night focused on those delicious cocktails peppered with snacks. Be sure to try that Umami chicken!
Next, we headed to Chi Kitchen on Oxford street to try out their new drinks menu… along with a snack or two. This is a Pan Asian restaurant and you'd be forgiven for thinking it could be a bit naff: being attached to Debenhams could hint at convenience rather than quality.
It's a modern, clean and warm restaurant though, with a lovely open kitchen and comfy booths that overlook the side streets offering some great people watching opportunities.
The drinks menu features plenty of Thai spices, floral flavours and those delicious jelly pieces that I adore in bubble tea. Prices range from £2.95-£3.75 for a refreshing drink. The Malaysian iced coffee with grass jelly took my fancy, along with some roasted wagyu beef puffs.
I've never approached a review of somewhere in such a free and easy way: but we sat in our comfy booth and happily ate whatever we were recommended, which resulted in an erratic banquet of menu tasting which was great fun!
The popcorn tempura shrimp in wasabi mayonnaise were recommended to us and I'm so glad they were: these are an absolute gem! Honestly as good as what I recently ate at Sushi Samba.
One of the drinks on the new menu, the 'Cendol' is also offered as a dessert for £5.00. This is a famous dessert from South East Asia, made from coconut milk, pandan, palm sugar and crushed ice. It's a bit of a crowd divider for British tastebuds that are more used to very sweet desserts. This is instead far more focused on being cool and refreshing with a very subtle hint of sweetness. You can tell it was invented for a very hot climate!
More suited to a sweet tooth is the mango brûlée which is as rich and indulgent as you'd expect any brûlée to be, but with a refreshing light element with the fruit. This dessert goes great with Chi Kitchen's spiced Thai iced tea.
If you love anything rose flavoured then you'll love the 'Frozen Fire' drink which is a generous glug of rose syrup with crushed ice and sparkling water. Great fun with stir with your straw and watch the syrup mix into the water.
Chi Kitchen is an easy place (not a naff place)to grab something really tasty to eat and drink for sure. After all that food Q and I skipped our plans to grab a night cap and headed home to digest and sleep… after all we had another review planned for the next day! Which I'll be blogging about next…