Recently I asked the good folk of twitter for their recommendations of hidden gems in and around the Milton Keynes area. I wanted to try somewhere new and one very enthusiastic response was for Nonna's in Woburn Sands. This weekend happens to mark a very special occasion, mine and Mr Yumdimsum's anniversary! So, knowing I was keen to go visit, Mr Yumdimsum treated me to lunch at Nonna's this afternoon, what a good egg he is!
As soon as we stepped through the front door we were hit with a wall of warm air thick with the smell of fresh bread baking away in the oven. Cue instant rumbling stomach. Our waiter greeted us and off we were led through a little Secret Garden to our table.
Can you tell I'm a bit loved up today?
The decor I thought was really beautiful: lots of luxurious William Morris style wallpaper, stained glass windows, exposed brick… the kind of place I start mentally arranging my furniture in as if it were my dream home. The dining room was however accompanied by some pretty hilarious music; I was surprised to find modern restaurants still whip out the sexy saxophone instrumentals! Still, it was kind of endearing and put a smile on my face whilst we waited for the starters to arrive.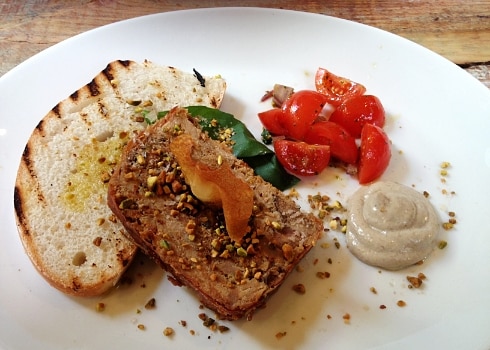 What a good looking plate of food! Rabbit terrine with a delicious fig centre, porcini mushroom mayonaise and a good drizzle of some seriously legitimate olive oil.
Our mains? Well, we're at an Italian, there's the smell of fresh dough in the air, it was a no brainer what we were going to pick…
PIZZA!
Super fresh, perfectly thin and crispy pizza at that.
They were huge, but everything was so light and fresh that we had no problem clearing our plates. The best pizza base I've eaten in a long time actually. Crusts can often be guilty of being such a bore to eat when the dough completely dries in the oven. But the edges, whilst perfectly crunchy were still light and doughy inside. Naturally, enjoying the food so much We had no problem ordering dessert and a coffee!
I ordered their lime and cherry cheesecake, curious by the flavour combination. I expected something really eye-poppingly sharp, but it was actually extremely mellow and fruity. Lovely fresh and light toppings sat on an incredibly buttery biscuit base (I couldn't resist!)
Everything we ate at Nonna's was fresh, authentic and tasted like a lot of love had gone into it. Subsequently a lot of love went into eating everything we were served. Milton Keynes is dominated by generic Italian chains, that whilst deservedly successful lack that true essence of a true Italian restaurant: that deliciously rustic food that tastes like your mum made it, with wonky pizza shapes and portions that leave you groaning at your choice to wear such tight jeans. Next time you've got a craving for pizza, go get a proper one at Nonna's! (Pssst, they serve lunch at 20% off!)