The chef cook-off for the Milton Keynes Food Awards took place this week, with chefs from local restaurants battling it out to be the 2015 chef of the year. Along with reporter Amanda Devlin from the MK Citizen, Mayor Derek Eastman and Michelin star chef Phil Fanning, I was lucky enough to be one of the judges for the day. Spend a day eating and sharing my opinion on it? Yes please!

It kicked off super early getting to know the other judges over coffee and pastries. I first met up with Steven, founder of the awards, who was disappointed to reveal that not one, not two, but three chefs had pulled out last minute with cold feet! These chefs represented Smoke Shack, B-Town and The Crooked Billet. I really felt for Steve as so much preparation goes into the day and I was disappointed myself at the chefs who had bottled it; this was a fantastic opportunity for two new restaurants to showcase themselves and for the other, coming from a higher end restaurant, this should have been a capable task.
So we were left with three chefs on the day confident in their ability to cook! Nigel Norris of Whittlebury Hall, Dariusz Kosvela of MK Social and Jeffrey Payne of Mercure Parkside. The competition consisted of three rounds: mystery box, signature dish and a technical dessert.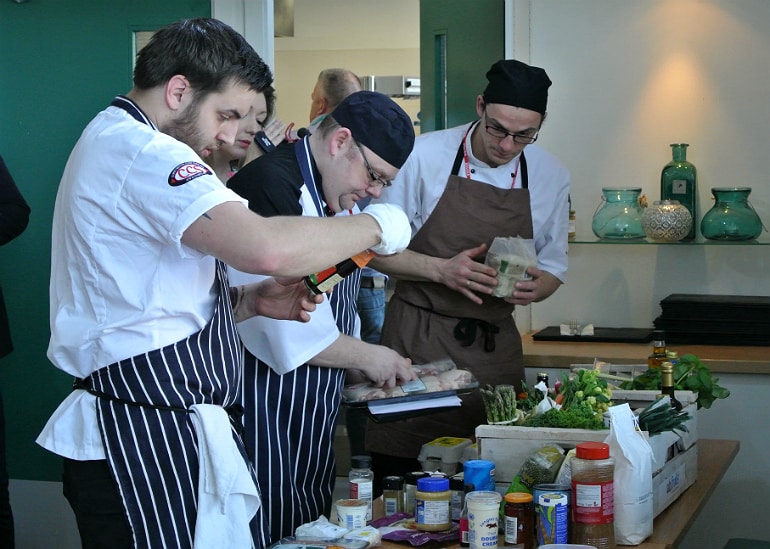 Round one involved choosing from a plethora of lovely ingredients and coming up with a starter, having just 30 minutes to do so. I loved this round as it really challenged the creativity of the chefs.
As if competitive cooking wasn't stressful enough, the chefs had us judges buzzing around them asking questions, peering over their shoulders and photographing their every move!
I loved being behind the scenes! So many pots and pans full of delicious things bubbling away. Even some more contemporary cooking techniques came out like the smoker. I stood and watched keenly, both in admiration of the chefs and in a bid to pick up some tips! The allotted time seemed to pass in a flash and suddenly all the bits in pots and pans came together.
First up was Nigel's salmon with East Asian inspired vegetables and a hot broth for pouring at the table, which seared the outside of the fish. My first thoughts were, "Where's the rest of it?" It really was a tiny portion, something I hate when dining out. I did however enjoy the theatrical element of pouring the broth and the flavours were wonderful: very fresh and a perfect balance of sweet, sour, salty and spicy. What a shame that it was moreish, but there was not more of it!
Dariusz also took inspiration from East Asian cuisine, making a noodle dish cooked in coconut cream, with brown shrimp and smoked green vegetables. I absolutely loved this one: a generous portion of food that was about right for a starter, with that wonderful rich-yet-light flavour that came from the creamy coconut lifted by fresh ginger, spices and crunchy veg. The salty shrimp were a fantastic contrast as well. I could have eaten this as a main!
Jeffrey's starter of chorizo stuffed chicken with goats cheese pasta, on a bed of veg and rich broth sounded fantastic in the kitchen, but in tasting I sadly found the dish far too salty and I felt the pasta had no continuity on the plate. Nice textures but the flavour was a let down.
Whilst the chefs got on with their signature dishes, the judges were already disagreeing on who was best!
Nigel's main was his take on a chicken dinner; broken down into it's individual components and built back up into a very attractive version. The chicken was fantastically moist and dare I say it: 'chickeny'. The skin had a beautiful level of saltiness. My favourite thing on the plate was the stuffing which I couldn't get enough of it was so damn tasty! A brilliant dish, my only gripe being a lack of sauce (I do like my sauce) and I'd have liked to have seen a roastie instead of new potatoes.
Dariusz served a stunning looking plate of halibut and baby veg. Everything was beautifully cooked, the fish in particular I though was perfectly done. I loved the vibrant appearance of this dish, which it why I was disappointed to find the flavours rather bland. It was lacking an element to lift it.
Jeffery's venison glazed with Milton Keynes whiskey and rolled in panko, on a bed of apple cider cabbage and herby gnocchi had real presence. The locally sourced meat took centre stage and looked mighty enticing. I love hearty British grub and enjoyed the twist of introducing an Italian element. I found the whiskey glaze made the dish a little too tangy with the vinegary cabbage as well, but overall a very enjoyable dish.
The technical dessert course, in which chefs followed the same recipe whilst applying their own flare, was a really interesting round. Three very different looking dishes emerged from the kitchen…
Nigel's presentation on this dessert blew me away. If this came to me in a restaurant I'd be wide eyed with glee. The thick quenelle of chocolate was small but wonderfully rich. Those little cubes of vanilla were gorgeous as well.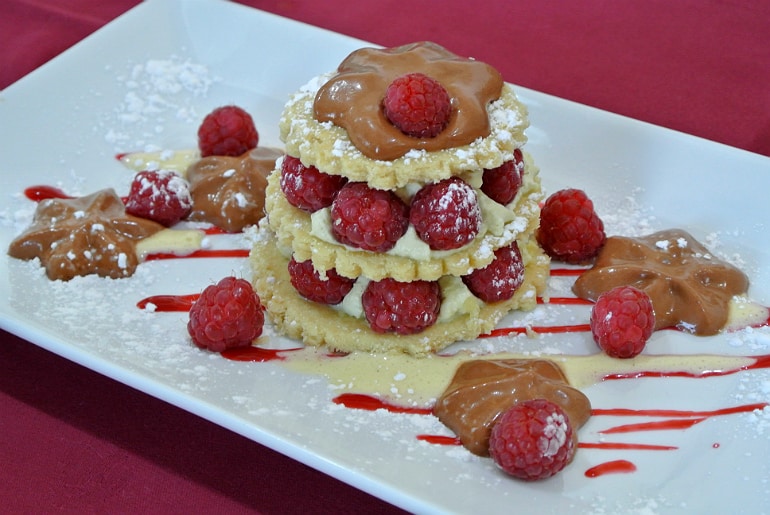 Dariusz' presentation of the dessert was very busy that didn't quite work for me. Unfortunately neither did the flavour, as the biscuit had an overpowering taste of almond extract. However the chocolate mousse, whilst not set, was creamy and very enjoyable.
Jeffrey's biscuits had a really nice snap and buttery flavour. The chocolate mousse included caramelised peanuts and whilst the mousse on it's own was delicious, I didn't love it with the raspberries and basil.
Wow did I find this day a roller coaster of emotions! It's so hard to critique what's ultimately all very good food, especially when you've just witnessed how much effort went into making it. I have to say I've developed a new found respect for chefs; it's not an easy job and all three on the day really demonstrated a love for what they do.
But who to pick as the winner?! Nigel showed real talent in his presentation and balancing of flavours, but played it safe on cooking methods. Dariusz painstakingly tended to his cooking and delivered beautiful textures, however his flavours were inconsistent. Jeffrey was adventurous and conscientious in what he cooked and how he cooked it, but the end result wasn't always a coherent dish.
The winner will be revealed on 10th May at the MK Food Awards ceremony held at Woburn Sculpture Gallery. Stay tuned!