Carnivore through-and-through, I was very excited to receive an email inviting me to the opening of Milton Keynes' newest restaurant, Middletons Steakhouse & Grill. Starting out just 4 years ago Milton Keynes is their third restaurant, I'm so pleased MK is attracting so much new foodie business! The new restaurant is next to Bannatynes and just a stones throw away from the Hub, as we walked up to the entrance there was a delicious smell of grilled meat in the air!
First impressions were really good as the restaurant is stunning. They've invested a lot of effort and cash into creating a very luxurious and trendy dining area complete with leather booths, exposed brick and soft under lighting. It's the kind of warm & inviting space you feel like you could spend a lot of time in.
I'd had a sneaky peak at the menu before arriving, I couldn't resist! Honestly? Whilst the extensive range of dishes and sides sounded spectacular, the prices had me a little nervous. Don't get me wrong, I love a bargain- but steak is one of those things where more often than not you get what you pay for. Middleton's prices are extremely reasonable and I did wonder whether this meant quality was compromised.
I ordered a pina colada to help me through deciding what on Earth to order, as always a grumbling stomach makes me horribly indecisive!
Steaks at Middletons range from 6oz to 12oz, accommodating whichever level of meat sweats you're looking for! I finally decided that if I was going to form an opinion on Middletons I was going to do it properly and order my favourite: the fillet. Being the most luxurious of steaks, if they got this right then I was going to be one happy girl!
Mr Yumdimsum ordered a ribeye, cooked to a perfect medium rare as per the waiter's recommendation. I tried a bite and the meat was super sweet & juicy.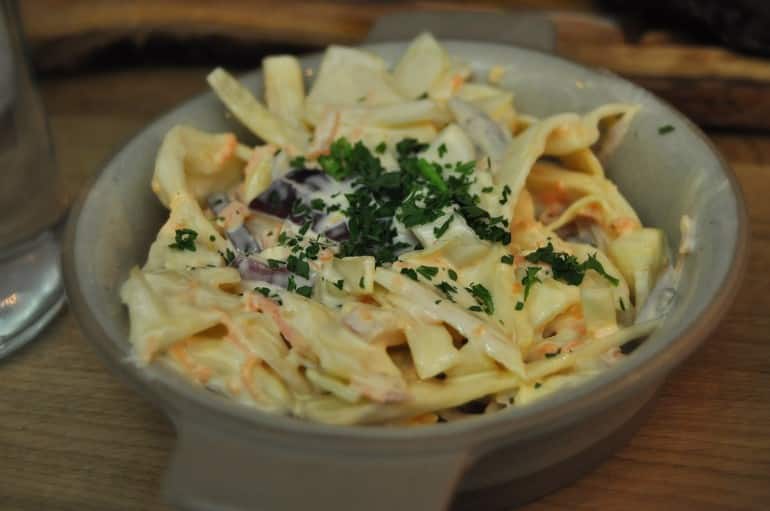 Chunky coleslaw made a great side, the sweet red onions and crunch went fantastically well with the steak.
And here's mine! Doesn't it look pretty?! The very first thing I did was pick up my oversized steak knife and cut open my fillet steak to inspect.
Hoorah! I love my steak rare but most restaurants seem incapable of giving this to me, even the fancier ones. Middletons however were right on the money. I was so happy when I cut open my fillet steak to find nothing but soft pink meat. The steak cut like butter and barely needed to be chewed it was so meltingly tender. The outside was generously seasoned and wonderfully smoky from the grill.
The dauphinoise potatoes sadly were a bit of a dud as they were slightly undercooked and a little cold. I'm hoping this can be put down to teething issues on their first night, had they been hot they'd be fine as the flavours were really lovely.
Other accompaniments on my board were fantastic. The peppercorn sauce was deliciously creamy and smooth which I loved; I hate when whole peppercorns are left in for you to crack your tooth on! Big brownie points for the mushroom & tomato as well: too often these are so greasy & tasteless I leave them as though they were a garnish, in this case they were very tasty and well cooked, I enjoyed both!
At this point we were both feeling pretty full, but one waitress was really enthusiastic about the honeycomb cheesecake and I couldn't resist!
chocoholics and sugar fiends alike will love this dessert, it's incredibly rich (I'm sad to say it defeated me) but a lot of fun to eat, loved all those crunchy honeycomb pieces on top of the smooth vanilla cheesecake. The icecream was some of the best I've had in a long time as well.
We finally rounded off the night with a coffee.
Middletons exceeded my expectations by a country mile. The restaurant is beautiful and the food was far better than I had predicted. I've got to say my steak really wasn't that far behind the best I've had, and given the price I think that's really saying something. Drinks, two steak dinners, sides, dessert & coffee would have cost us £30 a head, incredible value for money in my books!
I think this is a great new addition to Milton Keynes, somewhere that feels special without breaking the bank. The very best of luck to Middletons!