It's always around this time of year that my stomach starts to think differently. I'm dreaming less and less about pasta salads and sushi, the deteriorating weather instead turning my tastebuds towards red wine, roast dinners and rich sauces.

For me, curry is very seasonal. As I write this from my holiday in St Lucia I find myself comparing my experience of the curry I ate at Mastee just before leaving Vs a curry I had here just the other day. It's only confirmed my opinion; I can't help but associate the comforting feast of an Indian meal with cosiness!
Mastee has been on the scene exactly one year. They're part of the successful umbrella of restaurants in the area (Calcutta Brasserie, B-Town etc) and, like the other restaurants, offers its own individual personality. If Calcutta Brasserie was the traditional Father, I'd describe Mastee as the modern little brother of the family.
They play a trendy and interesting music selection that aids the informal, cooler vibe. They actually seem to achieve this with more ease than their Street-Food sibling, B-Town.
Okay so the menu. It's much the same as any other curry house, save for particular emphasis on their North Indian Thaali, which Mr YDS called shot gun on before I could get to it! Instead, I went for a lamb curry which the waiter assured me was no more than medium spiced.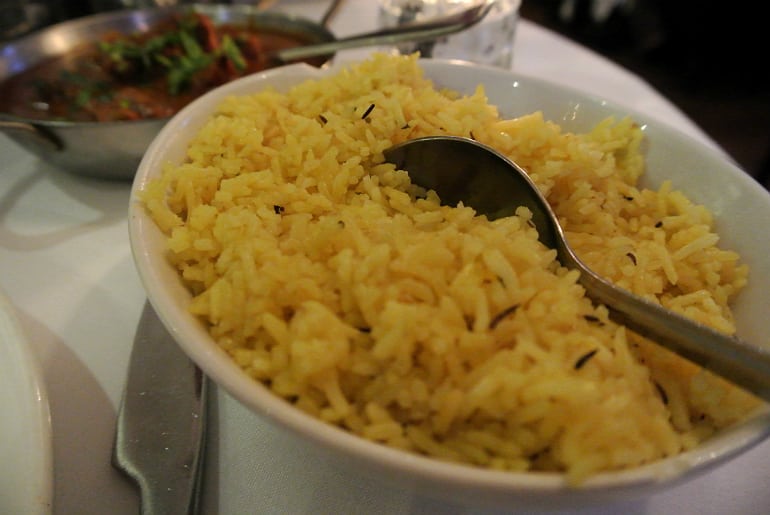 I chuckle how something as simple as naan bread can strike up such varied opinions. Nonetheless there me & Mr YDS were: debating just what the perfect naan bread should be! We both agree it should be served whole; there's great satisfaction in tearing your own piece off. But we disagreed on the texture. I like my naan fat, fluffy and soft… which this naan was not. It instead put up a bit more of a fight in tearing and had plenty of crispy bits, which is Mr YDS' preference.So there you go! How do you like it?
Thaalis are so much fun to eat and perfect for the indecisive diner. You get rice, bread, two meats, a vegetable and dal. It feels like a proper feast and I viewed Mr YDS' silver pots with envy!
That's not to say my eyes didn't light up when this wonderfully coloured curry came to the table. It was smokey and rich with beautifully sweet and tender red meat. But let's just say the waiter and I have very different ideas of what 'medium' is, and before long I was panting and gulping water like crazy! This of course worked in my favour when Mr YDS took pity and swapped dishes with me… so I got my thaali after all!
Mastee is a good, solid restaurant. I'm somewhat certain they'll see our faces again over Winter.