I've been a bit laid back about making plans to visit one of my best friends who moved to Marlow nearly a year ago. Now I've finally visited I'm sad I didn't go sooner, because Marlow is fantastic! Beautiful little streets filled with quaint pubs, swanky restaurants and contemporary bars. Foodie heaven in other words. Quite suitably for our first ever visit to Marlow, my friend took us to the… Marlow Bar & Grill! Situated on the high street.
The interior is simple, but chic. Warm spotlights and wooden floors offset the chrome finishes and white walls to create a stylish and inviting environment. We snuggled into a booth with our menus, which turned out to be extensive and took a lot of pondering over!
All wanting very different things, we were at least agreed on sharing a Greek meze platter and a bottle of wine. (Always able to agree on the latter!)
This was such a fun way to kick off our meal! There was loads of variety and everything was wonderfully fresh. Among the wholesome smoked olives, cous cous stuffed peppers and hummus lurked a few naughtier treats, including some blindingly delicious melted cheese parcels. You can imagine my delight when one friend who doesn't like cheese (I know) offered me hers.
One bottle of wine down and a few hilarious conversations with our waiter, Clement, out came our mains.
To the right of me was a king prawn linguine which looked incredibly good and had me whimpering ever so slightly with order envy. The prawns were just huge and tossed in a deliciously fresh and subtle green pesto. The pasta was correctly cooked al dente as well.
Across the table arrived two giant hot dogs served with soft fried onions and mustard coleslaw. Have you ever seen a girl look so happy?
Admittedly the sausage is far too big for the bun but that kind of adds to the fun of this main! Lastly out came my food in all its glory.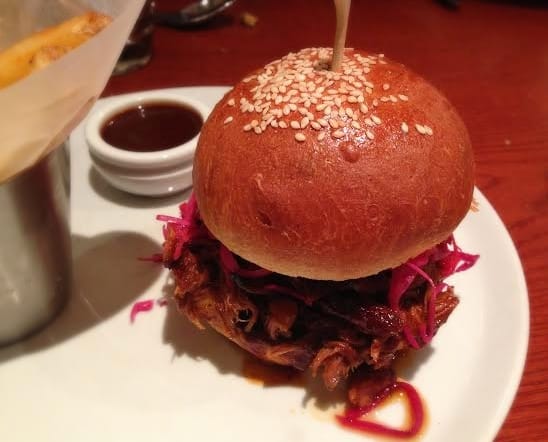 A giant sweet & sticky pulled pork burger, with tangy pink slaw and a side of rustic chips & extra BBQ sauce. What an absolute beauty! The pork was meltingly tender with a hum of smokiness behind the honey & spices. Absolute heaven! One of the messiest burgers I've eaten for a while mind, it was a knife & fork job for sure.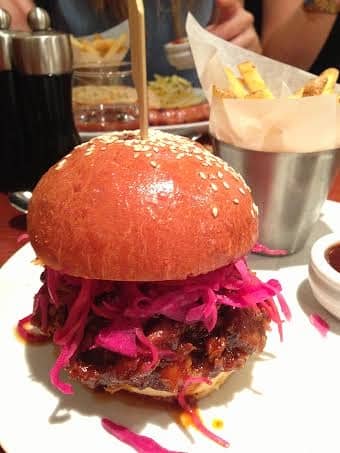 I was really impressed with Marlow Bar & Grill, particularly that they've managed to pull off serving a wide selection of cuisines from different countries with each dish tasting authentic & full of care. Something I find very few venues can successfully do. As a result of their awesome multi-tasking kitchen this is a fantastic place to go with a group of friends or family, because there really is something for everyone on the menu. Next time I would love to try their seafood section.
Initially I was worried this place might be quite expensive, but a large starter, main and a lovely bottle of wine cost us a very reasonable £22 each. If you do visit be sure to look out for Clement the waiter, he's absolutely hilarious and provided a lot of entertainment for us!