This weekend I took a trip to the Sanderson in London, a beautiful contemporary hotel that oozes quirky chic in every fibre of its being.
Stunning right? I was invited to experience the Sanderson's modern twist on afternoon tea; an Alice in Wonderland inspired Mad Hatter's Tea Party. Every afternoon tea I've had up to this point has embraced the twee, old fashioned nature, so I was really interested to see how a modern approach would work.
We were seated in a light and airy conservatory full of white marble tables surrounding a Japanese garden, complete with a babbling water fountain. Very atmospheric!
A book and a box sat mysteriously on our table…
Can you work this one out? There's a riddle on each serviette to ponder over.
Before long we were given a tray of potion-like bottles filled with infused teas for us to smell and chose from. All of the details at the afternoon tea are carefully considered to create a whimsical yet luxury feel, from the glass bottles, to the mirrored tray, the china tea pot and silver coffee pot. Even down to the little ribbon labels… no detail is too small in this afternoon tea experience.
There were lots of unusual tea flavours but we were won over but he gorgeous smells of the strawberries & cream and apple pie infused teas. Sounds a bit mad, but I suppose that's entirely fitting to a mad hatters tea party!
The strawberries and cream was a deliciously fruity and the more it brewed, the more it tasted like a gourmet cup of warm Ribena. The apple pie tea (apparently their most popular one) was both sweet and mellow, with a lovely spicy mulled flavour.
When our cake stand arrived we were given a detailed explanation of everything we were about to enjoy.
Savouries included smoked ham on sundried tomato bread, cucumber & chive cream cheese on spinach bread, egg mayo on lemon bread, smoked salmon and lemon butter on rye bread, quiche and a savoury scone with herb butter. I love the idea of making the sandwiches into little spirals! Each bread had great flavour, and the quiche in particular was incredibly tasty, filled with smoky char-grilled vegetables.
Sweets begin with some incredibly moist and fruity classic scones, complete with cream and jam (of course). Less traditionally and oh so curiously, we discovered two little bottles nestled among the sandwiches…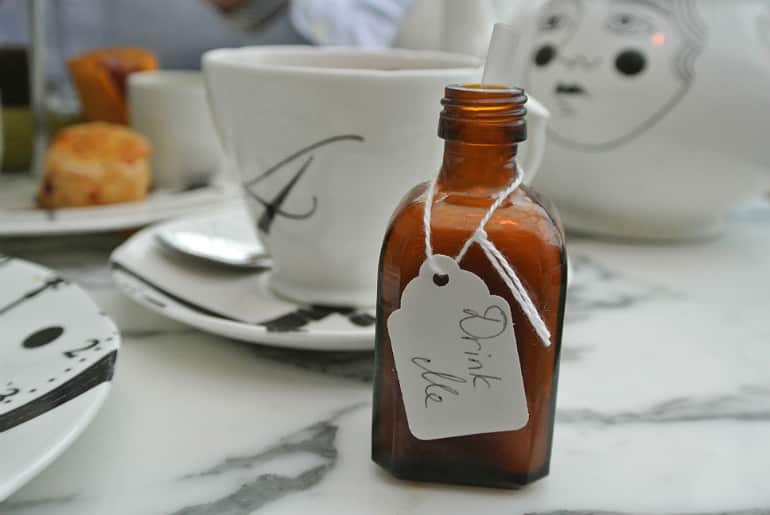 Doing as we were told, our 'drink me' potions turned out to be the most intense mango experience! Layers of mango purée with mango cream, if I could liken it to anything it would be Solero ice creams, it was just heavenly! Extreme sugar high after sipping on this is absolutely guaranteed!
Tier two is colourful, playful and enticing. A delicate 'tick tock' victoria sponge, an adorable edible chocolate tea cup filled with green tea and white chocolate mousse topped with crackling space candy and a very rich teardrop cheesecake filled with a mango centre.
Crowning the cake stand is a pea shoot plant… with meringue carrots growing on it! How clever is that? I loved picking them off to eat. Scattered about are cute little mushroom marshmallows, which I was desperate to eat from the get-go. But Mr YDS told me I was breaking the rules of afternoon tea by starting at the top, so I settled for a little squidge of these guys every now and then until it was their turn to be eaten. These last little morsels are small, but perfectly formed. Such a fun element to round off the stand!
Well as if that wasn't enough, we were told about the jelly stand. Groaning with both gluttony and excitement I went to seek it out.
Three rings of grown-up style jelly awaited me: pineapple, raspberry and green apple. The jelly is quite coarse where it's been made with real fruit, and has a lovely 'real' taste. The green apple in particular was delicious, a great way to cleanse your pallet after the parade of flavours you've just experienced!
I had so much fun eating my way through this afternoon tea. It was theatrical and whimsical and everything from the stunning setting right down to the sugar cubes was beautiful and thoughtfully presented. The food itself is well portioned to ensure you can enjoy everything; there's nothing worse than being defeated by one large element! I found it refreshing that despite being a high-end London venue there was a distinct lack of pretentiousness. The staff were easy-going and friendly, in fact I was mega impressed by just how attentive they were.
"Well that was the silliest tea party I ever went to! I am never going back there again!"
Hmm, I think we're going to have to disagree on that one, Alice!