Disclosure: Our meal was complimentary. As always all words and thoughts are my own.
Waking up after a night of reviewing not one, but two restaurants for dinner I was surprised (surprised in the sense of 'what is wrong with my gargantuan appetite' rather than it being unusual. It's not) to find my stomach rumbling and ready for another day of tasty discoveries. Today I was heading South of The Thames in search of what you know to be some of my favourite varieties of food: pub grub.
The Park Tavern can be found in Southfields and sits proudly in a large, old building dating back to the early 1800s as an old coaching inn. It's run by a young team, including Kevin Sweeney the General Manager who looked after Q and I during our visit, and Elliot Hill the Executive Chef who's food we enjoyed for a sunny Sunday lunch.
The outside of the Park Tavern, an imposing black and white building looming proudly over the street, gives the impression of a standard London Pub; the kind you'd visit for a pint and a bowl of chips. Inside it opens up into a vast space which in contrast to its exterior is quaint and quirky. I instantly fell in love with the dining space which was quite unique: beautiful stained glass windows, grand round tables, ornate wood cladding and an enviable mantelpiece display which made me feel a little like I had visited the home of an aristocrat. This is quirky British dining at its best.
Kevin offered us cool and casual service. The type that is genuine: attentive without being overbearing which complemented the laid back atmosphere I could pick up from my surroundings. Over cool pints of cider, under rays of stained glass coloured sunshine we looked over the menu which has the standard gastro pub offerings with little extra touches to classic dishes. The starters are particularly strong.
My starter, which ignited a touch of FOMO in Q, was a beautiful Cevenne onion tart with pickled apple and vintage cheddar. A light yet decadent cheesy pastry filled with beautifully sweet, aromatic onions. Extremely satisfying and as it turns out a very complimentary dish to my cider.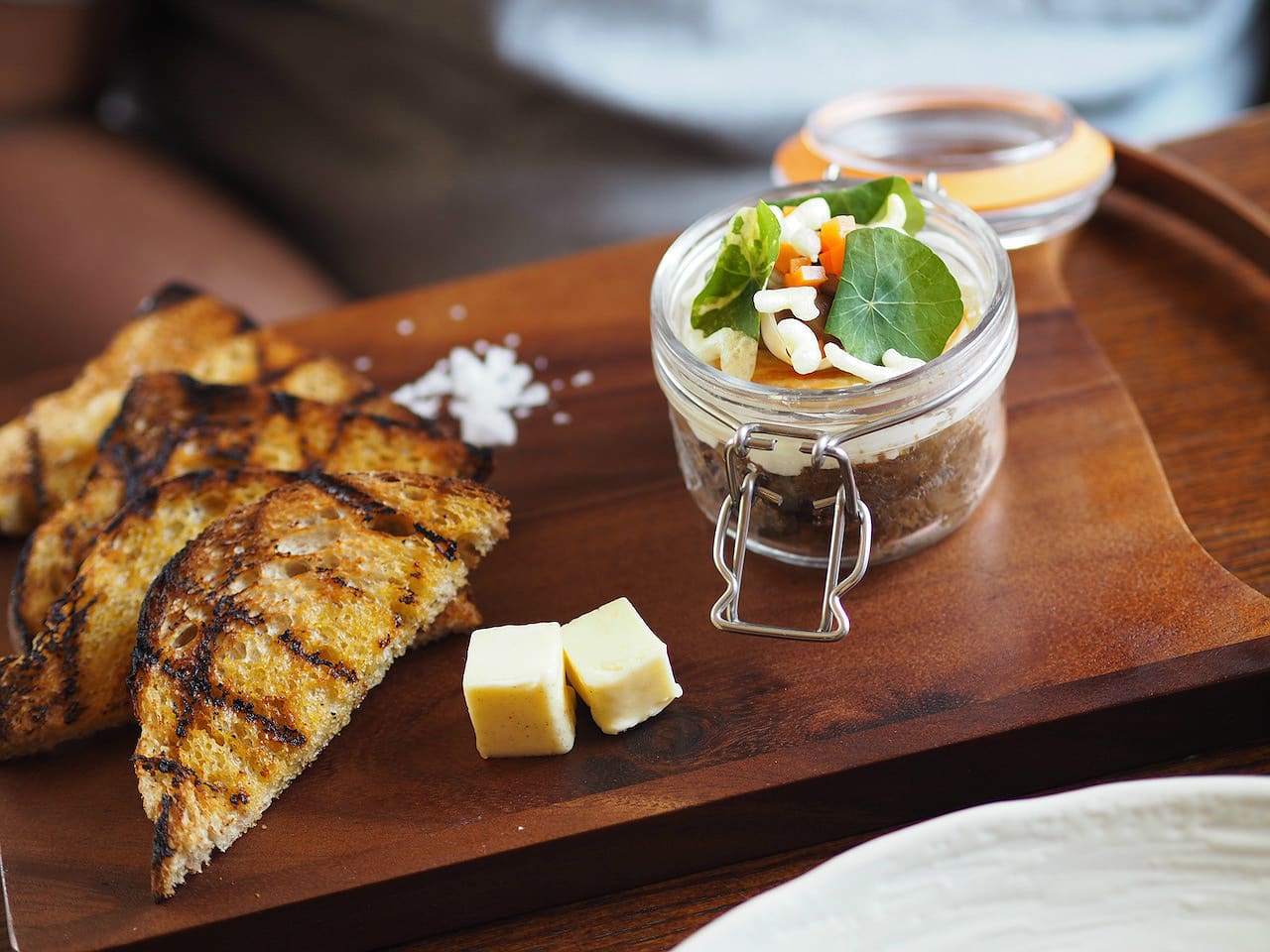 Q chose potted beef with pickled vegetables, after both of us had spotted this on the menu and remarked that of all the potted foods we had eaten, beef wasn't one of them! Dark and earthy with an extremely generous portion of meat that seemed to be doing a Mary Poppins on Q and coming out the jar in seemingly impossible amounts! Potted beef on salty buttered toast is a must try.
Our mains were a contrast of traditional and not-so-much. I chose roast lamb whilst Q went for buttermilk fried chicken with fries and pineapple ketchup.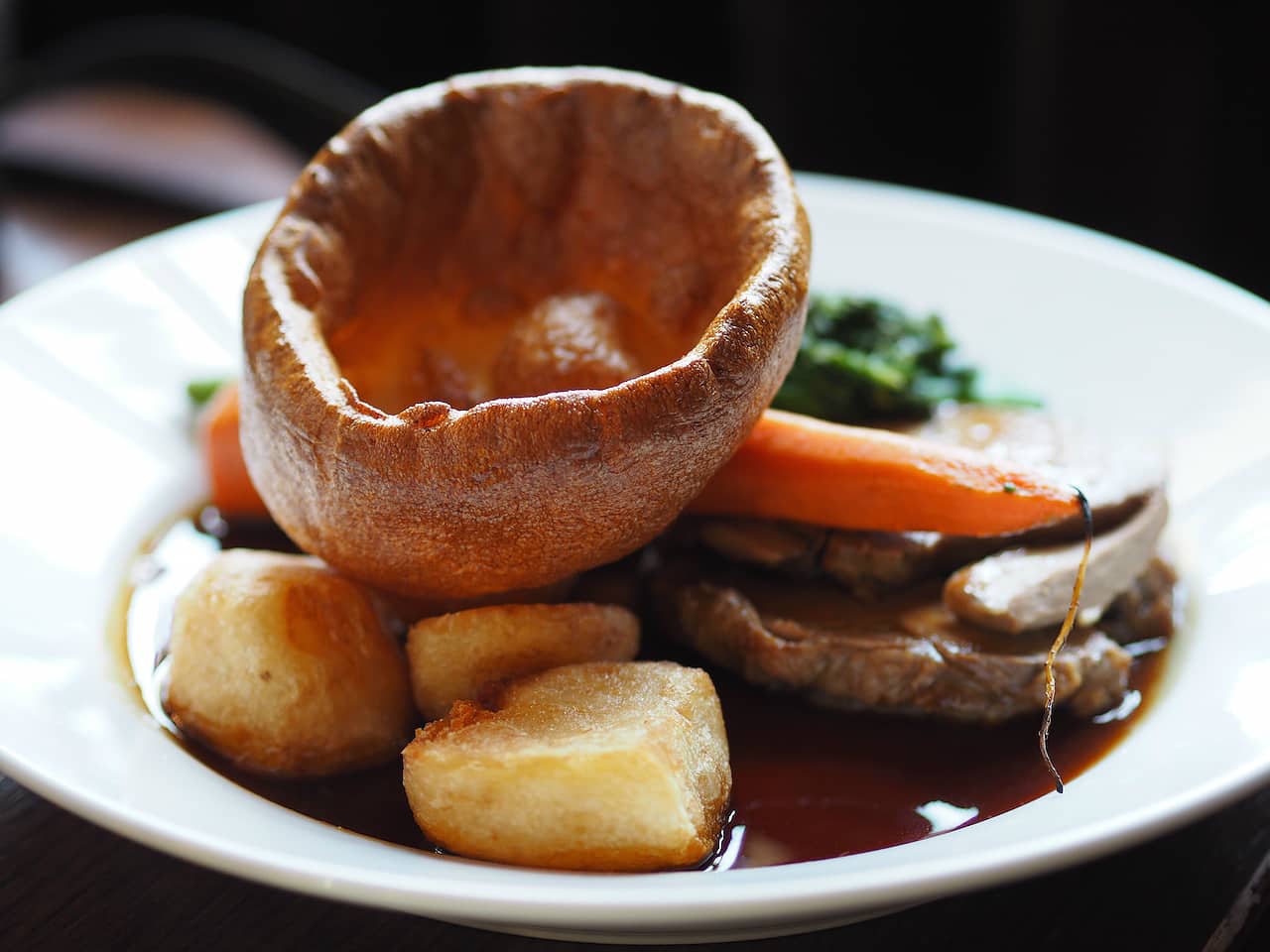 Park Tavern have a quote on their website: "Sleep until you're hungry then eat until you're sleepy," which seems the perfect mantra to live by for a Sunday and seemingly one they definitely work towards down at the pub. My roast dinner was huge with thick slabs of meat, whole, perfectly turned vegetables, an abundance of roasties (a little lacking in character for my liking) and one giant Yorkshire pud crowning the lot. It's a well executed roast, if a little conservative in comparison to the creativity of the starters. I ordered a side of bubbling cauliflower cheese an I urge you to do the same because it's unreal and really brings the roast up a level. Cheesy, comforting heaven in a bowl!
Q's buttermilk fried chicken (isn't that such an appealing name? I always think 'Buttermilk' sounds so damn delicious) comes with an option of 3-5 pieces. Kevin suggested 3 would be sufficient if we had our eyes on the dessert menu. This meal is simple, perfectly executed comfort food. I was gifted a few bites and would have happily enjoyed this dish myself. I love the fruity twist with the pineapple ketchup.
The dessert menu is full of good stuff and despite knowing it was going to be heavy and a challenge to eat after such a monsterous roast, I was enticed by the chocolate mousse with peanut butter ice cream… doesn't is look a dream?
The chocolate mousse comes in a small offering and no more is required for how unimaginably powerful that little dome is! It works fantastically well with the cool, creamy peanut butter ice cream and the crunch of that chocolate tuile.
Our meal was complimentary however prices on the menu's I noticed were very reasonable: £5.50-£7.00 for a starter, £11.00-£18.00 for a main (steaks included) and £5.50-£6.50 for a dessert.
I will never tire of reviewing restaurants and helping readers to find great food experiences. My blog takes me to local restaurants in my hometown, to experiences further afield and occasionally to areas I will likely not have a chance to visit again. Park Tavern sadly falls into the latter category as I rarely visit South London, but I dearly wish that I could frequent this pub! It's got the whole package with unique surroundings, fantastic staff and memorable food… interestingly the starters are the best for me as it's usually my least favourite course (if I had to have a least favourite that is). Definitely take a trip to the Park and while you're at it, follow chef Elliot Hill on Instagram and see what an up and coming talent he is!