It didn't take long for me to realise that Edinburgh has the same problem as London where there are just too many good places to eat and not enough time in the world to try them all. I asked the locals on Twitter for help and I was inundated with excited responses about where I just had to eat. Cue an intense sense of FOMO, how was I going to pick?!
Edinburgh is just stunning. If you're a Game of Thrones fan and want to feel like you're on set, come to this city and feel just how tiny you are as you stare up at Edinburgh castle. I just love how historic this city is and with such dramatic landscape! The streets are pristine and full of character; the kind you can wander aimlessly and no matter which direction you take you're bound to find something good.
Well being creatures of habit and having not eaten Japanese for a while, Q and I eventually narrowed our lunch search down to Bento Ya.
It's a cosy and casual restaurant with a funny contrast between dogeared laminated menus and high-end starlight effect ceilings. The sushi chef potters about behind his counter whistling Japanese tunes.
Tempura is ever so hard to photograph; I find the better it is the more it just ends up looking like a fuzzy cloud! And by that logic, this was indeed very good tempura with a beautifully light coating and big, juicy prawns inside.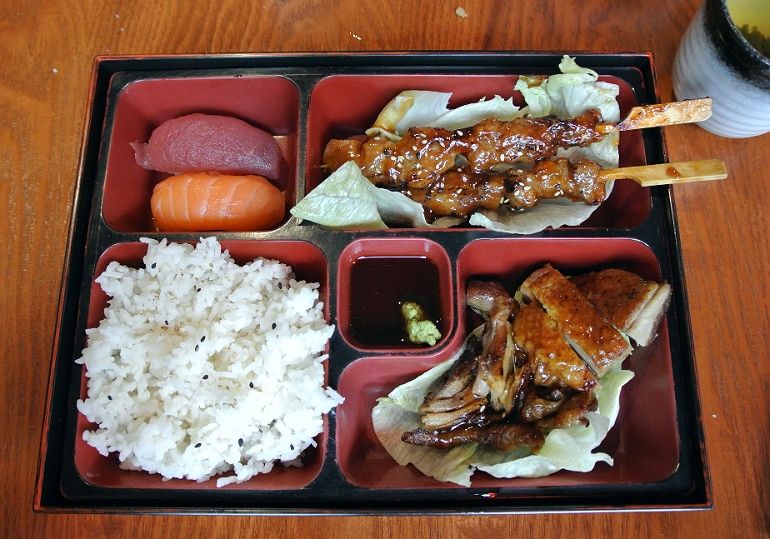 Given the name we unsurprisingly ordered bento boxes. Q went for the the chicken box with gyoza and katsu curry and I went for a mixed set of duck, chicken yakitori and salmon nigiri. It was a miserable Scottish day with fine drizzle and a bitter wind, so I welcomed the warm feast of rice and meat. The service was equally warm and attentive; the chef's whistling I found very endearing as I sipped my hot jasmine tea!
I love how a good meal can make even the rainiest of days feel warmer! We ate two sides, two soups, two boxes and drinks for £33. Not bad at all!