You already know that I like to sneak out the sugar in my baking every once in a while. To be honest it's not always with the goal of making treats a little healthier; I genuinely prefer cakes that aren't mega sugary. I've always preferred more wholesome, rustic recipes like a lovely carrot cake over a slab of chocolate fudge. Although don't get me wrong: if you've got some chocolate cake I am more than happy to help you out with it.
I've got involved this week with a challenge Holland and Barrett have been setting bloggers: create a cake recipe with no refined sugar, instead using sweet alternatives from the website that are natural. My kinda challenge!
Now I don't mean to blow my own trumpet but come one, if a food blogger can't brag about a great recipe then when can they! This recipe is probably one of my favourites to date. You are guaranteed a deliciously moist cake, lightly spiced and light as a feather.
It doesn't even miss the sugar, which I've swapped out for some naturally sweet tasting products like agave nectar, vanilla, ginger and fruit.
Pear & Ginger Cakes
Makes 12-14
Cake tray and cases
140g unsalted butter, room temp
3 tbsp agave nectar
2 eggs
1 fresh vanilla pod
2 medium sized pears, peeled and finely diced
100g self raising flour
100g ground almonds
1 tsp ground ginger
1 tsp cinnamon
1 tsp baking powder
pinch of salt
45g crystallised ginger, finely chopped
Pre-heat your oven to 160c. In a bowl whisk together the butter, agave nectar and eggs. Then using a wooden spoon fold in in the sifted flour, ground almonds, vanilla seeds, ground ginger, cinnamon, baking powder and salt. The pears need to be peeled and very finely diced; I recommend using a julienne slicer which makes quick work of this. Before adding to the mixture, gather the diced pears in your hands and squeeze out the juice. Then fold in the pears and crystallised ginger.
Spoon into your cake cases, giving the tray a few taps on the counter to even the mix out before baking them for 20 minutes or until a tooth pick pricked into the centre of a cake comes out clean.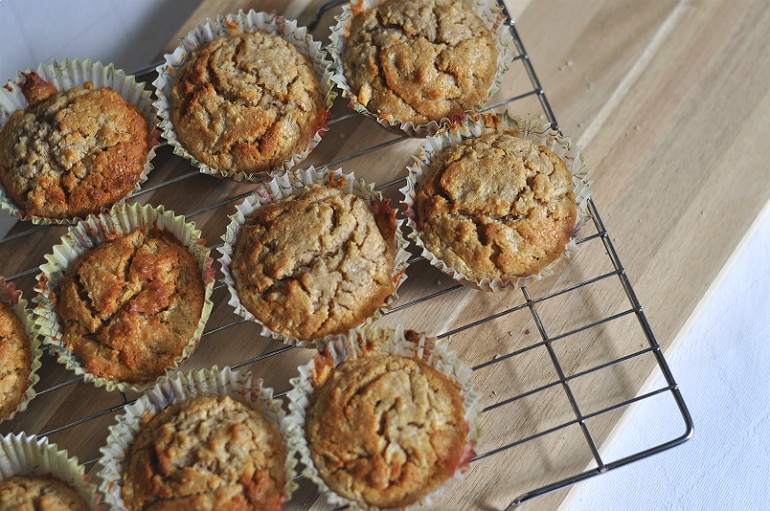 Now don't let their simple appearance fool you. These humble little cakes have sooo much flavour. I have made three batches now and each time they have disappeared like lightning into people's bellies! The agave nectar is very naturally sweet, more so than honey, meaning that just a few tablespoons matches what could easily have been 100g+ of refined sugar in a traditional recipe. Whilst crystallised ginger does have a sugar coating, the amount is pretty small. Overall, this lower sugar recipe tastes just as sweet and is insanely tasty, definitely give this one a try!