We fancied some lemon drizzle cake. So I made one. Excellent logic!
I've never made a lemon drizzle loaf cake before, but I found a recipe online and adapted it to my own liking.
Lemon Loaf Cake
125g unsalted butter
175g caster sugar
2 large eggs
Zest of 1 lemon
175g self raising flour
Pinch of salt
1 tsp baking powder
1/4 tsp vanilla extract
4 tablespoons whole milk
Loaf tin buttered
For the syrup:
Juice of 1 and a half lemons
100g icing sugar
For the glaze:
Juice of 1/2 a lemon
150g icing sugar
Start by pre-heating your oven to 180 degrees.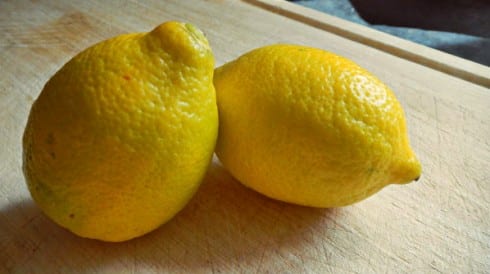 To get the maximum amount of juice out of your lemon, beat him up a bit! Squeeze him, roll him around, perhaps throw him at your kitchen counter? The more your bruise it the more little juicy cavities you will burst.
1. Cream together the butter and sugar. Add the salt, baking powder, zest and eggs. Beat well until fully combined.
2. Add the flour. When combined, add the milk.
3. Spread the batter evenly into your buttered loaf tin and cook for 45 minutes.
4. For the syrup: heat the icing sugar and lemon juice on a low heat until the sugar dissolves. As soon as the cake comes out the oven prick it all over with a skewer and pour on the syrup. Leave in the tin to cool completely.
5. For the glaze: Mix the icing sugar and lemon juice together until white and creamy. You want the consistency to be thick but still a little runny.
Smearing the icing all over the top is the best bit. I probably could have made my cake a bit more attractive if I hadn't have been so pre-occupied with watching the icing spill over the edges. Weirdly satisfying.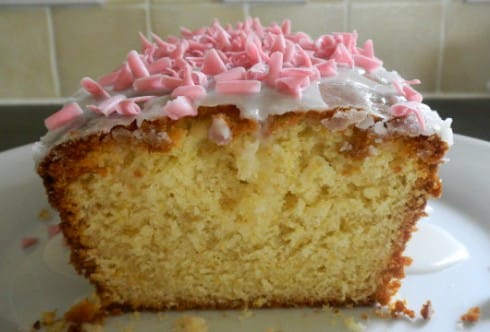 Tips:
My oven seems to cook things quite fast. If you're the same I recommend adding a splash more milk and cooking for 5 minutes less. This will prevent your cake getting dry.
Use 25-50g less icing sugar if you want a more watery syrup.
Bash those lemons!
Girly pink sprinkles optional 😉