Kokoro has been open for a few months now. They've replaced the unit Tea Monkey used to be in (still sad they've left us!) in the circular section of Midsummer Place; the bit that overlooks that God awful tree. Anyway, I knew nothing more about Kokoro other than it was a new, small chain Japanese restaurant in town. Admittedly snobbery has kept me away until now, as I have a tendency to associate a lot of shopping centre restaurants with poor quality and bad atmosphere. Not true of all I hasten to add, none the less I did assume that Koroko was just another cash cow benefiting off the masses.

It was only when I stumbled across some good looking pictures from Kokoro on Instagram that I decided it was about time I tried it out and made an informed opinion.
Not a bad looking place! Simple, modern and clean. I had no idea what to expect but quickly worked out that this was super casual dining. Boxes of ready prepared sushi and sides can be chosen from the chilled shelves, and hot dishes are served canteen style from the counter.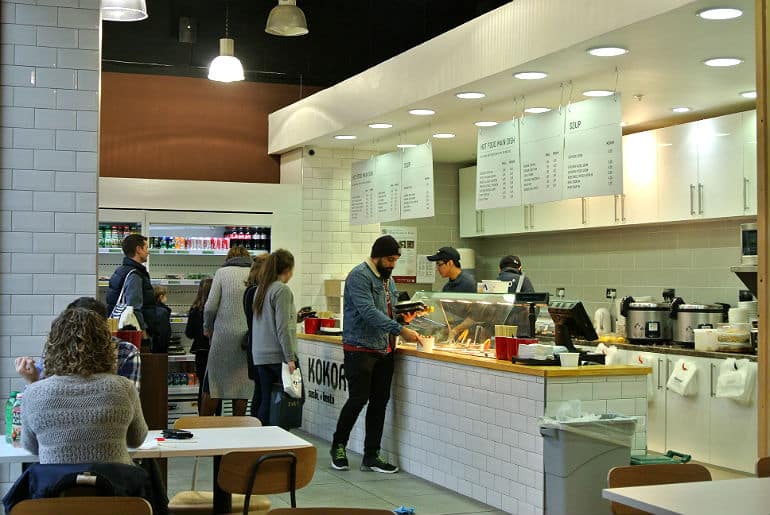 I was reassured by the sight of sushi being made on site so I knew it was all fresh stuff. There's loads of different boxes to choose from and being a greedy guts I chose one of the largest which has a nice variety of salmon based rolls and sashimi.
Portions are a good size; nice thick slices of soft salmon and this peppery variety was particularly nice. I did find the dipping soy very strong and felt something lighter would have complimented the fish better.
The gyoza again comes in a generous serving size. They're ready-made with the offer to have them re-heated (definitely do this) and obviously don't compare to the ultra fresh kind. They're lacking that lovely crispy fried underbelly. They are however still tasty, if a little more rubbery. The dipping sauce for these is delicious though.
One giant portion of chicken katsu curry! Oddly, Kokoro offer just small and medium sizes. Don't be deceived though, as medium is one hearty portion! Mr YDS got a mountain of chicken and though it was tasty, he struggled to finish it… I was happy to chip in and help of course!
So, it looks like my snobbery was misplaced. And I'm glad because nothing makes me sadder than a crappy restaurant. Kokoro is basic but honest fast food. Yo Sushi just down the way does storming trade, but honestly I think Kokoro offers far better value for money: bigger portions and better pricing. Service doesn't get speedier than this place either, so if you're looking for a quick bite between shopping rather than a proper sit down meal this is a good choice. A little more wholesome than a McDonalds as well.