I've been hyping this place up ever since I got an invite to come and review their menu. I don't usually do this as it can be a big risk in case the food turns out to be no good. But sometimes you just have a good feeling, you know? This time I couldn't resist breaking my poker face! It is after all some of my favourite kind of food and an aspect I've never tried before: Japanese BBQ!

Kintan has been open for six months and is a modest looking unit in Holborn.
Inside it stretches way back. Big bonus points for their generously spaced tables; privacy is an increasingly rare commodity in restaurants! How nice to be nestled away to talk and laugh without worrying about our neighbours. We were guided to our booth, every member of staff smiling or bowing or greeting us in Japanese as we passed them.
We were first treated to a bottle of sparkling sake, something I've never tried before and am instantly infatuated with. Light, refreshing and extremely clean tasting. For me, it made the flavours of champagne and prosecco seem clumsy by comparison.
We were there to sample the premium course: a meaty feast of seafood, sides, beef, beef and more beef! Top quality ingredients are served on seemingly endless platters and the idea is to cook your food using the built-in grill at the centre of each table. I'm told this is technically a Korean invention but the Japanese love it so much it's been adopted by them.
The feast begins with non-grill items like salads and hot oil seared salmon. Pretty damn healthy, right? The food is simple and pure.
This dish is called the tuna tartar volcano and it had me bobbing about in my seat it tasted so good! Cold, creamy, raw tuna on a bed of crispy fried rice. I suppose you could liken it to a hash brown. Insanely tasty, I would return to eat these alone!
Gorgeously soft fillet mignon. Take a closer look and you'll see it's been sliced into convenient bite sized pieces.
Honestly the food just does not stop coming out, it's such a theatrical dinner! These garlic fried noodles are comforting and a great accompaniment to the meat dishes.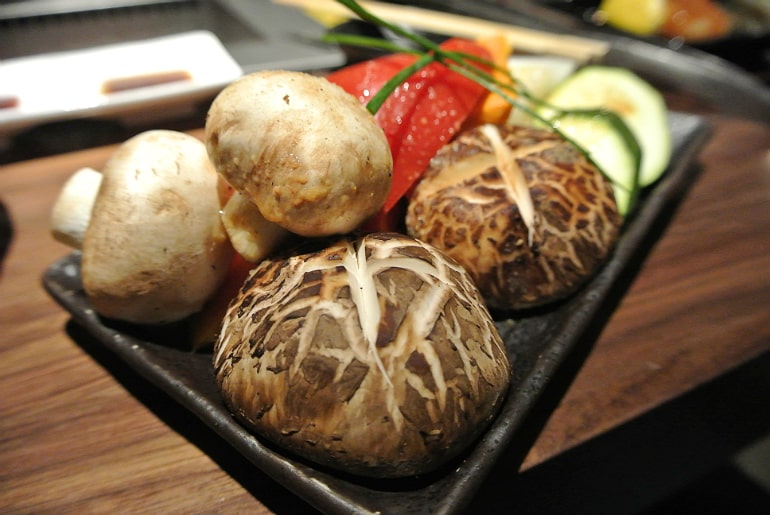 This was the crowning glory for me. The quality of meat is superb; just look at the marbling in this beef! The strips take one minute max per side to cook and are melt in the mouth soft and sweet. The different cuts even come with specific dipping sauces to compliment them.
Delicately marinated jumbo prawns and huuuge scallops hold up the seafood side. One thing to mention is how clean the grill is; there's no smoke or bad smell, and the grill is changed for you to ensure the process isn't contaminated with charred bits of food.
I don't think I've ever seen so much meat in my life. I was groaningly happy at this point, that post-food euphoria where you no longer care for posture and only the most comfortable position to digest. But the feast isn't quite done yet and a selection of Japanese ice creams were served to round the meal off.
The green tea and sesame flavours are surprisingly savoury; more of a pallet cleanser than a true sweet course. My advice is leave the vanilla & cocoa ice cream until last because it's the best one!
The theatrical nature of the meal was obvious in the glorious spread of food and the fun of cooking it yourself. But it's more subtly present in the service at Kintan. The old fashioned, Japanese style service is so charming; our waitress was so polite and eager for us to enjoy the meal. She would excuse herself from the table by taking a few steps back before turning to leave. The whole meal embodied doing something simple and doing it well. The purity of the ingredients also make Kintan a fantastic option for healthy dining. I definitely recommend this one if you're looking for a fun and new food experience, just make sure you come hungry!