The keto bread recipe I posted way back when has proven pretty popular with folk around the internet, I'm so glad others are enjoying it as much as me! I love how easy it is to make and it's helped me through some tough carb cravings, every time I eat I still marvel at how satisfyingly stodgy it is without actually being the real deal. The recipe is ever so versatile and recently I discovered a new way to cook it for a totally new bread-like experience.
Keto Bread Recipe
3 large eggs
75g ground almonds
1.5 tsp baking powder
Large knob of butter (about 2 tbsp)
Seasoning
1tsp garlic
1tsp oregano
Pre-heat your oven to 200c, add all the ingredients to a mixing bowl and whisk until smooth with lots of air running through. Now add to a greased cake tin, around 20cm wide (square of round, your choice!)
Basically what you want is a thin layer of the mixture spread across the base, about half an inch thick. Put this in the oven at 200c for 20 minutes.
Not bad huh? Pretty damn bread-like! Cooked thin like this it'll develop a bit more of a crust.
Cut into slices and you have your 'bread'! Fill with whatever you fancy. For proper keto points stick with protein and healthy fats, here I've gone for a deli theme with cured meats and avocado, along with a tangy Dijon mustard mayo.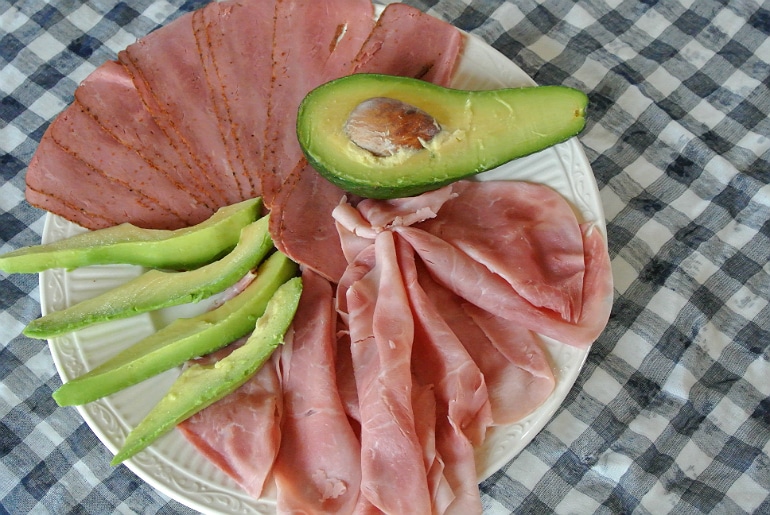 This keto bread has quite a lot of bite to it, so the avocado is a nice moist element for a lovely contrast in textures.
One of these sandwiches will have just 6g of carbs! When you compare that to 36g carbs in the 2 slices of bread from a leading brand you see how nifty this bread alternative is! And just looks how thick those slices are! Healthy & unprocessed fats & protein, it's a treat your body will love!